I reiterate a 'hold' rating on American Electric Power (NYSE:AEP). AEP is among the leading regulated utility companies in the U.S. The company has delivered satisfactory financial performance over the years. Analysts are estimating next five years growth rate of 3.8% for AEP. The company offers a decent dividend yield of 4.2% and has a high debt to equity ratio of 122% in comparison to its competitors.
Financial Performance
AEP reported 2Q'13 operating earnings of 73 cents per share, down 5% YoY, slightly below analysts' estimate of 74 cents. Earnings for the quarter were negatively affected by higher operating and maintenance expenses and unfavorable weather conditions. The company also experienced a decline in total normalized electricity sales of 2.7% in the quarter, led by a 5.3% drop in industrial sales. Commercial and residential sales also declined by 2.1% and 0.1% for the quarter, respectively. Revenues for the quarter were $3.6 billion, flat YoY.
In response to weak PJM auction prices for 2016/17, the company has been working to reduce its operating expenses to achieve its long term target growth rate of 4%-6%. In the 2Q'13 earnings release, management provided some clarity over its ongoing power plant optimization program called 'Lean Generation'. AEP has been working on improving efficiency of its power plants, which is likely to result in $5 million -$10 million of cost savings per plant (the company has identified 15 to 20 plants for the process).
Earnings Outlook
AEP reiterated 2013 full year earnings guidance range of $3.05-$3.25 per share. Also, the company expects its long term earnings to grow in the range of 4%-6%. As AEP is a regulated utility, rate base growth is likely to fuel the future earnings growth. In the second half of 2013, new Texas rates are likely to be decided by the commission, which will be applied retroactively from January 29, 2013. Lower depreciation expense related to the retirement of Muskingum River Unit 5 and absence of a $27 million storm expense in 3Q'13 will benefit the company's bottom line in the 2H'13.
Coal to Gas Switch
The company has experienced a decline of almost 37% YTD in natural gas fired electricity generation, whereas coal-fired electricity generation increased 4% YTD. Rise in natural gas prices, in 2013 as compared to the last year has led to a drop in natural gas fired generation. Also, as the coal fired electricity plants are located near coal mines, it gives AEP a competitive advantage to use coal instead of natural gas for electricity generation. To avoid input price risk, AEP has hedged almost 94% and 68% of coal for 2013 and 2014, respectively. Moreover, AEP has a diverse electricity generation portfolio. The following table shows the different generation sources and their proportions.
| | | | | |
| --- | --- | --- | --- | --- |
| Sources | Coal/Lignite | Natural Gas | Nuclear | Other |
| Proportion | 71% | 17% | 11% | 1% |
Source: aep.com
Debt and Dividend
Over the years, the company has been working to strengthen its balance sheet and has been able to lower total debt to capitalization from 57.2% in 2009 to 55.2% in 2Q'13. AEP also has a healthy interest coverage ratio of 4.5x, higher than the company's long term target of >3.6%. Risk of underfunding the pension liability has also dropped significantly over the years, as pension liability funding has increased by 23% since 2009. Following graphs show credit stats, total debt to capitalization and pension liability funding for AEP.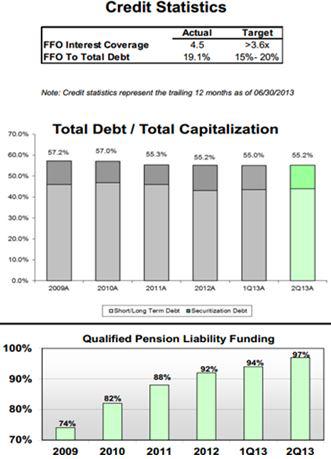 Source: Investors Presentation
Also, AEP offers an attractive dividend yield of 4.2%. On 24th July 2013, AEP declared a regular quarterly dividend of 49 cents per share. The dividend is payable on Sept. 10th 2013. I believe dividends offered by the company are sustainable as it has been paying regular quarterly dividend for 413 consecutive quarters and has a healthy operating cash flow yield of 16%.
Conclusion
Valuations remain slightly unattractive for AEP in comparison to its competitors. AEP has a lower next 5 years growth estimate of 3.80% in contrast to its competitors' average of 4.10%. Furthermore, AEP has higher debt to equity and lower dividend yield as compared to its competitors' averages (as shown below). Therefore, I reiterate a 'hold' rating for the stock.
| | | | |
| --- | --- | --- | --- |
| | Next 5 Years avg. Growth Est. | Debt to Equity | Dividend Yield |
| AEP | 3.8% | 122% | 4.2% |
| Duke Energy (NYSE:DUK) | 3.85% | 100% | 4.4% |
| Southern Company (NYSE:SO) | 4.7% | 120% | 4.4% |
| Average | 4.10% | 114% | 4.35% |
Source: Yahoo finance
Disclosure: I have no positions in any stocks mentioned, and no plans to initiate any positions within the next 72 hours. I wrote this article myself, and it expresses my own opinions. I am not receiving compensation for it (other than from Seeking Alpha). I have no business relationship with any company whose stock is mentioned in this article.