Golf legend Chi Chi Rodriguez once said, "Golf is 95% mental and 35% psychological". Obviously he meant this is a joke, but in substance I feel he is correct, and I must say this perfectly applies to investing in a stock like Callaway Golf Co. (NYSE:ELY).
As an avid golfer since age 8 and a former single digit handicapper, I am psychologically tickled to buy this stock, especially following Phil Mickelson's recent comeback win of epic proportion at the 2013 British Open. Phil's win will go down in history as a great comeback, and there's no doubt Callaway's choice and expense of sponsoring this future hall-of-famer is fantastic for the company, as it too is staging a comeback of its own under new management.
It's easy to piggyback on a champion like Phil after a long deserved win and buy the stock. Since Phil's victory, shares have rallied nearly 7% since in just 5 trading days.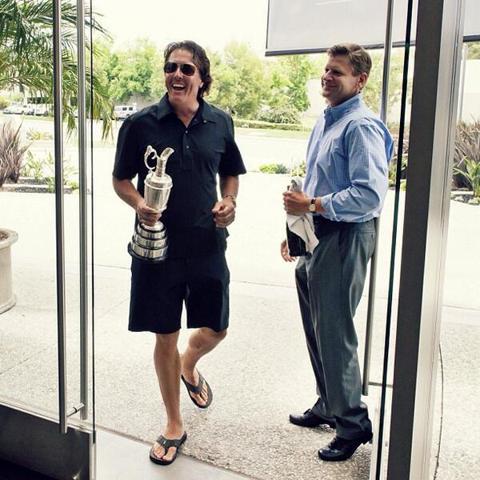 (Click to enlarge)
-Mickelson pays a surprise visit to Callaway post victory with trophy in hand.
But I can understand how an exciting victory can appeal to the investors and thus the stock; the interviews on CNBC don't seem to hurt either. But once Phil's contagion subsides, will the stock come back to earth?
Like Phil, the company is supposedly undergoing a severe turnaround, as the new CEO Chip Brewer of Adams Golf has taken the reigns after a miserably performance since the company's visionary passed.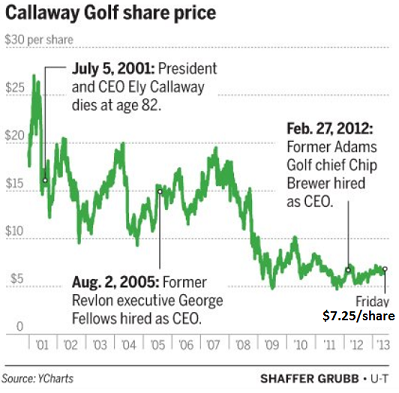 On the recent Q2 2013 conference call, Mr. Brewer seemed very charismatic in the progress the company has made in the past year. He said:
...we believe we are on track with our turnaround plan...our results show we've made significant progress.
Some highlights from the call were:
2013 ytd pro forma earnings were up $18 million or 86% year-over-year.
U.S. business is up 9% for 2013 YTD despite a flat market.
In Japan, 2013 ytd market share was at 13.9% through the first week of July, up 350 basis points yoy.
In the U.K., Europe's largest market, a golf club market share of 14.7%, is up just slightly YTD despite a difficult European market.
Lowered revenue expectations to a range of $273 M to $283 M, a $12 M reduction, primarily due to currency weakness. In constant currency continuing business basis, this would deliver the 2nd half revenue growth of approximate 18%.
U.S. golf rounds played were down 12%.
After looking through the 2Q 2013 8-k, the YTD sales numbers were unimpressive, and cost cutting provisions enhanced the bottom line:


(Click to enlarge)
Note the decline in net sales and gross profit, while expenses and operating income improved due to cuts. Management has stated there's significant market headwinds particularly due to a double digit reduction in rounds played, and anticipated lower pricing ahead due to these market challenges, especially in Europe. However, Callaway does have an ace in hole; Phil Mickelson. Management stated on the call:
Phil's different. We have seen pickup in demand around Phil's wins in the past. When he won this year in Phoenix, there was a spike in sell-through of Callaway products immediately following that. And that may well be true for this win as well. It's certainly getting a lot of excitement and attention. So Phil is special in that regard and it does have some positive implications, we think, but we can't be sure at this point. And I think that would apply overseas, as well. He's very popular internationally as he is in the U.S. and obviously, the Open Championship is so impactful in that part of the world.
It seems management is transforming the company as planned, but there is only so much a strong CEO can do in a challenged market experiencing currency headwinds, bad weather, and most importantly a double digit decrease in golf rounds played. It appears Phil will definitely continue to help Callaway combat some of these speed bumps for the near term following his big win, but will it be enough?
I feel ELY is a wait and show me story, and once the excitement from Phil's win wears off, the stock could be at risk for a correction short term, as the decreasing rounds played metric is a concern. However, the company should be profitable in a year or two, which could be a positive for the company. For now, I will buy the clubs and equipment- not the stock.
Disclosure: I have no positions in any stocks mentioned, and no plans to initiate any positions within the next 72 hours. I wrote this article myself, and it expresses my own opinions. I am not receiving compensation for it (other than from Seeking Alpha). I have no business relationship with any company whose stock is mentioned in this article.