The week's price action on the major indices once more illustrated the dangers of letting emotions influence one's judgment when it comes to trading and investing. This was never more evident than during the early week correction that once more suckered many bearish commentators into calling an end to the 'bear' market rally, from the top of the analyst food chain right through to the bottom. Again, nothing new was called on to justify fighting against the trend other than references to the 1930's depression era rally! Well, shall I let you in on a little secret?
Every bear market / major correction in the stock market since the Great Depression has been compared to the 1930s bear market rally, but never once has it repeated!
The only way people REALLY learn from their analysis mistakes is by getting burned in their trading account / portfolio balances. Nothing else works, an analysts and economists living in ivory towers will never learn!
Look, I beat the GREAT CRASH! Yes, that still means 1987! But, being naive, and young at the time, I believed in the 1930's depression model and the fifth of a fifth on Elliott Wave, which I learned within a short period of reading Asimov's foundation series and therefore was primed to believe in Elliot Wave as a manifestation of psycho-history. What did I know? After all it all seemed highly convincing, so I fought against what had actually made me a fortune during the crash and continued to view each post crash peak as a shorting opportunity for a good year, much as the bears are doing so today. This is 2009 and not 1930! Markets do not repeat! It is ALWAYS different each time.
If you are still shorting this rally, then you seriously need tp reappraise as why you are fighting against the price by means of the diffusion responsibility onto indicators, fundamentals, theories, historical patterns and such, which is not what you are actually trading.
It is simple - you stick to the direction that increases your account balance. Don't try to think too hard about it! It is thinking that will be your downfall. Where trading is concerned, thinking is not good. I have learned all these wonderful theories that produce diddly squat when it comes to actually making money.
Stocks Stealth Bull Market Road Map into October 2009 - July 23rd 2009 Conclusion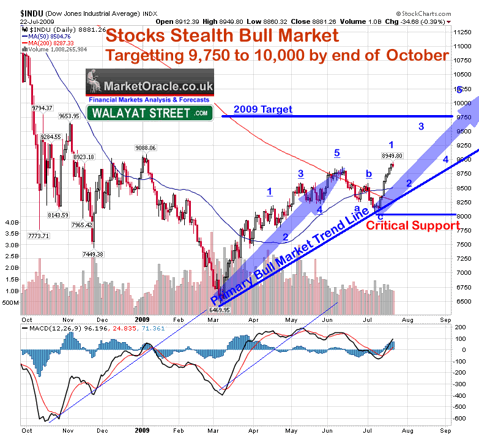 CONCLUSION - My earlier fears about a bull trap appear to be unfounded. The stock chart is saying that we are in a stock bull market, and is suggestive of a trend higher towards a 2009 target of between 9750 and 10,000, with a high probability that we may get there before the end of October. Key danger areas for this scenario are a. for the trend line to contain corrections, and b. that 8080, MUST HOLD.
Current Price Action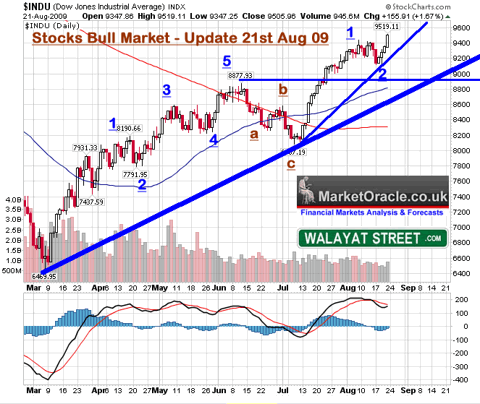 The price action to date has shown relative strength against the forecast of a month ago. This suggests a higher target than the original 9750 to 10K before the end of Oct 2009. The secondary stated target was 10,450. However, it also suggests that the market may put in an earlier peak. I am still leaning towards the next correction AFTER the peak to be of greater significance than the last correction from June to July. Also, whilst my in depth economic analysis is on the UK economy, however much of the conclusions could equally be applied to other western economies. The analysis of February 2009 has been projecting towards a a DOUBLE DIP recession (updated June 09) which has negative implications for stocks during 2010, but for now DON'T be silly, don't fight the stocks bull market (time to drop the word stealth).
Financial Crisis Worst is Not Over?
Robert Prechter in his latest 10 page Elliott Wave Theorist Newsletter states that financial crisis is NOT over and gives a warning he's never had to include in 30 years of analysis.
U.S. Dollar Bull Market - 14th August 2009 - Conclusion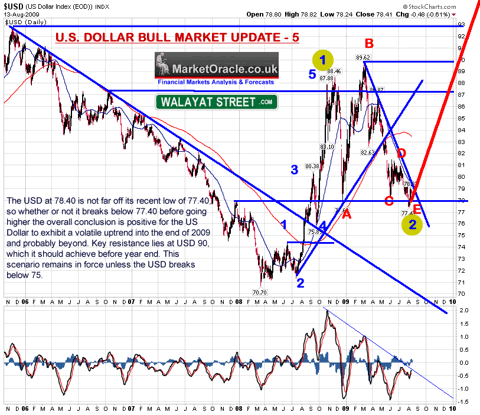 Conclusion
The USD at 78.40 is not far off its recent low of 77.40, so whether or not it breaks below 77.40 before going higher, the overall conclusion is positive for the US Dollar to exhibit a volatile uptrend into the end of 2009 and probably beyond. Key resistance lies at USD 90, which it should achieve before year end. This scenario remains in force unless the USD breaks below 75. The implications of a dollar bull run is generally bearish for commodities such as gold, which I will cover in a future newsletter
Current Price Action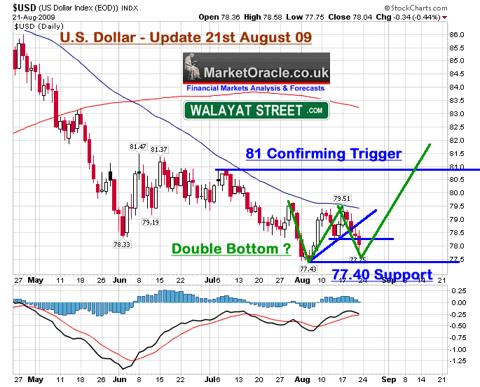 The U.S. Dollar reversed direction after failing to break above 80 and still some way below the confirming trigger of 81. The corrective move to date is of little consequence to the forecast which remains as is.
The most recent price action implies the following -
a. That the USD puts in a double bottom before busting through above 80/81 for a strong rally.
b. A break below 77.40 would trigger a sharp drop towards 75.80 which would seriously risk a re-evaluation of the whole dollar bull market scenario which would be negated on a break below 75.00.
At this point in time I continue to favour outcome a. over b.