It's too early to call anything yet, but as it pertains to crops we are focusing on soybeans and corn. As readers may remember, many farmers switched to planting corn after hearing early news out of the Midwest this year. And soybeans were one of the crops that saw planted acreage decline. Since then, we have seen soybeans fall. Should we see a further decline, we would be looking for support to kick in. Until we get some news, it does appear as if soybeans are range-bound.
Chart of the Day
Click to enlarge images.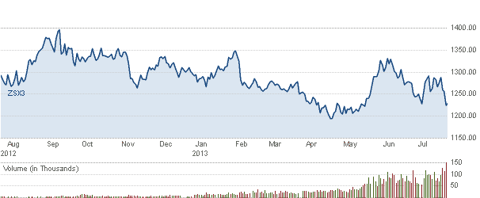 Source: Yahoo Finance.
Commodity prices this morning are as follows:
Gold: $1327.60/ounce, up by $6.10/ounce
Silver: $19.855/ounce, up by $0.084/ounce
Oil: $104.99/barrel, up by $0.29/barrel
RBOB Gas: $3.0417/gallon, down by $0.0027/gallon
Natural Gas: $3.451/MMbtu, down by $0.104/MMbtu
Copper: $3.0975/pound, down by $0.008/pound
Platinum: $1439.40/ounce, up by $16.60/ounce
Uranium
We want to once again warn readers to exercise caution when it comes to the uranium sector. There are a bunch of smaller names that trade here in the U.S. rallying strongly, as the day traders have gotten a hold of them and have created irrational exuberance around the situation. We are, in fact, bullish on solid uranium names, such as Cameco (NYSE:CCJ) and Ur-Energy (NYSEMKT:URG), but dislike names that have seen share prices, in some cases, quadruple over the past week or so.
Cameco is the blue chip of the industry and needs to be in every portfolio simply to minimize volatility. Ur-Energy is an up-and-comer that was actually at its 52-week high in pre-market trading, as the market has embraced it over the past few months because of its project that should be coming online soon. In addition, its cash situation has improved. Own the solid names in the industry and refrain from getting drawn into the euphoria surrounding companies that the day traders are promoting.
This $150 million-plus market cap company has had a very nice run this year. We think it is one of the few legitimate names that has risen sharply of late. We would advise readers not to get caught up in the other names that are rallying for no reason.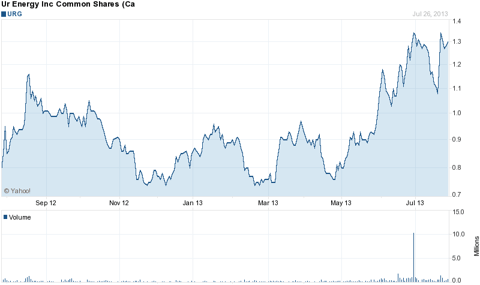 Source: Yahoo Finance.
Oil and Natural Gas
As more investors move into the market from cash positions, we continue to receive a bunch of questions about how to safely position retirement money or college education accounts. Usually the stipulation is how to do this utilizing some index funds, but to get a few "winning" stock picks into the mix. Everyone seems to have heard about fracking and the great wealth being creating in places such as Texas, North Dakota, Colorado, and a myriad of other states with shale plays that possess oil and NGLs.
We continue to think of EOG Resources (NYSE:EOG) as one of the more compelling names when looking at the space, and believe that the pullback after failing to move above the $150/share level is a buying opportunity as the company continues to advance its acreage in the Bakken and Eagle Ford shales (among others). The shares are above where we initially highlighted them, although with the move in WTI we would argue that EOG has underperformed in relative terms. Thus, an opportunity to profit still exists from a move higher. We like averaging into this name over time, and that first purchase for those not yet owning shares could be made at current levels as this appears to be an attractive entry point.
As readers know, we have spent the past few months carefully picking names that underperformed peers in the oil and natural gas sector. But these next two names are much like EOG Resources in that they are trading very near their 52-week highs. We still continue to like the story out West as the shales with large amounts of liquids are developed. The two names at the front of the pack are Anadarko Petroleum (NYSE:APC) and PDC Energy (NASDAQ:PDCE).
Try not to miss the point with this chart. Focus on the gains and the risk that were present. We think that the risk/reward still on the table could lead to more of the same for both names. So depending on which type of portfolio you have, you should choose accordingly.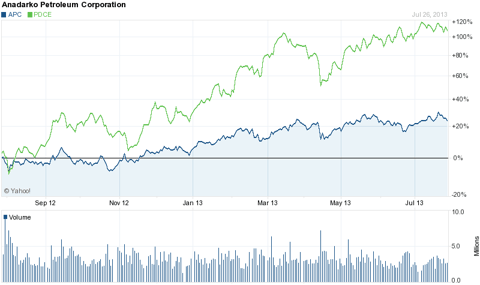 Source: Yahoo Finance.
Anadarko is a very well-run mid-sized E&P company that would make an attractive target for one of the majors. It has a solid portfolio of domestic shale acreage paired with very good performing traditional assets. This is a name for conservative leaning portfolios, but we are once again inclined to be bullish on shares of PDC Energy as the results that have been coming in from the Utica lead us to believe that it has a good chance of proving up more of its acreage than many believe. Also, it makes us think that the midstream issues out West have been taken seriously and addressed by suppliers.
Yes, there will probably be some hiccups, but at current prices it seems to us that the risk/reward is attractive for those needing more risk in their portfolios. These two companies are similar in nature with their positions out West, but the main difference is that the balance of Anadarko's assets are lower-risk whereas PDC offers a lot more upside should its southern Utica acreage pan out.
Disclosure: I have no positions in any stocks mentioned, but may initiate a long position in PDCE over the next 72 hours. I wrote this article myself, and it expresses my own opinions. I am not receiving compensation for it (other than from Seeking Alpha). I have no business relationship with any company whose stock is mentioned in this article.