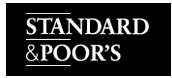 Standard & Poor's said in its second quarter Industry Report Card that it expects more downgrades of US regional banks:
Banks' announced or completed capital actions partially offset our views that credit quality will deteriorate and that net losses will persist throughout 2010. Nevertheless, the vast majority of the large regional banks we rate have negative outlooks, reflecting our view that more downgrades may come in the near-to-intermediate term.
Other highlights:
Credit deterioration was evident in most banks' increased nonperforming assets (NPAs) and charge-offs.
Credit quality kept dropping heavily, and in some cases rapidly, as a quarterly rise in nonperforming assets (NPAs) and charge-offs attests. Although performance varied widely, NPAs increased an average of about 60 basis points, for NPA ratios of about 2% to 8%. Credit woes seeped more evenly across loan categories than they have in recent quarters, covering the mortgage, commercial real estate, and commercial-and-industrial sectors.
We believe that losses in defaulted construction loans will become more severe during this economic downturn than in earlier ones because of much greater price declines in residential homes and condominium projects–especially in certain depressed states. Some banks have also expressed this view.
We also suspect that CRE loan performance, which typically lags the economic cycle, will get much worse before it gets better.
The robust growth in deposits happened as total loans outstanding contracted slightly, continuing a first-quarter trend. We expect margins to improve gradually next year as the higher cost deposits mature.
Tangible common equity ratios rose in the quarter as many large regional banks completed exchange offers and raised equity capital, due to either capital concerns or the government's requirements. Specifically, the Federal Reserve required nine of the 19 largest banks in the country to increase their Tier 1 capital levels by $75 billion under the Fed's Supervisory Capital Assessment Program (NYSEARCA:SCAP) "stress test" announced in early May. Despite the issuance of common equity and sequential increases in tangible capital ratios, we don't expect that most regional banks will repay Troubled Assets Relief Program (TARP) capital in 2009. Nonetheless, certain large regional banks have indicated their desire to do so as soon as their regulators permit.