Earlier this summer, there were several reports that Dell (DELL) has made $3M thanks to its use of Twitter, mainly to notify people about outlet deals on dell.com. The microblogging service that garnered media attention with reports on things as trivial as celebrity feuds and as serious as protest of the Iranian election results also had a tangible dollar amount associated with its use. The Dell announcement also provided a benchmark of sorts for marketers looking to measure the monetary impact of their social media use.
But where does Dell stand when it comes to getting referral traffic from Twitter, relative to other sites that sell products to customers? To find out, I looked Compete's referral analytics data, which shows us what site people went to right after they were on Twitter. Although this doesn't include referrals from mobile devices or Twitter clients (e.g. Tweetdeck, Tweetie, and Twitterific), it does give us an idea of how traffic from the site is flowing to other parts of the web.
To do this analysis, I compared Dell.com to the sites that sell products to consumers online (let's call them "selling sites") that got the biggest percentage of referrals from twitter.com. I also looked at the percentage of each site's overall traffic that was made up of referrals from twitter.com, to gauge how big of an impact the microblogging site was having for them in the grand scheme of things.
The data is shown in the chart below. Each site's rank in terms of getting referral traffic from Twitter's website is in brackets, which you would read as "across all sites on the web, eBay ranked 15th in getting share of referral traffic from twitter.com." The bars show the percentage of each site's referral traffic that comes from Twitter referrals, which you would read as, "a tenth of one percent of craigslist's referral traffic is made up of referrals from twitter.com."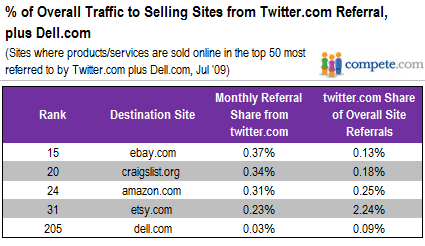 A couple of interesting points to note here:
Among these selling sites, eBay is getting the largest percentage of the referral traffic from Twitter.com, even though those referrals make up about the same proportion of eBay.com's overall traffic as they do for Dell's site
Etsy, a site where people can sell handmade and vintage items, saw the largest percentage of their traffic from Twitter.com in this group, at just over 2%
In terms of getting Twitter referral share, Dell ranks 205th, and only about 0.1% of its site traffic comes from twitter.com
What does this mean? A couple of implications come to mind.
First, there is still an opportunity for these selling sites to increase their traffic from Twitter.com to make up a larger portion of their traffic, and take advantage of Twitter's strength of delivering simple information quickly to a designated audience.
Second, a little seems to go a long way. Dell was able to make money using Twitter without garnering a large percentage of twitter.com referral traffic, and without a big chunk of their overall traffic coming from Twitter. Again, this data doesn't include traffic that came from Twitter clients or mobile devices, but it does give us an insight into the traffic patterns from the website.
Third, a couple of the sites ahead of Dell in this analysis are places where people can buy, but also post their own items. It could be that people are using Twitter to promote what they are personally trying to sell. Although sites like Dell probably won't (and shouldn't) enable the average person to sell on its site, encouraging the audience's participation through retweets could help boost traffic.
Twitter may be enigmatic, but it has potential for marketers. Typing 140 characters isn't hard, but figuring out how much, and how to tap into it, is the true challenge.