Sinopec (NYSE:SNP) recently reported results for the six months ended June 30. Net income for the period increased significantly from the year-earlier level to RMB 33.2 billion ($4.87 billion). The positive results reflect a steady growth in oil and gas volumes and profit from the refining business.

Sinopec's crude oil production during the period rose nearly 1.2% year over year, while natural gas volumes dropped 1.1% from the year-earlier period. The company's refining business recorded crude oil processing volumes of 86.9 million tons (a 1.8% year over year increase) and production output of refined oil products of 54.0 million tons (a 3.5% increase from the year-ago quarter).

Marketing and Distribution segment's sales and retail volume of refined oil products decreased 8.4% and 12.8% year over year, respectively. The company's Chemicals segment output of ethylene and synthetic resins reached 2.97 million and 4.74 million tons, respectively, as against 3.31 million and 4.95 million tons in the year-ago period.

Capital expenditures during the first half of 2009 totaled RMB 38.5 billion ($5.6 billion), out of which exploration and exploitation spending stood at RMB 19.4 billion ($2.8 billion). In the Refining segment, Sinopec spent RMB 5.3 billion ($0.8 billion), mainly used in the improvement of refineries and product quality upgrading projects.

Capital expenditures in the Chemicals segment totaled RMB 11.2 billion ($1.6 billion), mainly on account of the construction of two 1 million tons per year ethylene projects in Tianjin and Zhenhai, respectively. Capital expenditures in the Marketing and Distribution segment were RMB 2.6 billion ($0.4 billion).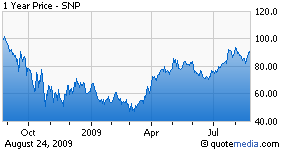 Management guided that Sinopec will continue to grow its domestic production of crude oil and substantially increase natural gas production. By 2011, domestic oil equivalent production is expected to amount to 55 million tons.

Sinopec's influence in the lucrative Chinese market is expected to help sustain its growth momentum. Leveraging the company's advantage in scale and cost-efficiency, as well as its integrated business model, Sinopec turned around its profitability in the first half of 2009.

However, its significantly downstream weighted asset structure makes it less geared to E&P than found optimally. As such, the company's ability to consistently earn returns comparable to its international peers is weak.