Infitialis Introduction
Investors in industries deemed popular or in vogue by the general public have a propensity to engage in fraud and folly often resulting in the manifestation of valuation bubbles for the pioneering companies. As the great Charles Mackay wrote in 1841:
"Men, it has been well said, think in herds; it will be seen that they go mad in herds, while they only recover their senses slowly, and one by one."
Nearly two hundred years later, these words are still relevant as even nowadays men find it difficult to act against the herd while the herd goes mad. Infitialis is a research collective that exposes such fraud and folly in an effort to identify bubbles before they implode and our track record of success speaks for itself:

Aside from this record of our published reports, the Infitialis collective also warns investors of fraud and folly via our twitter page. It is through our twitter account that we issued prescient warnings on two recent OTCBB stock scams: Biozoom (OTC:BIZM) and Xumanii (XUII.OB) with the former being halted by the SEC with over $16 million in illicit proceeds frozen and the latter having declined by over 70% from the date of our warning.
It is unfortunate that all-too-often micro- and small-cap stock fraud occurs in our equity markets. It is extremely easy for a thinly traded equity with roughly zero intrinsic value to be promoted to the unsuspecting retail investor. While small-cap stock fraud will never be eliminated, it is imperative that the innocent retail investor be made aware of equities that suspiciously fit the profile of a penny-stock pump and dump.
Soul and Vibe Interactive, Inc. (OTCPK:SOUL) - A Worthless Pump and Dump
Soul and Vibe Interactive (OTCPK:SOUL) is a $170 million publicly traded company that has recently run up from just $.20 cents a share to $1.48 for no apparent reason. Investors not yet invested should avoid (OTCPK:SOUL) at all costs, and anybody currently in the stock should not dither and sell the entirety of their stakes immediately.
A GAME PUBLISHER THAT HAS NEVER PUBLISHED A GAME
The company bills itself as a firm that "publishes games and game-related content for consoles, mobile devices, and personal computers". The company further goes on to note on its website that its product mix includes "licensed-bands and internally generated, wholly owned, intellectual properties".
However, despite these grandiose claims, a quick trip to the company's website reveals a number of curious irregularities: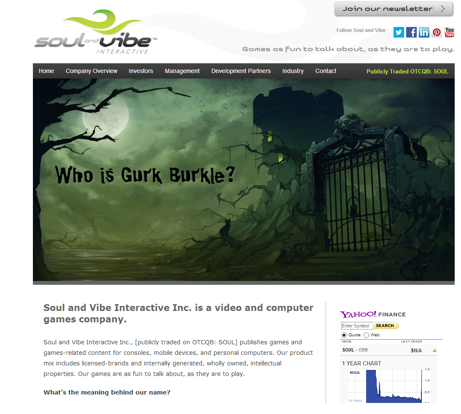 A careful examination of the home-page reveals the following issues:
WHERE ARE THE GAMES?
While the site has links to a company overview, an investor relations page, a management page (which includes just three individuals), a tab that talks about how large the game industry is in general, and a "contact" page, there is not a single tab that leads to a catalog of games. The only thing mildly related to a "game" are precisely two, artist-generated (i.e. NOT in-game) images teasing that something involving a character named "Gurk Burkle" may be in the works. It would go a long way to establishing credibility if the site had even a single in-game screen-capture, but as we believe there is no game under development, this comes as no surprise.
Keep in mind that "Soul and Vibe Interactive" was formed in 2011, and has yet to produce or publish a single game title.
THE ONLY THING FOR SALE ON THE WEBSITE IS SOUL STOCK
You will also note that, as with previous frauds that we have profiled, the "company" spams its ticker symbol in at least two places on the home page (with one including a Yahoo-sourced stock chart), and makes sure to draw special attention to them. A quick trip to the websites of established, publicly traded game publishing houses, shows that this is not common practice: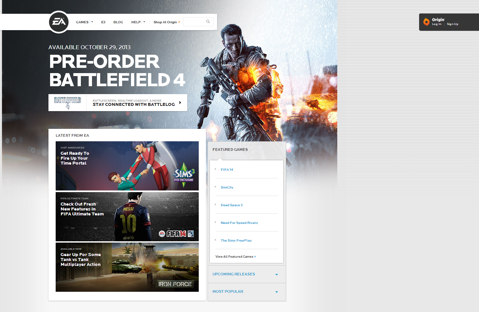 (No ticker spam on the EA site... just advertisements for high quality games)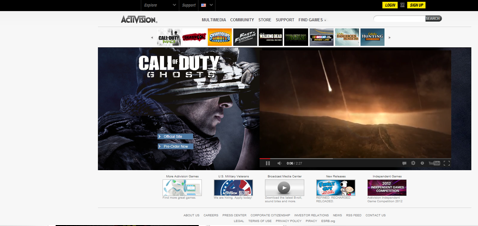 (No ticker spam on the Activision site...just advertisements for high quality games)
It seems that the only thing for sale at Soul and Vibe Interactive is its worthless stock to unsuspecting retail investors.
CEO CAUGHT IN A SERIES OF LIES ON YOUTUBE
In a recent video interview with "Corporate Profile", a questionable firm that bills itself as a NY based media company that brings viewers "daily news", "stock updates", "investment interviews", and "weekly entertainment segments", the CEO of Soul and Vibe Interactive Peter Chiodo (no relation to the Luchese crime boss sentenced to 17 years) made the following (false) statements:
"We've made games and games related content for consoles like your Xbox 360 and your Playstation 3, mobile devices like your iPhone, iPad, iPod Touch, Windows Phone, Android, and then, uh, downloads for personal computers, PCs and Mac"
This is an outright fabrication. There is not a SINGLE title from "Soul and Vibe Interactive" listed on Soul and Vibe Interactive's website that has been released for ANY of the aforementioned platforms. If there were, then wouldn't the company have recognized revenue from the sale of ANY of these titles, and would have trailing twelve month revenues in excess of $0 (and net losses in the tens if not hundreds of millions of dollars, considering how much developing a game and porting it to 7 distinct platforms costs)?
The truth is that (OTCPK:SOUL) is nothing but a stock scam with no revenues, profits, or even cash. Find below the most recent financial statement from the company's public filings with the SEC: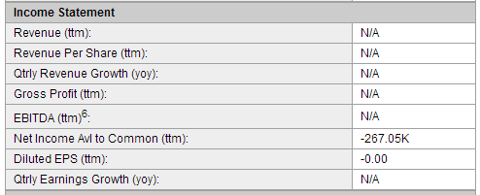 Continuing on, we catch the CEO in yet another blatant fabrication,
Interviewer: So you're a licensed publisher for Sony as well?
CEO Peter Chiodo: "We are, we have a publishing license for Sony for the Playstation 3 and the Playstation Vita, and we're also a licensed Xbox 360 publisher. We can also do things for, uh, Windows 8 and for the Windows Phone as well."
So, here's what's wrong with this statement,
WHERE'S YOUR iOS/MAC DEVELOPMENT LICENSE? We find it curious that the CEO would mention having licenses for the PS3 and the Xbox 360, and even claim to have special privilege that allows his "company" to develop for the Windows 8 platform (this is no such thing), but would not mention having an iOS and Mac license. Do these people even know that a developer's license is required to develop applications for the iOS and MacOS platforms?
But wait, things get even better, when the interviewer continues on,
Interviewer: So your company definitely sounds very exciting, but why should we buy your stock right now?
CEO Peter Chiodo: "So the video and computer games industry is very high growth industry. It was a $56B industry in 2010 and it's expected to hit $82B by the time that we get to 2015. Also, our business model is, uh, very exciting in that every single one of our releases has multiple revenue streams which helps us to get the word out not only on our products, but also build a lot of value for shareholders."
Anybody paying attention will note that the CEO made no material mention of his company's "business model", and that the answer to the interviewer's question was isomorphic to, "The games industry is big and getting better - buy our stock!"
That'd be nice - if the company shipped any games.
Let's also not forget that this "interview" was questionable at best, with the interviewer ending off the video urging its viewers to buy the stock. Who exactly are these "Corporate Profile" folks working for, anyway and why wasn't any disclosure made as to whether SOUL paid for that interview?
BALANCE SHEET WOES: SOUL AND VIBE CANNOT AFFORD A PINBALL MACHINE LET ALONE DEVELOP A GAME
A quick look at Soul and Vibe Interactive's balance sheet shows that the company is not only worthless but technically insolvent:

With $1,690 in cash, $58,600 in debt, no revenue stream, and at least three employees (CEO, Director of Operations, and Financial Reporting & Internal Controls) it is difficult to see how this entity can operate for much longer.
DEVELOPMENT PARTNERS?
An argument can conceivably be made that Soul and Vibe is a publisher and not a game developer. Although the publisher is almost always the company that funds the development of the game (which we have demonstrated the company cannot do), some may argue that despite the fact that Soul and Vibe has never shipped a game, it may partner in a more limited fashion with companies that can. The company claims to have "development partners", and gives a long pitch on how it partners with many "independent, technically sophisticated" development partners all over the world, but fails to list a single partner! It also doesn't help that the company has next to no money, so an independent developer would have no use for any of the "services" that this company would provide, as it could not afford to provide them.
GET OUT NOW
We have no doubt that this company is pulling the wool over investors' eyes. It has never shipped a title, has a balance sheet that could not support the development of a website, let alone a game, no revenues, and a CEO that is willing to make patently false statements in public interviews. This is a company worth precisely $0/share. If you are long the stock, we emphatically urge you to GET OUT. Do not dither, do not hope that you can offload your shares to a greater fool. Simply sell your shares. For speculative investors if you can secure a borrow, then this represents an EXCELLENT opportunity with downside of 100% with minimal risk.
Disclosure: I have no positions in any stocks mentioned, but may initiate a short position in VRYGD.OB over the next 72 hours. I wrote this article myself, and it expresses my own opinions. I am not receiving compensation for it (other than from Seeking Alpha). I have no business relationship with any company whose stock is mentioned in this article.