Investors with active positions in the SPDR S&P 500 ETF Trust (NYSEARCA:SPY) should be prepared for a pickup in volatility next week, as a series of key event risks put the S&P 500 at risk for declines with prices still trading at elevated levels. Key for gauging sentiment will be the series of central bank monetary policy decisions and the next set of employment figures out of the U.S. (Non Farm Payrolls and the national unemployment rate). Last week, SPY ended its run of four straight weekly positive closes, as we have started to see some notable earnings disappointments and a good section of the market is still operating under the assumption that the Fed will begin its tapering programs in the next few months.
Recent examples of weakness on the earnings front can be seen with Caterpillar Inc. (NYSE:CAT), which missed profit estimates and reduced forecasts for annual earnings, and McDonald's (NYSE:MCD), which said that weakness in the global economy will pressure earnings results for the remainder of the year. These negative developments come after some significant disappointments in the tech portion of the S&P 500, where several large-cap misses highlight the inability of the PC industry to monetize the evolving needs of the mobile consumer. Other notable areas of weakness can be seen in the homebuilders, which saw single-session declines of nearly 9% on slowing macro data.
Upcoming Event Risks
At this stage, the market is assessing safe areas and stock sectors that offer top-line and bottom-line growth, and there are real risks which suggest that the underlying bull-trend could see some downside correction. Potential catalysts for such a move could be seen next week, as the Federal Reserve will shed some new light on how it plans to approach an exit strategy for its quantitative easing programs. The next set of statements out of the Fed will be key in determining how markets will perform for the remainder of the third quarter, as a good deal of the commentaries seen recently have been vague and ambiguous. With phasing like quantitative easing will not "follow a predetermined course," there has been little for investors to work from when establishing new positions.
Of course, there is no set course for how quantitative easing should proceed, so Bernanke will not be able to continue making obvious and directionless statements like this for much longer. Because of this, our next Fed meeting could be pivotal if we start to see statements that are more substantive and revealing. Additional potential for volatility should be expected after the July Non Farm Payrolls are released, as this (along with the unemployment rate) makes of the primary motivation for the Fed to either continue with its programs or start making reductions. This month's NFP number could generate more volatility than usual if we see data that conflict with whatever bias is signaled by the Fed. Any suggestion that quantitative easing programs are no longer necessary could easily put pressure on the SPDR S&P 500 ETF Trust, and send SPY to new near-term lows.
Chart Perspective: SPY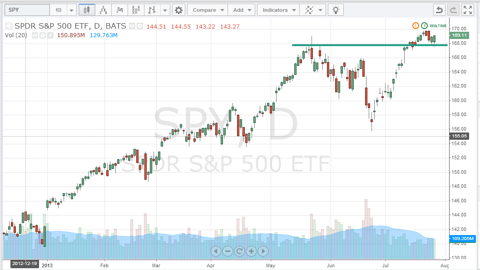 Given the elevated price activity in SPY (when looking at near-term historical averages), it will not be surprising if we see breaks of minor support generate significant follow through as investors have likely placed profit stops not far away from current price levels. The first area to watch comes in at 167.70, as this is a key resistance turned support zone. A break here will signal that a near term top is in place and put the focus back onto the low 160s.
Disclosure: I have no positions in any stocks mentioned, and no plans to initiate any positions within the next 72 hours. I wrote this article myself, and it expresses my own opinions. I am not receiving compensation for it (other than from Seeking Alpha). I have no business relationship with any company whose stock is mentioned in this article.