Equities tried to kick on from Friday's post housing/Bernanke rally. However, whilst stocks rose in Europe, the early rally in the US, which had lifted the S&P 500 by 0.9% by mid morning, was steadily eliminated over the course of the day. Regional bank names in particular came under selling pressure in a belated reaction to a piece carried here yesterday by prominent banking analyst Dick Bove (Rochdale Securities) predicting 150-200 more bank failures in the US. The price action in equities flowed through into other markets, with commodities and commodity currencies similarly reversing to close little changed.
Today's Market Moving News
The Japanese Yen is bid as the spread on Japanese versus US three month interest rates has flipped for the first time in 16 years i.e. Yen interest rates are now 0.002% higher!
Plenty of news reports that President Obama will reappoint Ben Bernanke for a second term. The stories are based on an anonymous White House source, and say that Obama will emphasise Bernanke's extraordinary determination to avert an economic catastrophe.
The main corporate news story from Europe is the likely collapse of the German-sponsored bid by Magna for Opel, which has important political implications. GM's decision to reconsider the Magna offer is a textbook exercise of what happens when lack of European policy co-ordination meets a wily US counterparty. Merkel's financial offer, under which the German government pays for the preservation of German jobs at Opel, while most of the job cutting would be done at the car manufacturer's plants in Belgium, Spain and the UK, collapsed just weeks before the German elections. Senior members of the CDU professed outrage. GM is now considering an alternative offer involving Britain, Spain and the UK. So instead of a joint response, there is now a bidding war among European governments, each keen to preserve as many jobs as possible in their own country.
Rating agency Fitch warned that there has been a very sharp drop in the number of prime mortgages that are being pulled back out from delinquency status. In other words, once a mortgage owner has dropped to delinquent, there's a much greater chance that the home will eventually end up in foreclosure. Fitch said that the average 'cure rate' between 2000 and 2006 was 45%, but most recently that has slumped to just 6.6%. Fitch said that while there has been a new focus on the apparent stabilisation of new delinquency rates, the reality is that underneath the failed payments there's little rectification. It's even worse in Alt-A with the cure rate dropped from 30.2% to a mere 4.3%. In subprime it is down to 5.3% from 19.4%. Fitch blamed this on the continued deterioration in home prices.
J.P. Morgan's European equity strategy team have lowered their view on metals and mining to neutral from overweight and upgraded telecoms to overweight from neutral in a research note this morning. After a 75% run since it upgraded the sector on December 3, the mining sector is "not as attractive anymore," trading at a 52% price-to-earnings premium to the broad market vs. historical averages, while telecoms are trading at a 50% relative price-to-earnings discount, the brokerage said.
Kerry Group has upgraded guidance for the full year in its interim results statement, ahead of market expectations. It is now guiding full-year EPS at the upper range of its maintained range of 162-165c. Internal efficiencies have enabled the company to considerably improve their EBITA margin and the interim dividend was raised by 11.6% to 7.7c.
CRH's interim results were broadly in-line with its trading update issued in early July. First half revenues declined by 15% year-on-year to €8.3bn and operating profit was 66% lower at €241m. Profit before Tax at €108m was 82%, down yoy, but ahead of market forecasts. While CRH stated that trading conditions into the second half remain extremely difficult, it also points to a number of positives including more favourable Polish cement volumes and continuing momentum being seen on the infrastructure side in the US Materials business where the Group expects a strong full year operating performance.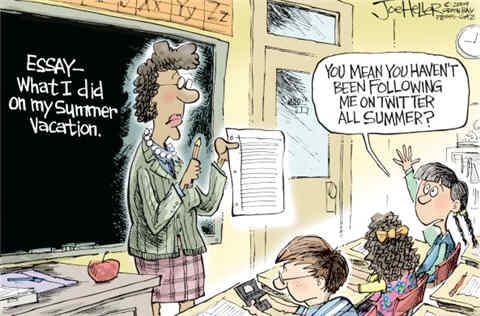 A Wild Day Of Chinese Trading
A 2.6% fall in Chinese equities overnight (which were down -5.5% at one point in wild trading) has set the stage for a broader based sell-off in Asian equities, though the magnitude of the declines was more modest. The catalyst for the latest pullback in Chinese stocks was poor earnings numbers and comments from a leading bank in China which stated that there was excess liquidity in the Chinese financial system. It's always worth remembering that the market can be extremely retail driven and hence prone to sharp, knee-jerk reactions. If not panic then certainly activity that doesn't have much long term thought behind it. Remember that the Shanghai index is only available to locals so it is not reflective of international sentiment or indeed international liquidity. Bank stocks were the hardest hit, with Industrial Bank down 6.7% (it also issued disappointing earnings), Commercial Bank of China dropped 3.1% and China Construction Bank dropped 2.9%.
There was a bit of discussion about Premier Wen's comments. He said that the government would continue to provide liquidity and assistance to support growth. That was taken by the markets as 'glass half empty' in so far as it casts some doubt over the sustainability of the Chinese recovery without official assistance. Putting it all together then, and earnings and sustainability issues drove domestic fear trades.
When The Sugar Rush Fades
So why this sobriety in stocks when we've been told the recession is over? The reality as I see it is that the core supports needed to create a sustainable platform for growth aren't in place. Unemployment has continued to rise (despite multiple Government sponsored programs to subsidise businesses to employ people on short term contracts paid largely by the taxpayer), banks aren't lending and that is despite the Governments that have bailed them out, taken their toxic assets and continue to fund them in the money markets as well as nationally own many of these failed institutions, urging them to do so. They are sitting back smugly with very steep yield curves where they fund at near zero from the governments propping them up, and lend out on a very steep curve with record margins, and the lowest LTVs for generations. A nice trade if you can get it! The consumer is only spending where hugely incentivised to do so in the form of cash tax rebates, cash for clunkers, tax breaks for 1st time buyers etc. The poor are spending the rebates to survive, and perhaps taking on home and car debt they again can't afford? The middle classes are slashing their debt (credit cards, car loans and home improvement loans etc) and saving at a pretty ferocious pace.
My point here is that the US is very reliant on the consumer to lead them out of this recession (consumption is roughly 2/3rds of GDP growth). And the world will continue to be very reliant on America turning the corner, before they can themselves find a bottom. I don't see a confident US consumer yet, or one in any other major developed economy. How can you be confident when you're either unemployed with little prospect of another job, or about to be made redundant?
With this all in mind, I think it's important to understand the distinction between a recovery, and deceleration of the contraction of growth. Has the pace of the recession slowed?? Yes it has… Mainly as the banking system in many countries has been propped up sufficiently to take away the concern of systemic risk. But to point at the slowing of the decline of growth, as anything more than a bottoming over the next several months is clearly premature. All the Leaders, Central Bankers and Finance Ministers are warning us as to how precarious the economies are, how long the recovery will take and how risky it is to assume that the problems are now behind us. Even the CEOs and CFOs that managed some better than expected earnings, not historically great, just better than some of the pessimistic estimates, made sure that they warned of the future uncertainties to both growth and earnings. These guys are lucky at the moment if they can tell you where their business is going next month, maybe the next two months.
This is a vicious cycle that needs to be broken with a large dose of reality. The realisation that the cart is 6-9 months ahead of the horse will come fairly soon, and fairly violently too. Believing that we are going to be on such a "V" shaped recovery is just plain optimistic. Calling this historic credit crunch and recession over, until the main pillars of the US economy are back functioning on their own is in my opinion not only inaccurate, but just plain wishful thinking!!
Data Ahead Today
The US economic calendar is a little busier today. Taking centre stage will be the latest Conference Board consumer confidence survey at 15:00 (all times UK), with particular emphasis on the jobs plentiful diffusion index (which has actually deteriorated over the previous two months). Also due are the Case Shiller at 14:00 and FHFA home price indices (both indices having posted a rise in prices in the month of May), together with the Richmond Fed's manufacturing survey at 15:00 (which showed substantial improvement in July). See all the releases in the Weekly Calendar.
And Finally… The Obama Deception (Scary)

Disclosures: None