Monday morning trading shows all three large broadcasters CBS (NYSE:CBS), 21st Century Fox (NASDAQ:FOX) and Comcast (NASDAQ:CMCSA) down: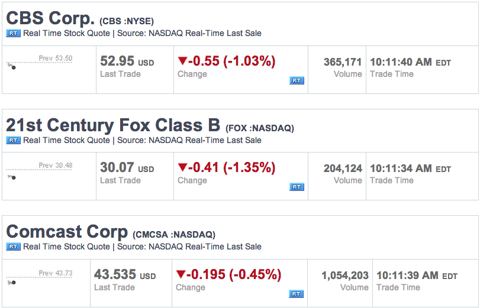 (Click to enlarge)
Now this may be a knee jerk reaction to the gaining legality and strategic position of Aereo, which is backed by Barry Diller who ran Fox for Rupert Murdoch when old Rupert was just getting his broadcasting feet wet, but we think it's more about the coming battle between Time Warner Cable (TWC) and CBS here in New York City, especially as football season approaches as this NYTimes article points out:
The contract dispute between CBS and Time Warner Cable is the first to unfold in the New York metropolitan area since Aereo came to market...The service, backed by Barry Diller and a number of other venture capitalists, uses giant arrays of antennas to pick up freely available television signals... and stream them to the phones, computers and other screens of paying subscribers.
Now to be fair, Comcast really has two dogs in this fight and is probably more protected because it owns NBC and its content. This is a large topic of discussion especially on the Motley Fool website where they are hyping "the death of cable". This site does a good recap of the Motley Fool marketing campaign which uses a video that's just too long to watch. But CBS looks to be the torch bearer here for the group against TWC who is also down this morning:


(Click to enlarge)
To be fair, all of these names are close to their 52 week highs and could be experiencing a little profit taking. But we do think there is a growing concern among investors that there is a paradigm shift in the way we watch video content. We have reported before that Charlie Ergen CEO and controlling shareholder at Dish Networks (NASDAQ:DISH) certainly sees it coming. And Diller's Aereo seems to be bringing it to a head faster than anyone imagined it. We think Felix Salmon did a great job summarizing the Aereo and cable situation here on SA and here are his concluding remarks:
None of this is going to happen quickly, or cleanly. But broadcast TV is rapidly becoming an obsolete technology, and the distinction between cable channels and broadcast channels is a distinction which has outlived its usefulness. Aereo's very existence is testimony to the silliness of the status quo, and the logical end point is for all the current broadcast spectrum to end up in the hands of institutions which can use it much more effectively as digital bandwidth.

The losers in this process will be Aereo, of course, and also the households which still rely on broadcast TV - somewhere between 10% and 15% of the total. I suspect, however, that those households are precisely the ones with the least amount of political clout. Which means that sooner or later, they're going to lose their access to free-to-air broadcast TV. They won't like it, but there's pretty much nothing they can do to prevent it.
Our belief is that video streaming is the next big thing and has been for awhile. That said, what is a good way to play that underlying theme as these battles for the "stream to any device" continue to their frantic path higher? We think it is important to find fundamental IP in the video streaming space. We have written on a portfolio holder before here and think it is timely to update on what their patents are specifically on video streaming:
The significance of these patents to both the broadcasters and the cable operators as well as the other streaming companies such as Netflix (NASDAQ:NFLX) and Amazon (NASDAQ:AMZN) has not been proven. But, with Aereo upsetting the applecart in the broadcasting and cable industries, the one who can get the fastest control of this portfolio will gain a strategic edge in streaming video in our opinion.
Disclosure: I am long SITO. I wrote this article myself, and it expresses my own opinions. I am not receiving compensation for it. I have no business relationship with any company whose stock is mentioned in this article.