Nokia (NYSE:NOK), the Finnish mobile giant, finally seems to be getting things right with its smartphone strategy. The company's recent results showed that the Lumia momentum continues with a high double digit quarterly growth rate. I had written even before the results that the Lumia sales were increasing as the smartphones offered a good value proposition in comparison to the rival Android and iOS smartphones.
Although the quarterly shipments of ~7.8 million is far below that of market leaders like Apple (NASDAQ:AAPL), with nearly 36 million phones and Samsung (OTC:SSNLF), with more than 60 million, it is a good outcome for Nokia that had been given up for dead in the smartphone industry. Nokia is also showing good momentum, when its rival for the 3rd ecosystem provider Blackberry (BBRY) is faltering somewhat with its BB 10 smartphone shipments. Nokia is also showing urgency by introducing both differentiated smartphone products (Pureview 1020) and mass market smartphones (Nokia 625). I had been positive on Nokia's stock even after it missed the expectation during Q113 results. The stock has a low valuation and should show good returns as the company increases its global smartphone market share.
Lumia Sales are showing great Momentum
Nokia's Lumia smartphones have been on a sharp upward trajectory in 2013 as the WP 8 OS allowed Nokia to produce good products at low prices. The WP 7 Lumia smartphones were quite buggy and not up to the mark in my view. Microsoft (NASDAQ:MSFT) has only started preparing itself for the mobile devices space after sleeping through the last 5 years of the mobile devices boom. Nokia showed a more than 30% quarterly growth as 7.8 million Lumias were shipped. I think that the Lumia 520 is one of the best products in the lower end of the smartphone market at $180. I have seen people get amazed to find a high quality Nokia-Microsoft product available at a cheap price. It has created a niche in the low end smartphone segment which is dominated by hundreds of Android clones with no differentiating factor. Nokia needs to increase its marketing effort, as I think that MSFT and Nokia are not pushing the Lumias enough compared to the relentless marketing by Android companies and Apple.
In short, we start shipping the Nokia Lumia 1020, which is planned for later this month, we believe it will change how people shoot, create and share pictures forever. We are glad to report a positive trajectory for Lumia quarterly volumes from 2.92 million to 4.4 million to 5.6 million to 7.4 million devices in Q2, showing momentum for the ecosystem. Our Q2 Lumia volumes were the highest for any quarter so far and reflect 32% growth quarter-on-quarter. Putting our Lumia trajectory into perspective for the full year of 2012, we sold 13 million Lumia devices. In just the first half of 2013, we sold 13 million Lumia devices, establishing a stronger and more well-rounded base from which we can build.

Source - Seeking Alpha
Windows OS in 2014 should allow Hardware manufacturers more headway to make improvements
The current Windows mobile OS is not as mature as Android or iOS for the mobile devices system. Google has been introducing rapid improvements through quick launch of new versions, while iOS remains the best mobile OS out there. While Microsoft has been spending huge resources to catch up, I think it still restricts the hardware from being as good as the Android and Apple smartphones. Nokia's best flagship smartphones still support only 1 GW of RAM memory, and I have yet to see a quad core smartphone supporting a Windows OS. Though the experience of Nokia's Lumia phones do not show any performance issues with lower RAM and processors, Nokia's product lineup will definitely improve with high powered components. I expect that MSFT will improve the OS by next year to allow higher powered smartphones.
Nokia is showing an Innovation streak which was missing earlier
Nokia has slipped from its No.1 smartphone rankings due to lack of innovation. Apple captured the smartphone industry through just one product - iPhone. This product delivered such a quantum leap in smartphone performance that it made the smartphone industry one of the biggest in the world as competitors started to copy Apple. Nokia, on the other hand, failed to see the trend and would have been in dire straits if the new CEO Elop had not taken drastic steps to stop the company's downtrend. The company is showing good product understanding, and while the success of the Pureview 1020 product is uncertain, it shows that the management has started to get it. The Nokia 625 shows that the company is reacting to the changing customer needs for a bigger screen by launching a low cost large screen device at a very affordable $290. Though the hardware components are not the best, I expect the new smartphone to give good performance and sell well at this price point. I think that Nokia could have done better with a screen size bigger than the 4.7 inches, but it may have been restricted by WP 8 limitations.
The upcoming Lumia 625 delivers high-speed entertainment to a wide audience with a large 4.7-inch super-sensitive LCD screen and 4G Internet access. This is a Windows 8 OS based richer and easier to use smartphone experience at a competitive price. The low-cost Lumia 625 provides many innovations found in the recently announced flagship Nokia Lumia 1020 camera phone. These include a range of integrated camera applications like Nokia Smart Camera, offering handy features like removing unwanted objects from pictures, and Nokia Cinemagraph, which turns photos into living memories with added movement. It will begin selling in China, Europe, Asia Pacific, India, Middle East, Africa and Latin America in quarter 3 in 2013.

Source - DB
Nokia Stock Price and Performance
Nokia's stock has stabilized at the $4 level after falling to below $3, subsequent to posting a bad set of Q113 results. The recent 50% equity stake purchase from Siemens (SI) at a cheaper than expected price has helped support Nokia's stock price as well. Nokia's valuation remains low with a market value of ~$15 billion. The company has excellent assets in the form of its telecom equipment division, the mapping division, huge patent portfolio etc.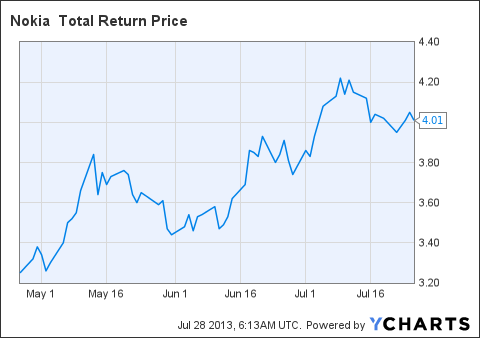 NOK Total Return Price data by YCharts
Summary
Nokia's stock price seem to be reflecting the major risks to the company in the form of hyper competition in the smartphone industry, past history of losses, small global market share, decline in competitive positing in the feature phone segment etc. The company is currently performing well in its Windows centric smartphone strategy. What makes this stock a buy, is that even if the current strategy fails, there are a host of bigger technology companies who are salivating to buy Nokia at this price. I would continue to remain invested in Nokia at the present moment of time.
Disclosure: I have no positions in any stocks mentioned, and no plans to initiate any positions within the next 72 hours. I wrote this article myself, and it expresses my own opinions. I am not receiving compensation for it (other than from Seeking Alpha). I have no business relationship with any company whose stock is mentioned in this article.