Many of you read my article Dual-Beta - The Smart Investor's Most Valuable Tool and your feedback consistently indicated to me that dual-beta is a metric that you would find immense value in hearing more about. Countless of you have asked me to calculate dual-beta for an individual company. While I am happy to do this, the bad news is that there is no place where dual-beta is readily available. Excel, historical closing prices, and some really ugly formulas are the only way to do it on your own.
Here's the good news ... In a series of 10 parts, I will dissect dual-beta (systematic risk), as well as address non-systematic risk, within each of the 9 sectors and reveal which S&P500 components come out as the top dogs in their sector. In Part 10, I will use the compiled data to propose a dual-beta portfolio allocation that supports both risk types. From the analysis, you will be able to see each company's dual-beta as it compares to traditional beta, and how I recommend allocating each company within individual sectors.
A Word About Dual-Beta
The article mentioned above goes into detail about dual-beta, but I would like to add several things that I did not discuss there.
It is imperative to understand that neither traditional beta nor dual-beta are complete measures of risk. They attempt to capture only systematic risk (risk that affects the entire market and cannot be mitigated through diversification). Therefore, while considering systematic risk exposure measures such as these, it is also important to consider non-systematic risk.
Another important consideration is that you cannot apply dual-beta to CAPM without a significant modification to the CAPM formula. There is a way to do this, but the modification is highly complex.
I would also like to address the theoretical nature of dual-beta. While it is fundamentally similar to traditional beta, which is widely accepted, it remains a theoretical metric. In defense of dual-beta, consider the following back-test portfolio comparison...
(credit to James Chong, Ph.D., Shaun Pfeiffer, Ph.D., G. Michael Phillips, Ph.D., and The Journal of Personal Finance)
Shown in black, and leading the pack, is a portfolio constructed using S&P500 components with upside and downside betas both below 0.7 (on an absolute value basis) in 2005. Shown also are portfolios constructed using only downside beta below 0.7 and traditional beta below 0.7 in 2005. Through the first half of the back-test period, both the traditional beta and dual-beta portfolios tracked each other closely. However, when the recession hit in 2008, the dual-beta portfolio shrugged off much of the losses that the traditional beta portfolio incurred, and outperformed thereafter. A smart investor knows that chronology does not imply causality, and this should not be interpreted as definitive proof, but it cannot be denied that the dual-beta portfolio's relative performance is a compelling reason to investigate further.
The final consideration that investors should make is that there is almost no disadvantage to using dual-beta over traditional beta, except that it is not readily available and may be difficult to calculate for individual investors. Therefore, if given both, an investor should always favor dual-beta over traditional beta.
Consumer Defensive Sector
The first sector I will analyze is the consumer defensive sector, sometimes called consumer staples. The article mentioned in the intro also used this sector as a means to illustrate the metric's value. Observant readers will notice that I left out several S&P500 consumer defensive companies, mostly because they have not been publicly traded for the 10 year time period I used. In this analysis, I will include these companies, as well as a slightly different formula for calculating dual-beta (treating 10 years as a sample of data, instead of an entire population of data). Furthermore, I have provided a 10 year traditional beta, which is slightly different than the 5 year traditional beta published by most finance sites.
Beverage producers can be divided into two main sub-industries: alcohol producers and soft drink producers. While neither group seems to provide any sort of appealing upside/downside tradeoff, the alcohol producers are clearly more volatile. All 4 alcohol producers have greater downside risk than all 4 soft drink producers. Overall, Coca-Cola (NYSE:KO) presents the only opportunity for a decent tradeoff.
Again with food producers, there seem to be no appealing options. Every company in the industry has an unfavorable upside/downside tradeoff. In a previous article, I criticized the growth potential of the grocery food industry, citing the fact that inflation adjusted grocery sales increase almost perfectly in line with population growth, which is only about 1% per year. Given that underlying trend, these companies are struggling to find growing demand for their products. As a result, there is very little upside to be had from food producers. Downside for these companies is somewhat of a mystery. In recessionary periods, population growth does not slow, nor does demand for cheap food. If anything, grocery revenue should cut into restaurant revenue, but this data suggests that this is not the case. For now, this industry is a dead end.
Supermarkets and drug stores derive their revenue from the same underlying trends that drive the beverage and food producing industries. However, it seems that several companies have been able to drive revenue growth (and consequently stock price gains) in spite of this obstacle. Drug stores lag supermarkets significantly, possibly due to the scale and supply chain advantages that supermarkets are able to secure. Both Wal-Mart (NYSE:WMT) and AmerisourceBergen (NYSE:ABC) have found ways to shrug off bearish consumer sentiment that has plagued their peers. In a highly segmented industry, Wal-Mart's huge market share allows it to bully competitors with low prices and attract thrifty customers during recessionary periods. Whole Food Markets (NASDAQ:WFM) is an isolated case, as it sells specialty foods that are far less price-elastic. Overall, these 3 companies provide the best opportunities for supermarket exposure, while CVS Caremark (NYSE:CVS) is the only opportunity for a fairly appealing drug store play.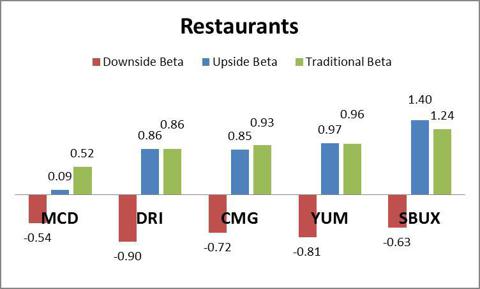 With restaurants, there are more cyclical factors to be considered. One might even make the case that restaurants belong in the consumer cyclical (discretionary) sector. Surprisingly, data suggests that McDonald's (NYSE:MCD) adapted to the recession fairly well, but has struggled to capitalize on periods of favorable consumer sentiment. Starbucks (NASDAQ:SBUX) appears to be the only restaurant chain to both brace against recessionary trends and leverage favorable trends.
Consumer staple companies are difficult to analyze due to the fact that their revenue is derived from a conglomeration of many micro-industries. The most that we can do without a more in-depth micro-economic analysis is assess their track records. Overall, Kimberly-Clark (NYSE:KMB) has been the most effective at mitigating loss while still delivering upside returns. Newell Rubbermaid (NYSE:NWL) is somewhat of a head-scratcher, as its product portfolio is highly diversified, including safe staples such as baby products. Despite its wide array of revenue streams, stock price has been highly sensitive, but heavily favors upside. For this reason, the company is worth some exposure.
The discount and department store industries consistently offer high upside/downside tradeoff. The industry's clear leaders are the dollar store chains Dollar General (NYSE:DG), Family Dollar Stores (NYSE:FDO), and Dollar Tree (NASDAQ:DLTR). Both Dollar General and Family Dollar Stores have actually been able to turn bearish consumer sentiment into positive returns, while Dollar Tree was largely flat over the same periods. Furthermore, these chains were able to squeeze growth out of periods of bullish sentiment when one might think consumers would migrate to pricier retailers.
Two other discount retailers have been able to deliver an appealing upside/downside tradeoff: Ross Stores (NASDAQ:ROST) and Costco Wholesale (NASDAQ:COST). J.C. Penney (NYSE:JCP) has delivered a respectable tradeoff, but with far more volatility.
Each of these specialty companies displays defensive characteristics, but occupies its own industry. PetSmart (NASDAQ:PETM) claims a huge chunk of the highly centralized, fast growing pet industry. However, this data suggests that investors have not been receptive to its ability to grow and adapt revenue streams to unfavorable consumer trends. For now, investors are giving the company too much downside to be worth any exposure to its upside.
Staples (NASDAQ:SPLS) is a large player in the office and electronics retailer industry, which has had some struggles over the past decade. With Circuit City stamped out of the market, it competes mainly with electronics giant Best Buy (NYSE:BBY) and office supply stores Office Depot (NYSE:ODP), and OfficeMax (NYSE:OMX). For now, it appears to be an appealing investment, in spite of the cyclical nature of its products.
Another appealing niche company is Bed Bath & Beyond (NASDAQ:BBBY). The home products industry is one that many big players have a small stake in. Even so, Bed Bath & Beyond seems to have used its concentrated presence to attract a loyal consumer base that sticks around during recessionary periods. If Bed Bath & Beyond can continue to retain its loyal customers, there would appear to be minimal downside and a good opportunity for upside going forward.
Whirlpool (NYSE:WHR) has done a good job of diversifying its appliances, but suffers from the same consumer trends with each one. Consumers are simply too reluctant to shell out the amount of cash that it requires to purchase a major appliance during a recessionary period. For this reason, the company's stock is highly volatile and its downside exposure is too high.
Top Choices
From the analyses above there are several clear choices that have a track record of delivering attractive returns while mitigating losses. From these clear winners, I will address non-systematic risk and assess how much of their track records are justified by fundamental growth. First, let's take a look at how much upside they deliver relative to downside.
Both Family Dollar Stores and Dollar general have an infinite upside/downside beta ratio because their downside betas are actually positive, and as such we cannot calculate a ratio. However, I would put them on equal footing with Dollar Tree's ratio of 8.28 when compared to the rest of the consumer defensive sector.
When we look at revenue growth over the past 10 years, we find that these ratios are well founded.
The Dow Jones Industrial Average is shown in purple for comparison purposes. For each company I have taken YOY revenue growth over 10 years and calculated the mean value. Next to the mean is standard deviation, which shows us how much variation is present in the data. In other words, a low standard deviation means we should have relatively high confidence that the company will grow its revenue at the given average growth rate. Finally, I have provided a standard deviation ratio (mean divided by standard deviation) to reveal which companies are able to grow their revenue the fastest without a large amount of variation in yearly growth.
The results are compelling. The three dollar stores again make an appearance in the top 5, with Whole Foods Market and Wal-Mart again not far behind. Each of the dollar stores posted average yearly revenue growth around 10% while maintaining a standard deviation of only 3. To put this in perspective, standard deviation tells us that these companies tack on revenue growth between 7% and 13% approximately 85% of the time, including recessionary periods.
Ideal Allocation
I'm sure some of you will be wondering, "Why not allocate everything to the three dollar stores?" The answer is non-systematic risk. Every investor has to be careful of allocating too much to a select few investments, even if data is extremely compelling. Keeping this in mind, I have decided to weight each pick's allocation by its upside/downside beta ratio. By doing so, non-systematic risk is mitigated while still having greater exposure to the companies with better upside/downside tradeoff.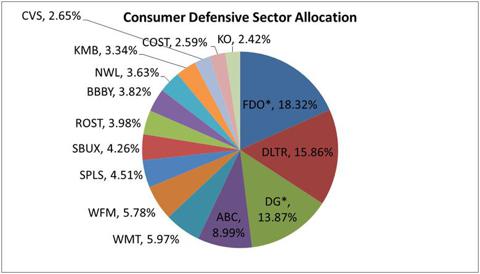 *To account for the impossibility of calculating a ratio for Family Dollar Stores and Dollar General, I have replaced their downside beta with a value of 0.1 and used the resulting ratio.
This allocation gives a weighted upside beta of 0.91, weighted downside beta of -0.15, and weighted traditional beta of 0.59. Nearly 50% of allocation is given to dollar stores, while the other half is distributed quite evenly across several industries, with some emphasis on supermarkets.
There are several things to keep in mind from this allocation. Consumer defensive companies should only be a portion of an investor's portfolio. Deciding how much of the total portfolio to allocate to the sector is a decision that should be made based on macroeconomic factors in conjunction with this analysis. While it may seem like 15 companies from one sector is too many, I anticipate that this sector will have a large relative weight within any total portfolio that seeks to minimize downside risk.
Another important factor to remember is that based on the weighted traditional beta of this allocation, it is extremely likely that CAPM valuation of these companies is not doing them justice. If widespread use of traditional CAPM valuation begins to wane, these companies will certainly be the first beneficiaries. While metrics such as dual-beta and the Fama-French Three Factor Model are still considered theoretical, their superiority to CAPM is difficult to refute.
Coming Up ...
I will be performing similar analyses of the other sectors, followed by a final article to address sector allocation within a total portfolio. My next article will take a look at the Consumer Cyclical sector.
Disclosure: I have no positions in any stocks mentioned, and no plans to initiate any positions within the next 72 hours. I wrote this article myself, and it expresses my own opinions. I am not receiving compensation for it (other than from Seeking Alpha). I have no business relationship with any company whose stock is mentioned in this article.