In a world where pharmaceuticals and natural supplements are butting heads more so than ever before, one sector looking to merge the two is the rapidly growing field of Medical Food. Medical foods are a special category developed by the FDA for medical treatments that work as a hybrid between pharmaceuticals and nutritional supplements. Unlike pharmaceuticals, which typically require 7-10 years of clinical testing prior to sale, medical foods only require 6-12 months of trials prior to being approved for prescription. When looking at the companies at the forefront of this industry, a main leader appears to be Los Angeles based Targeted Medical Pharma Inc. (OTCPK:TRGM). Founded in 1999, TRGM has been setting the ground work for over a decade to establish itself as a pioneer in this up and coming market and it appears the company could be reaching a major inflexion point in the near term.
Business Model
At the core of TRGM's business is a line of 9 medical food products containing patent protection until 2027-2028. The company currently sells these medications via physicians, pharmaceutical distributors, mail order pharmacies, VA/Military services, licensing and nursing homes. Likewise, the company is reimbursed in the same way as your standard pharma company (Medicare D, Medicaid, insurance, government, workers' comp). The secret to TRGM's business model however is not that they are looking to steal market space from the pharmaceutical industry. Rather, as well as selling stand-alone products, the company is selling its products as a synergistic add-on to common pharmaceutical medications. What's been shown in clinical research on TRGM's lead products is that they not only show superiority in terms of efficacy when compared to their pharmaceutical counterparts, but when these medical foods are combined with pharmaceuticals they increased the pharmaceutical drugs' efficacy while at the same time reducing side effects. Below is data from a study done on the TRGM's lead product Theramine which is prescribed for pain management.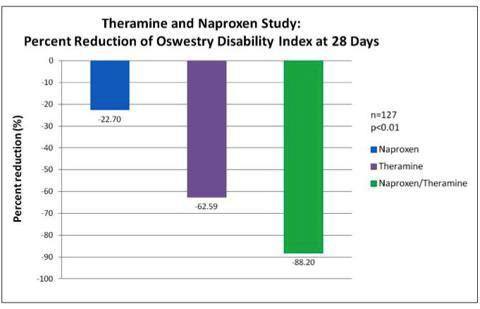 What is shown by the clinical data on Theramine is that not only is it 2.75x more effective than its pharmaceutical competitor Naproxen™, but when combined with Naproxen it multiplied Naproxen's efficacy by 3.8 times. Similar positive clinical data such as this example can be found for all 9 of TRGM's current FDA approved medications. TRGM is currently in the works to complete 5 new clinical studies as well for diseases including diabetes, Neuropathy, Anemia, Asthma and Nasal Congestion.
Financials
Over the past 5 quarters TRGM has experienced consecutive revenue growth due to new contracts coming on rapidly. As well, the company has simultaneously reduced its operating income losses consistently over the last 4 quarters which can be seen on the graph below.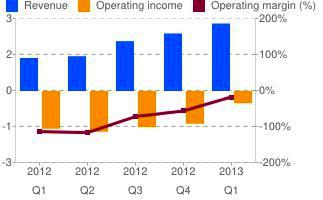 In terms of cash, just this past month TRGM has managed to secure a $3.28M cash advance by tapping into a significant off balance sheet asset owed to the company by California Workers' Comp for $46M. Being that the company's average quarterly burn rate over the past year has been $2.21M this should provide TRGM with adequate capital to move forward.
Competitor Buyouts
TRGM's main competitors in the pharmaceutical food space consist of Pamlabs and Accera. Interestingly enough, both of these competitors have been bought out by Nestle (OTCPK:NSRGY) within just the past 13 months. That being the case we can certainly infer that Nestle is aware of TRGM's presence and rapid growth as a competitor in the pharmaceutical food sector. Whether or not Nestle decides to make a buyout offer for TRGM is still unknown, but I would say there is a good chance judging by Nestle's aggressive actions in taking over pharmaceutical food companies in the past 13 months.
Why Insurance Companies Are In Favor
Due to TRGM's products showing improved efficacy and reduced side effects when compared to pharmaceuticals, TRGM's total patient costs come out to be far less expensive when compared to standard pharmaceutical based treatments. The reason for this is not because TRGM's products are less expensive. They are actually much more expensive. However while TRGM's treatments may cost more per prescription, when factors such as side effects, complementary medications, and test monitoring are taken into account, TRGM's products have been shown to be able to cut costs paid out by insurers by over 30%. In a comparative analysis using TRGM's lead product Theramine for example, while the annual prescription costs for the treatment were 17.6 times more expensive than the competition, when competitors' additional costs such as those listed below were added up, the total treatment costs wound up being $277,400,000 more than Theramine. TRGM's current roster of insurance companies covering its medications has been growing substantially over the past 5 quarters due to this model and I only see it continuing to expand in the future.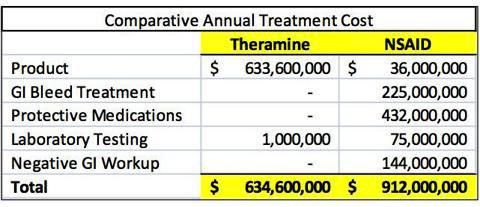 Conclusion
In looking at TRGM's balance sheet over the past 5 quarters it is clear that the company is experiencing a consistent financial growth trend. Due to this expanded growth and product demand TRGM reports that it is currently expanding its sales force in the west coast and other select territories to further support its product portfolio's market penetration. While further company expenditures can be inferred per the company's hiring on of new pharmaceutical sales reps, the new accounts and business generated by TRGM's expanding sales force should act to outweigh new employee hiring costs. In the event that TRGM's sales force expansion costs exceed the new sales generated then TRGM could be deterred in the short term from breaking its net profitability inflexion point until its product sales catch up to company expansion costs. Based on TRGM's recent competitor buyouts by Nestle and TRGM's pipeline differentiation from these competitors I rate TRGM at its current valuation as a strong buy. When coupling TRGM's buyout opportunity with the company's consistent revenue growth and reduction in operating income losses I feel this rating only becomes further validated.
Disclosure: I have no positions in any stocks mentioned, and no plans to initiate any positions within the next 72 hours. I wrote this article myself, and it expresses my own opinions. I am not receiving compensation for it (other than from Seeking Alpha). I have no business relationship with any company whose stock is mentioned in this article.