As I discussed in my last article there are a number of signs pointing to economic recovery. While western economies are recovering slowly from the recession, emerging economies like China and India are growing at a modest pace. Germany, the biggest economy in Europe, grew 1.3% last quarter and French GDP has grown 1.4%. Inventories are low, savings rates are catching up, housing prices healthier and affordable to many. Interestingly, China and Germany are the largest global exporters and their GDP is closely tied to exports. Positive growth in the German GDP is a clear sign of global consumption.
Historically, markets rebound in the middle of the recession or are about to end with the anticipation of recovery. Here I plotted a graph of the S&P 500 and historical unemployment since 1948. The grey vertical lines are recession periods. If you observe closely unemployment (Red line) peaks right after the end of the recession and the market (Black line) rebounds in the middle of the recession with anticipation of good days. Unemployment decreases soon after a recession, and the market rebounds ahead of the recession.
During 1970, 1975 and 1982 - recession periods - unemployment started declining two months after the end of the recession period; in the 1991 and 2001 recessions it took 15 months for unemployment to start declining.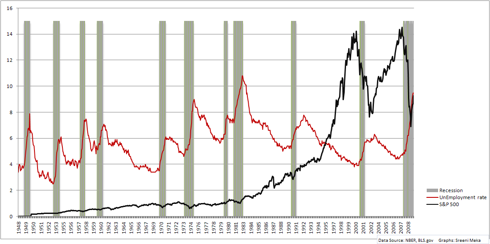 While we anticipate employment numbers to pickup, employment service providers, payroll processors, retirement fund managers see their businesses turn around. One of the companies Paychex, (NASDAQ:PAYX) a payroll processor, should benefit as our economy comes out of the recession while businesses start hiring people.
Rochester based Paychex, Inc has more than 100 offices, 554,000 clients in U.S. and 11,600 in Germany had 12,500 employees. Paychex's primary business is running payroll business to very small to mid size companies. Many businesses outsource their payroll and human resource tasks to corporations like Paychex to minimize tax compliance risks and focus on their core-business competencies.
There are more than 11.5 million employers with less than 100 employees in their pay roll where Paychex does its business, and only 10 to 15 percent of them use payroll processors. This leaves an abundant untapped market for Paychex business expansion in both down and up markets.
Paychex revenue stream comes from multiple clients with short-term service agreements, and maintains 77 percent client retention rate despite downturn and competition from local payroll providers. Although Paychex competes with multiple local service providers, ADP (Automatic Data Processing) is the single largest competitor in this duopoly market. However, Paychex holds more than 40 percent of market share for businesses under 20 employees while ADP focuses on bigger employers.
Paychex is a growth machine, even during tough economic time their base revenue continued to grow. In 2009 their service revenue grew to $2 billion from $1.93 in 2008. Although there is slight decrease in interest income from client finds, from $132 million to $75 million due to low interest rates, the portion of this revenue fluctuates from 4 to 7 percent.

Robust Growth and Higher Margins:
Paychex exhibited on average 9.7% revenue growth for the past four years and even in a tough market like last year sales grew close to 1% year over year. Paychex has 65 percent of gross margin and 41% of operating margin and makes more than 27% of profit margins. Paychex has virtually no debt and its return on equity is 35 percent on average for the last four years and paying a $1.24 dividend a year makes it a 4.5% dividend yield. Once revenue starts growing as employment rebounds, profit percentages make the big difference in the bottom line.
Paychex versus ADP:
ADP is a well established firm and competes head on with Paychex, however their market segmentation is concentrated in different business sizes. So are their margins and growth rates.
ADP also has a healthy balance sheet with negligible long term debt, Paychex has clear advantage in terms of margins. As the past four years of annual statements analyzed Paychex has 65 percent gross margin compared to 52 percent ADP gross margin and Paychex profit margin is twice more than ADP. Cash conversion is only 10 days, which is order to cash three times better than ADP. This could be due to the nature of the business and type of customers they have or able management at Paychex.

With higher margins, consistent revenue growth and proven management Paychex will rebound faster than the economy in coming months due to its rehiring process. So far Paychex's performance is synchronous with the market since March 2009, but this equity has a lot more potential to grow better than the market in the future.
Disclosure: Long on Paychex.