Some people dislike exercise or think it's boring. To address this need, companies like Nintendo (OTC: OTCPK:NTDOY) and Microsoft (NASDAQ: MSFT) stepped up to the plate by respectively introducing the Wii Fit in 2008 and the Xbox Kinect in 2010. Both devices require players to use their body motion as the "controller" for games.
Now, Nike (NYSE: NKE) is making its contribution to the industry by introducing its fitness technology.
Fuelband growth for Nike
The Nike+ Fuelband is an unorthodox pedometer that does more than monitor calories burned and steps taken. It utilizes an iOS-exclusive app that syncs exercise data from the Fuelband to the wearer's mobile device. The app allows users to set their own exercise goals, track their progress, and even compete against friends by comparing results.
Released in January 2012, the response to the Fuelband is positive. During the pre-sale time period, it sold out - twice (once within eight minutes of its launch). Nike is not satisfied with the status quo, though. In 2012, Nike posted 8% revenue growth and 10% EPS YOY. Nike continues to perform and create value for investors.
Also, it has a steady record of increasing its dividend, even through the 2009 downturn.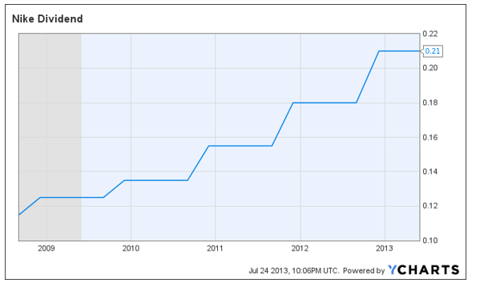 And, it consistently buys back stock at integral price points to increase shareholder value.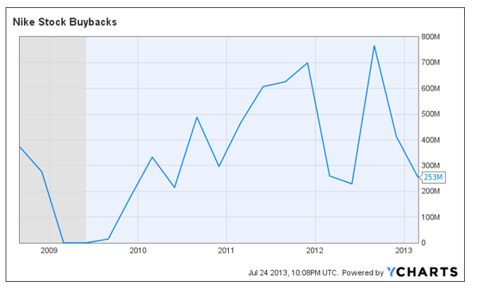 Following reports of solid financials and strong sales from the Fuelband, Nike plans to continue product growth and development. For example, Nike and Techstars, an investor group, hosted a three-month "boot camp" where apps for the Fuelband were developed and pitched. Nike compiled data from users and is looking to app development to revolutionize the exercise market…and its bottom line. These apps are different than previously developed apps because actual data from consumers was used in the development. This makes the apps more user-focused. The end product is said to be similar to Apple's App Store.
Different apps are designed for various types of users - 10 altogether to start. For example, GeoPalz developed an app for Nike that motivates kids to exercise through parental-approved incentives. Another app, created by GoRecess, helps adult users find nearby exercise classes that fit their Fuelband profile.
Nike expects the Fuelband to provide a strong platform for growth by adjusting to future market trends. For instance, Fuelband data shows that people prefer running on trails, rather than on paved roads. The study led Nike to produce more shoes suitable for trails and cut the number of shoes for paved roads. Due to effective business decisions like these, Nike boasts high operating and profit margins of 11.95% and 9.22%, respectively.
In Q4 2012, Nike missed the mark with investors failing to meet earnings expectations by 15%. This marked the end of a 22 consecutive quarter run of beating estimates. A year later, it reports EPS up 28% and revenue up 7.4%. As a result, it saw a 28.7% increase in its share price. Moving forward, Nike looks strong. It projects EPS growth of 14% for fiscal 2014 and is poised to perform exceedingly well.
Nike is not alone
Garmin (NASDAQ: GRMN) jumped on the exercise device bandwagon, too. Garmin sells two biking products similar to the Fuelband. Both the Edge 510 and Edge 810 can be paired with a smartphone, allowing automatic updates to users' Facebook and Twitter accounts. Since introducing these products, Garmin's fitness segment has seen steady growth in sales and operating income.
| | | |
| --- | --- | --- |
| | Operating Income ($ in millions) | Revenue ($ in millions) |
| 2010 | 93 | 240 |
| 2011 | 102 | 298 |
| 2012 | 112 | 322 |
(taken from Garmin's 2012 10-K)
Garmin is a proven company with a strong balance sheet that allows long-term investments to adjust to market demands. Outside of its fitness segment, Garmin recently released its HUD device, a heads up display GPS device. Innovative products like this one, keep Garmin on a stable growth track.
In the future, Nike may face competition from Google (NASDAQ: GOOG) via its Google Glass project. While there are many critics against the Glass and Google's many X Lab projects, Google continues to generate investor value compared to the Dow Jones Industrial Average and S&P 500 Indices.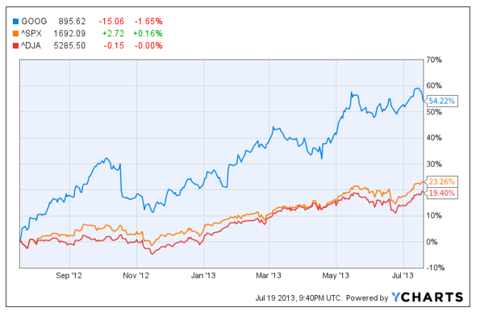 Though its return on investments is down from last year, Google still posts double-digit figures.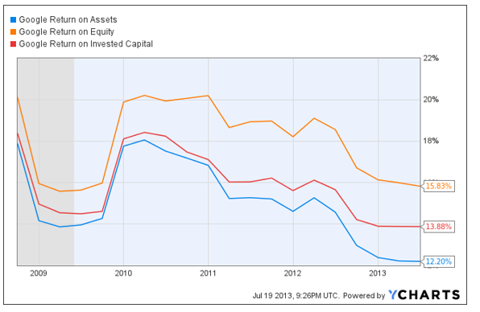 Even if the Glass does flop, it won't be Google's first failed project. But, if the Glass is a hit, it will take the world by storm with its ingenuity.
Viable exercise alternatives?
Despite its success, Nintendo is facing headwinds. Sales for its new system, the Wii U, did not meet projections. As a result, the company estimates a $219 million loss this fiscal year. The Xbox One and PlayStation 4, owned by Nintendo's competitors, are the frontrunners for the gaming future. But Nintendo operates on a strong balance sheet with no debt. Further, it is always trying to invent what is "next." If it succeeds in doing so, Nintendo is poised for a comeback.
Xbox Kinect already proved its worth in fitness by edging the Wii as a viable exercise device. Microsoft released its plans to enhance the Kinect experience in the new Xbox One. Instead of selling the Kinect separately, Microsoft announced the updated Kinect system would be sold with the new Xbox (explaining the high retail price). Despite the criticisms of the Xbox One and its features, it is having no trouble in pre-sales.
Is technology the future of exercise?
Nike is doing something far beyond manufacturing sports apparel and shoes. It is developing a platform to revolutionize exercise. Its Fuelband product proved itself as a pedometer that integrated with smartphones. Now, Nike sees potential for much more. By focusing on app development, Nike will take the Fuelband and investors to new heights.
Disclosure: I have no positions in any stocks mentioned, and no plans to initiate any positions within the next 72 hours. I wrote this article myself, and it expresses my own opinions. I am not receiving compensation for it (other than from Seeking Alpha). I have no business relationship with any company whose stock is mentioned in this article.
Additional disclosure: Article by Andrew Deckert.