Editor's Note: This article covers a micro-cap stock. Please be aware of the risks associated with these stocks.
Venaxis (APPY) is a diagnostic company focused on the development (U.S.) and commercialization (Europe) of a blood-based appendicitis test (APPY1) designed for use in children and young adults to identify patients presenting to an emergency room at low risk for acute appendicitis to avoid more extensive testing (i.e., the expense and radiation exposure associated with CT scans).
In mid-July, APPY successfully completed the first of two planned interim futility analyses on 579 of 2,000 subjects in ongoing pivotal US (FDA) clinical trial (ClinicalTrials.gov ID NCT01652170) with a second futility analysis (1,200 subjects) expected around the end of Q3 2013 and top-line results expected around year-end 2013 to support a planned FDA 510(k) de novo medical device filing during Q1 2014.
APPY conducted a Q2 2013 update conference call (click here for Seeking Alpha transcript) after the first futility analysis was announced, which included updates on the clinical trial progress and outlook in addition to an update on the financials and upcoming European commercialization milestones that are reflected in this article.
In January, APPY received the CE Mark (Europe) as a blood-based diagnostic test focused on children and adolescents suspected of having appendicitis to help identify low-risk subjects and avoid unnecessary testing (i.e. unnecessary radiation exposure from CT scans) to support a full European product launch next year with expected European market development agreements and completion of the first outcomes study by the end of Q3 2013 with initial data to follow during Q4 2013.
APPY1 is a 20-minute test that is based on three parameters, including two measures of inflammation (MRP-8/14 and C-reactive protein) and the white blood cell count. The individual parameters are entered into an algorithm, which calculates the AppyScore that is displayed on the reader display unit with the goal of identifying patients at low risk of appendicitis to avoid the unnecessary costs and radiation exposure that is associated with CT scans.
In March 2012, APPY reported the results of a 500-patient pilot study, which indicated a high sensitivity of 96% and negative predictive value of 97% in subjects age 2-20 with symptoms suggestive of acute appendicitis presenting to the emergency department. While the specificity from this study of 43% is low; the high negative predictive value of the test from the study is more important, since these patients would not receive more extensive follow-up testing and therefore, undergo more conservative management for what could be a serious, life-threatening condition if the appendix bursts to cause massive internal bleeding.
In the Company's June presentation, APPY has outlined market / revenue potential for the APPY1 test that is summarized in the slide below and includes a low amount in 2014 followed by more meaningful sales potential starting in 2015 that will quickly flow to the bottom line due to a lean business / capital structure for APPY that will not require blockbuster sales to reach sustained profitability. APPY has provided preliminary guidance for pricing the APPY1 test in the $75-80 range with European pricing expected to be in the $40-50 range due to the involvement of distributors in that region which will buy the product at a discount from APPY for resale.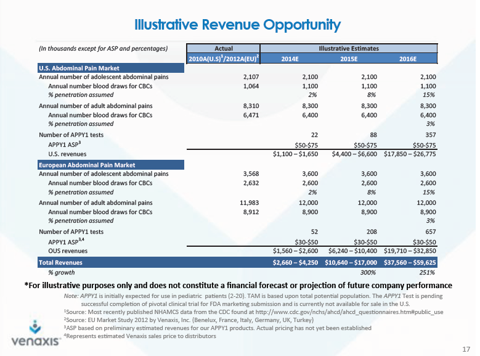 FINANCIAL STATS:
- APPY provided guidance on the Q2 2013 update conference call for cash and equivalents of approximately $20 million (M) as of 6/30/13 along with an expected cash burn rate of about $1M per month, which provides a cash runway of 18+ months with the potential to reduce or eliminate the cash burn rate as APPY1 sales begin.
- The most recent stock offerings for APPY include: December 2012 (2.2M shares @$2.10), June 2012 (6.1M shares @$2 in conjunction with a one-for-six reverse stock split to regain NASDAQ listing compliance) and May 2013 (11.5M shares of common stock / 4M warrants @$1.25/unit with the warrants exercisable into common stock @$1.36)
- APPY has approximately 21.5M shares of common stock outstanding ($0.93/share in cash) along with the potential for an additional 4M shares of common stock if the warrants are exercised, which would also result in additional cash proceeds of about $5M.
TRADE SUMMARY:
As illustrated on the six-month chart below, shares of APPY have traded in a relatively narrow range around $1.20-1.40 in the two months following the most recent stock offering in late May which was priced @$1.25. Shares of APPY appear poised to break out of this range soon as multiple pending catalysts approach through year-end, culminating in top-line results from the pivotal study.
My price targets for APPY include a run-up into the upper $1-lower $2 range into pivotal study results with a 70% chance of success based on the pilot study results and similar design of the pivotal study on a larger scale ($3-4 target on positive results vs. sub-50 cent target for negative results). Given a low share count and price, shares of APPY are highly volatile so limit orders should always be used when trading the stock and the risk of being a one product company is the reason for my low price target if the pivotal study fails.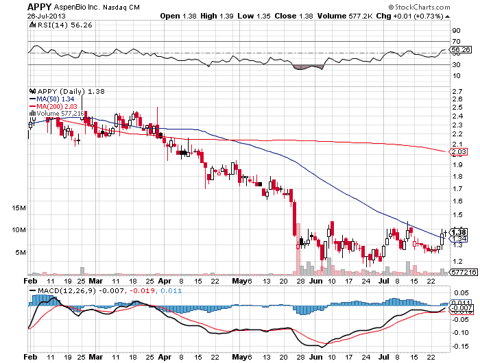 Disclosure: I have no positions in any stocks mentioned, and no plans to initiate any positions within the next 72 hours. I wrote this article myself, and it expresses my own opinions. I am not receiving compensation for it (other than from Seeking Alpha). I have no business relationship with any company whose stock is mentioned in this article.