This article discusses the potential impacts to BDCs and REITs from the upcoming FOMC meetings and the announcement on July 31, 2013. On June 19, the FOMC commented on its plan to begin paring back its bond-buying program later this year and stop it all together by the middle of next year if the economy performs as expected. The Fed's comments pushed up the yield on the 10-year Treasury note to the highest level in almost two years and the markets dipped. Especially interest rate sensitive investments such as bonds, treasuries, REITs and BDCs. The average of the 25 BDCs that I cover was 5% lower five trading days after the comments. Mortgage REITs were hit the worst and continued to fall as investors digested the news. Many of the investors in higher yielding stocks sold baskets regardless of the underlying fundamentals of the industries or individual companies and this could potentially happen on Wednesday.
Investors will be looking for direction regarding stimulus and long-term interest rates. Either we will see a reaction similar to the last one or if investors feel confident in the continued asset purchases and low rates there will most likely be buying pressure for both BDCs and REITs.
However, if investors feel that the economy is going well enough that the stimulus will be tapered off and interest rates will rise then we will likely see a selloff again and I believe this will be an opportunity for BDC investors to buy and for REIT investors to sell (or at least hold). Looking at the chart below, we see what happened directly after the last announcement and through July 29. Using the Wells Fargo BDC Index (WFBDC), which is similar to UBS ETRACS Wells Fargo BDC ETN (NYSEARCA:BDCS), BDCs lost 5% while REITs lost almost 8%, using the iShares Mortgage Real Estate Capped ETF (BATS:REM) that tracks U.S. residential and commercial mortgage REITs. The important thing is what has happened since. Treasuries continued to fall slightly and stayed lower, SPDR Barclays Capital High Yield Bond ETF (NYSEARCA:JNK) bounced back from a 4% loss, REITs continued to fall further and are still down over 9% and BDCs are up almost 4% as shown in the chart below: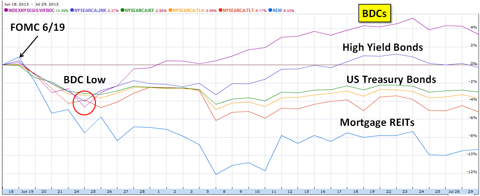 I believe that investors see rising rates as a positive event for most BDCs and the five day selloff was mostly yield investors. The recent spike in rates implies that the economy is stronger than anticipated, which is positive for BDCs that lend to companies and rely on a healthy economy. Most BDCs have variable rate investments as discussed in "BDC Risk Profiles: Part 6 - Interest Rate Sensitivity," and as rates rise, so will the income from these investments. Recently, many BDCs have issued long-term fixed rate notes and locked in borrowings at lower rates.
In a recent announcement from Prospect Capital (NASDAQ:PSEC), the CEO stated "Given the stable and predictable profitability of our business, our board has declared monthly shareholder dividends through the end of 2013 to enhance visibility and planning for investors who might otherwise be concerned by recent interest rate volatility," and the CFO explained, "Prospect has locked in a ladder of fixed rate liabilities extending 30 years into the future, while most of Prospect's loans float with LIBOR, providing upside to shareholders as interest rates rise."
REITs will face pressure on many fronts as interest rates rise, including:
Reduced mortgage buyback from the Federal Reserve
Higher interest expense due to the much higher use of leverage than BDCs
Constant repurchase agreement financing
If there is a selloff in BDCs, some companies will most likely do better than others. Usually the riskier and/or most overvalued BDCs fall faster and more. The chart below shows that safer BDCs such as Fifth Street Finance (FSC), Medley Capital (NYSE:MCC) and Ares Capital (NASDAQ:ARCC), performed better than most during the recent correction. Not included in this list are Main Street Capital (NYSE:MAIN) and PennantPark Floating Rate Capital (NASDAQ:PFLT) that were trading at much higher multiples and overpriced compared to most BDCs. I believe investors are paying a premium for these companies due to perceived long-term safety but they are currently overpriced. Solar Senior Capital (NASDAQ:SUNS) falls into this category as well which is probably why it was the worst performing in the top group. However, PSEC is underpriced compared to most BDCs and only dropped 2% while having an average risk profile.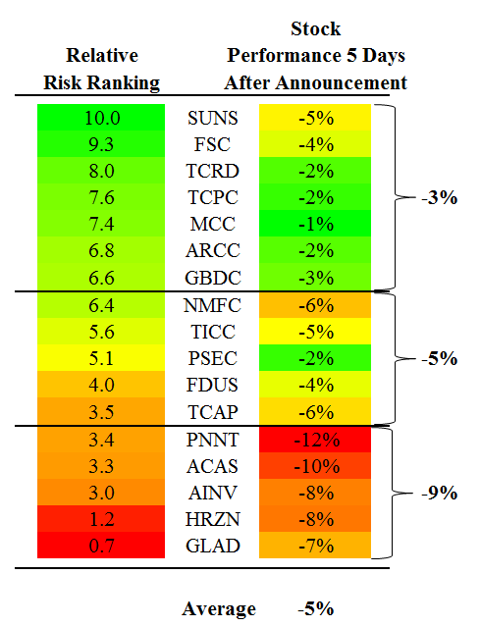 American Capital (NASDAQ:ACAS) is an outlier in the BDC community for many reasons and has a history of poor performance in down markets including the recent recession. ACAS has a majority of its investments in riskier equity types and very little senior secured debt as well as the highest non-accrual rates and declining portfolio credit quality as discussed in "BDC Risk Profiles: Part 12 - American Capital". They are reporting today and investors will most likely be looking for a healthy increase in NAV per share along with a reduction in non-accruals.
Summary
Investors should watch the statements and commentary from the FOMC and the potential for tapering of asset purchases this year or general comments on the economy that might affect traders' views on probabilities of early tapering. Then I would watch the treasury rates. If they go up, then we will most likely see a dip in the market and I would take a 'wait and see' approach, but I know what they say about 'picking bottoms'. Take advantage of a broad selloff if you believe in the fundamentals of what you are investing in.
Investors should only use this information as a starting point for due diligence. See the following for more information:
Disclosure: I am long MAIN, PFLT. I wrote this article myself, and it expresses my own opinions. I am not receiving compensation for it (other than from Seeking Alpha). I have no business relationship with any company whose stock is mentioned in this article.