Depressed asset markets often include inherent supply/demand ironies. When prices drop to depressed levels, buyers should show up in droves to take advantage of the bargains. Of course, a market gets depressed specifically because so many lack the economic wherewithal to buy and too many are confronted with the stark reality of the urgent need to sell. So, instead of taking advantage of low interest rates, low prices, and high affordability, some (many?) buyers are waiting and waiting until the economic landscape looks "safe." Of course, the era of safety is exactly when prices have already normalized, bargains are harder to find, and rates are much higher. In today's housing market, opportunistic investors are the bargain hunters who are slowly but surely driving prices upward toward.
And so it seems that the fate awaiting young people abstaining from the housing market is to buy a home only after prices have already substantially increased. These young people are apparently waiting out the housing recovery under the shelter of parents and/or extended time with multiple roommates. In "The kids aren't buying homes: Generation Y may be holding back the housing recovery," Marketwatch writer Quentin Fottrell provides the following statistics from Trulia:
"The number of "missing households" - that is, Americans who would be owning or renting a home now if prerecession economic trends had continued - hit 2.4 million as of March, according to an analysis of raw monthly government data by real-estate marketplace Trulia. That is down slightly from its peak of 2.6 million in 2011, but up 100,000 from the year prior. And 18- to 34-year-olds account for more than half of the missing households, according to the data…"
Fottrell goes on to combine stats from the Pew Research Center and the U.S. Census:
"…around 78% of young adults say they're satisfied living at home, a 2012 Pew Research survey found, while 77% feel upbeat about their future finances. Some 22.6 million adults ages 18 to 34 lived at home in 2012, up 18% from a decade earlier, according to U.S. Census figures."
This optimism about future finances is surprising given stubbornly high rates of unemployment and mountains of student debt; perhaps it is bolstered by the money saved living with parents and roommates. Regardless, this optimism should provide the seeds for future housing demand once living at home is no longer satisfying. Of course, an additional problem facing young people, not mentioned in this Marketwatch piece, is the continuation of tight credit conditions. Only the borrowers with the best scores are typically able to get mortgages at all. Thus, the additional irony of today's depressed market is that large groups of people are locked out of opportunities that only the well-heeled can currently access.
At some point, these young people WILL move out. Whether it is marriage, convenience, or the old-fashioned desire for independence, young people will face the reality that maturity is likely best pursued elsewhere. Even if they start off renting, an improved economy will finally motivate them to invest in, rather than just consume, housing. The longer this process takes, the greater the pressure created through pent-up demand. Moreover, new cohorts of young people will crowd into the market. The inevitable competition for housing should spur all sorts of housing activity.
This potential dynamic is an important consideration that I did not include in my two-part series questioning claims that Baby Boomers will ignite a "Senior Sell-Off" around 2020 (click here for Part 1 and Part 2). The pent-up demand from younger people should provide a ready well of demand for housing that will place some kind of pricing floor even if Boomers try to dump their homes wholesale in some kind of panic. After waiting 10 years or more, such bargains should finally be hard to pass up. And if the younger folks find themselves still planted as middle-age sets in, suddenly we have the interesting prospect/potential of boomers quietly passing on their homes to their children (or grandchildren!?!) who never wandered off away from home.
These are all processes that will play out slowly over time. In the here and now, recent housing data suggest that young people still have time. Sales of existing homes and pending sales finally hit a small airpocket in June although new homes still sold at a blistering pace. Higher rates have shouldered the blame for the bad news and have received an exemption for the good news.
I am guessing that the very real risks to housing are weighing on the collective minds of the Federal Reserve ahead of yet another decision on monetary policy (July 31st). Assuming the language of "accommodation for an extended period of time" remains intact, younger buyers may keep their cushion to save buying for another day.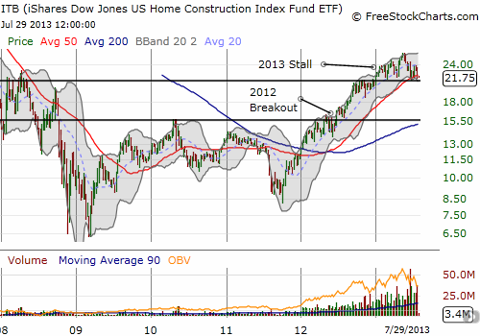 iShares Dow Jones US Home Construction Index Fund (BATS:ITB) shows a recovery still in its early stages even as it stalls out in 2013
Disclosure: I have no positions in any stocks mentioned, and no plans to initiate any positions within the next 72 hours. I wrote this article myself, and it expresses my own opinions. I am not receiving compensation for it (other than from Seeking Alpha). I have no business relationship with any company whose stock is mentioned in this article.