Walt Disney (NYSE:DIS) is a diversified global entertainment company which operates in five business segments namely Parks and Resorts, Media Networks, Consumer Products and Interactive and Studio Entertainment. The Walt Disney Company also owns a 51% interest in Disneyland Paris; an expansive 5,510-acre development in the heart of Marne-la-Vallee roughly 20 miles east of the city of Paris. The company owns 40% equity in Euro Disney S.C.A and a 48% stake in Hong Kong Disneyland Resort. Walt Disney sold off its 50% stake in ESPN STAR Sports in November 7th 2012 and acquired LucasFilm Ltd LLC in December 21st 2012.
Uneven Track Record
Disney investors can take some comfort in the fact that the much-publicized Disney-Comcast duel and relative unpopularity of The Lone Ranger is not an isolated incident for Walt Disney. The company has in the past struggled with unproven commodities. Disney has enjoyed success in the recent past with films featuring Marvel characters mainly because the characters were already well-known to the mainly young and middle-aged audience. The same holds true with the Star Wars franchise. Disney has no problem making money and creating sequel potential from movies that use well-known characters. The giant entertainer, however, appears to really have a rough time with movies that are completely new off the block; think of John Carter and of course The Lone Ranger. Despite spending so much on these duds in the hope that they had new franchises coming up, Disney will have no choice but to write them off from its books ASAP.
Blockbusters that Never Were
The Walt Disney investors are worried that the entertainment giant could be losing traction to major rivals when it comes to consumer preference for box office movies. Of course if this claim turned out to be true and the trend continues unchecked, Disney World could soon become a byword in the entertainment industry, more or less in the cast of the great dinosaurs of its 'Lost World' classic. The claims seemed to gain even more ground when Disney recently went head to head with the release of The Lone Ranger against major rival Comcast Universal (NYSE: CMCSA) with Despicable Me 2, and lost dismally. The Lone Ranger grossed a lowly $48.9 million in its first five days since its debut compared to Comcast's Despicable Me 2 which earned a respectable $142 million in a similar time frame. The numbers look even more alarming when you consider that Disney spent $375 million to create and market The Lone Ranger.
Blockbuster Strategy: Is it Worth the Risk?
Walt Disney seems to favor a blockbuster strategy that involves sinking a lot of money into movies that they hope will become hits or gain sequel potential. Is this a sound strategy or would the entertainment giant be better served creating more smaller-budget films? My opinion is that, yes, big budget films are well worth the involved risk. Disney actually needs blockbuster franchises to add new story lines to its theme parks and also move its merchandising needle. Relying on small movies simply doesn't cut it for behemoths such as Walt Disney. Take the case of a Disney movie such as Frankenweenie. The film cost Disney just $40 million to make and grossed $67 million. The margins are high enough, alright, but in absolute numbers, just cannot move the needle for Disney. In any case, Disney is not alone in making duds. Main rivals AOL Time Warner (NYSE: TWX) and Fox Entertainment (NYSE: FOX) have had their fair share of flops too.
Perhaps what should worry investors a little is that rival companies such as Comcast are able to eke out much more mileage from the dollars they invest in their blockbusters. Comcast used just $35 million to create Identity Theft but managed to make $174 million from it. The company also used a puny $3 million to create The Purge but managed to make almost 25 times as much-$74 million!
Steven Spielberg and George Lucas both recently warned of the landscape shift being experienced in the movie industry where companies such as Disney are relying more on fewer blockbusters with longer runs and bigger budgets. Right now, Walt Disney's pipeline mainly consists of numerous one-off type films with only a few expensive blockbusters in the wings. Investors need not worry about another major box office flop such as The Lone Ranger happening anytime soon.
Strong uptrend worrying
What should be giving Walt Disney's investors food for thought is not the company's box office flops but rather the strong momentum exhibited by its shares. Walt Disney shares closed the day on 26th July 2013 trading at $64.98. The 52-week high is $67.89 and the low is $46.53. The stock has climbed 31.2% since January this year and a good 54% in the past one year. Disney shares seem to be facing considerable resistance around $66.63 and $67.67 but enjoying support around $65.08.
Walt Disney's current forward P/E multiple is 18.93 and has been trading at a premium to the S&P 500 Index as shown in the chart below for some time now.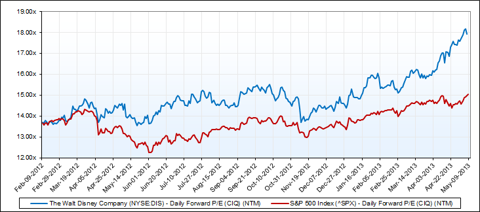 Disney's high premium to the S&P 500 average P/E valuation seems stretched due to the following reasons:
Disney's 5-year earnings growth estimate stands at 10.8%, higher than S&P 500 companies' average of 8.2%. The difference is not that big to justify the lofty valuation.
The 1.15 dividend yield is about half of the S&P 500 average.
The high P/E and PEG ratios are not supported by EBITDA, revenue and EPS estimates for the current year and the coming fiscal year. Judging the valuations from a purely historical standpoint, Disney's shares are expensive relative to its growth profile. EPS, EBITDA and quarterly revenue growth rates have been falling, albeit slightly, for the past three years. The consensus estimates for the coming quarters are shown below: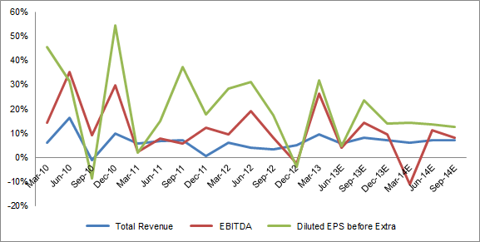 Despite the lofty valuation of Disney shares, I would advise shareholders to hold and not to rush and offload their stock. Below are the reasons why I think we should wait before rushing to sell Disney shares:
The company's fundamentals still remain quite sound.
Walt Disney has maintained a solid capital return and profitability as clearly evidenced in the chart

below: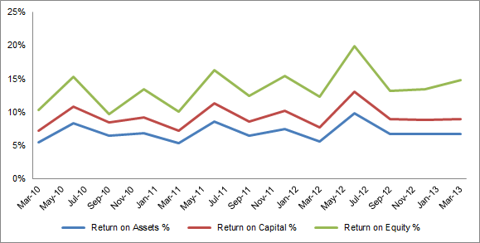 The market still likes the stock.
The Lone Ranger is just one of the many box office flops Walt Disney has had to deal with and investors should not lose sleep over it. Although the company's stock is currently expensive, its strong fundamentals make a strong case for holding the stock.
Disclosure: I have no positions in any stocks mentioned, and no plans to initiate any positions within the next 72 hours. I wrote this article myself, and it expresses my own opinions. I am not receiving compensation for it (other than from Seeking Alpha). I have no business relationship with any company whose stock is mentioned in this article.