This article is about African Barrick Gold (OTCPK:ABGLF). African Barrick Gold has a market capitalization of around $700 million. It currently produces just under 600,000 ounces of gold annually. It has an enormous resource base of over 30 million ounces of gold at over three grams per ton. It also has around $400 million in cash.
In all on the surface African Barrick appears to be a steal at the current valuation.
However, there are several reasons for this valuation.
First, the company is losing money at $1,330 gold.
Second, the company's mines are located in Tanzania, and as a result shareholders incur substantial political risks.
Third the company's production is in decline. It declined from 2011 to 2012 and it is expected to be down in 2013 from 2012. The company anticipates increasing production at its largest mine--Bulyanhulu. However, it is incurring $150 million to $200 million in costs in order to increase production by just 40,000 ounces of gold annually. This seems like a poor use of capital: if the company can earn $200 per additional ounce (remember it is currently losing money) then this production ramp-up adds a mere $8 million in cash flow per year. Thus in addition to all of the issues that management cannot control, potential investors must consider that management is not making good use of shareholders' capital.
With these points in mind alongside the company's valuation it seems that investors are pricing in a pretty lousy scenario for the company. Thus, if you believe that the gold price will rise and that the company's prospects are not so bad then African Barrick appears to be a decent investment. But given that there are several other undervalued companies in the gold mining space that, for the most part, eschew these issues, I would argue that African Barrick Gold should be avoided for now. Nevertheless, I would consider owning the stock under the right conditions, which I will discuss at the end of this article.
1: African Barrick Gold's Resources
African Barrick Gold has an estimated 32.1 million ounces of high-grade gold (16.6 million ounces of reserves at 3.8 grams per ton, and 15.5 million ounces of resources at 2.9 grams per ton) (the term "reserves" implies a higher level of accuracy than the term "resources").
| | | | |
| --- | --- | --- | --- |
| Category | Tonnes | Au Grams/Tonne | Total Gold |
| Reserves | 135 million | 3.8 | 16.6 million ounces |
| Resources | 167 million | 2.9 | 15.5 million ounces |
| Total | 302 million | N/A | 32.1 million ounces |
Given the company's market capitalization this is a huge resource base. With the cash backed out African Barrick Gold's resources currently trade at just $10/ounce.
2: Production
African Barrick Gold produced 626,000 ounces of gold in 2012, and it anticipates seeing a reduction in production, which will be 540,000 to 600,000 ounces in 2013. This decline is on top of a decline in production from 688,000 ounces in 2011. However, for a company with a $700 million market capitalization and $400 million in cash this is a lot of production despite the decline.
Unfortunately the company has high production costs of $925 - $975 per ounce in 2013. Thus if we include administrative expenses, exploration, mine repairs, and other expenses this comes to about $1,350/ounce, which is just above the current gold price. But while the company cannot turn a profit at the current gold price this situation changes very quickly in the company's favor should the gold price rise minimally. If we assume that the company will have 550,000 ounces of production, then the following chart estimates its cash flow at various gold prices.
| | |
| --- | --- |
| Gold Price | African Barrick Gold's Cash Flow |
| $1,000 | ($192.5 million) |
| $1,250 | ($55 million) (($11 million) at the current gold price of $1,330) |
| $1,500 | $82.5 million |
| $1,750 | $220 million |
| $2,000 | $357.5 million |
| $2,500 | $632.5 million |
While the company is cash flow negative now it trades at just 8.5 times cash flow at $1,500 gold, or just 3.6 times cash flow with the company's cash backed out.
This low valuation reflects the numerous risks that investors perceive to be in the stock, including political risk, high cash costs (along with the risk of lower gold prices), no production growth/production declines, and (arguably) poor capital management.
3: Properties
African Barrick's mining interests are located in Tanzania.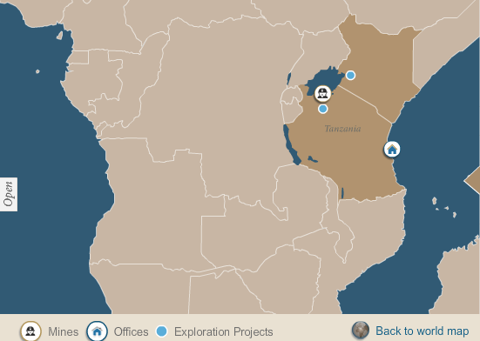 It also has three exploration properties in Kenya just north of the Kenya-Tanzanian border (at the blue dot).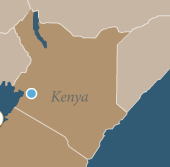 A: Bulyanhulu
Bulyanhulu is a narrow-vein gold mine also containing some copper and silver. It is the company's largest mine with an estimated 17 million ounces of gold (10.6 million of reserves at 11.3 grams of gold per ton and 6.6 million ounces of resources at 10.7 grams per ton).
In 2012 the mine produced 236,000 ounces of gold, down from 262,000 ounces. Production is expected to be down again slightly in 2013, and it was down in the first quarter of this year as a result of the company mining lower grade ore and dealing with employment issues.
While production has been declining at Bulyanhulu over the past couple of years the company is planning to increase production through the CIL expansion plan that should be completed by next year. It should cost the company another $150 to $200 million over the next several months, which the company can afford. Once this increased production begins early in 2014 it should add about 40,000 ounces of gold per year.
However, as I have stated, this appears to be a poor use of capital. The company has many other options to choose from that will increase production. If the company wants to increase production by 40,000 ounces it could consider purchasing NWM Mining for just $10 million (double the current market capitalization). If it wants to stay in Africa it can purchase Asanko Gold for $300 million (it is currently valued at $232 million). The company is expected to produce 200,000 ounces annually, and it has nearly $200 million in cash. There are other options, but from these two the reader can clearly see that spending $150 million to $200 million to increase production by 40,000 ounces is wasteful.
Ultimately this property is a cornerstone for the company insofar as it is such a large producer, and because it will be producing for over twenty years.
A': The Bulyanhulu Upper East Zone
The Bulyanhulu Upper East Zone is located 2.5 kilometers east of the main shaft of the Bulyanhulu mine. African Barrick Gold is exploring the area and projects that it contains roughly 2 million ounces of gold at 10 grams per ton, which is economical for an underground mine. The resources are located on two reefs, pictured below.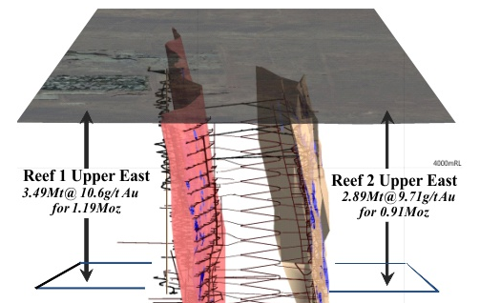 Assuming that the company's feasibility study is positive it should be able to produce 40,000 - 50,000 ounces annually here.
B: Buzwagi
Buzwagi is a more promising story for African Barrick Gold. It has an estimated 3.4 million ounces of gold (2.7 million ounces at 1.325 grams per ton of reserves and 700,000 ounces at just over a gram per ton of resources).
While production was down from 2011 (196,000 ounces) to 2012 (166,000 ounces), production rose in the first quarter of 2013 by 10%, and cash costs plummeted from $1,087/ounce to $804/ounce, making the mine economical at the current gold price.
C: North Mara
North Mara has roughly 5.5 million ounces of gold (3 million ounces of reserves at 2.7 grams of gold per ton and 2.5 million ounces of resources at 3.9 grams per ton). North Mara is the only producing mine that African Barrick owns that has seen production consistently increase, having gone from 171,000 ounces in 2011 to 193,000 ounces in 2012. In the first quarter production soared 83% to 65,000 ounces (260,000 ounces annualized). During that same time period the mine's cost of production dropped to $804/ounce from $973/ounce, which means that the mine is economical at the current gold price.
North Mara also has some exploration potential. Currently the company has found three areas that it believes it can develop into future underground mines: Gokona, Nyabigena, Nyabirama. They are pictured on the map below. Investors should also note that the red zones are "gold anomalies" which may contain enough gold to become future mines.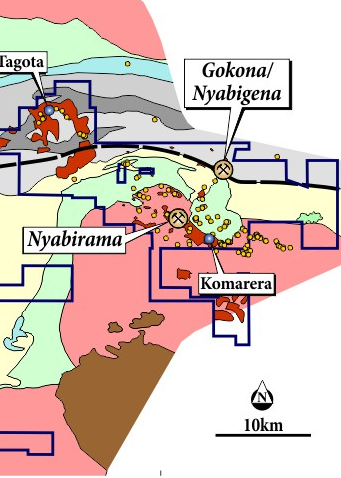 D: Nyanzaga
Nyanzaga is the company's most interesting exploration property. The following map points out the high-grade underground gold regions at Nyanzaga, with the highest-grade gold in red, orange, and yellow.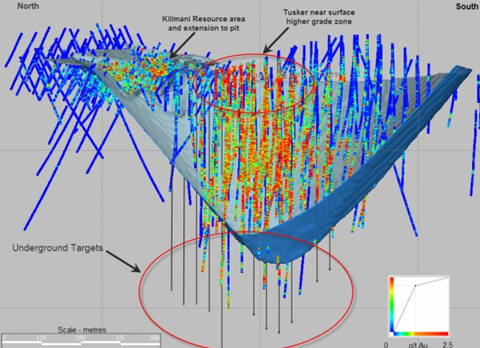 Of the company's exploration properties Nyanzaga is the only one with a large amount of quantified resources, with an estimated 4.6 million ounces of gold. This data is detailed in the following table.

While the property has lower grade gold than African Barrick Gold's operating mines it is an open pit mine that typically has a lower production cost than underground mines. Ultimately these figures indicate that there may be an economical mine at Nyanzaga, and the company anticipates completing a feasibility study this year and making a production decision by 2014.
E: Dett-Ochuna
Dett-Ochuna is an early-stage exploration property located 45 kilometers west of North Mara. The company has yet to release resource estimates, so it still is unsure whether there is a mine here. The following map shows areas (circled in red) that potentially contain high-grade gold deposits.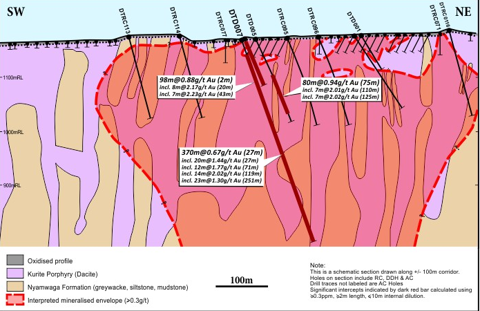 F: Golden Ridge
The Golden Ridge exploration zone is located 35 kilometers southeast of Bulyanhulu. The company has released resource data for Golden Ridge that indicates that the property has around 770,000 ounces of gold resources at 2.75 grams per ton. It has found what appears to be a vein that contains enough gold to be economical to mine. This vein is pictured in red below with some of the most promising drill results.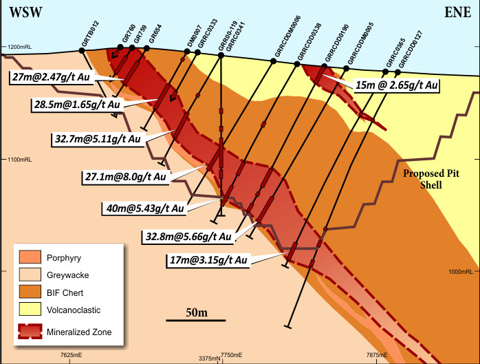 Given the company's nearly 600,000 ounces of annual gold production Golden Ridge does not appear to add much value to African Barrick Gold shares. However, the company has declining production even a small mine can alter this situation and subsequently the market's perception of its value, so it is a good idea to keep an eye on Golden Ridge.
G: Bumbo
The Bumbo project is located in Kenya. It is a late stage poly-metallic exploration project with some copper, gold, silver, and zinc. African Barrick Gold has released some resource data indicating that it contains a small mine with predominately copper. Estimates show that the project has around 151 million equivalent pounds of copper. A detailed survey of the property's resources is given below.

In addition to these resources the company believes it has an additional 500,000 to 700,000 ounces of gold at 1.5 to 1.9 grams of gold per ton. Relative to the size of African Barrick Gold Bumbo does not add much value to the company, but like Golden Ridge it is a property that can potentially replace the production the company has been losing over the past few years.
H: Kakamega Dome Camp
The Kakamega Dome Camp in Kenya is an historic gold mining area that the company believes has exploration potential. The following map of the region points out these regions using pink stars.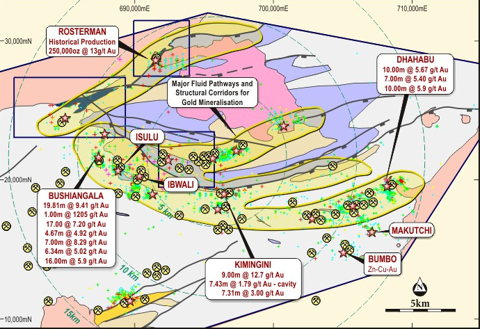 In particular the company has done preliminary work at the Bushiangala area towards the west of the property. It is a fairly small region, although it has shown some very promising drill results that suggest to management that there could be significant underground continuations of the gold-containing quartz veins pictured in red below.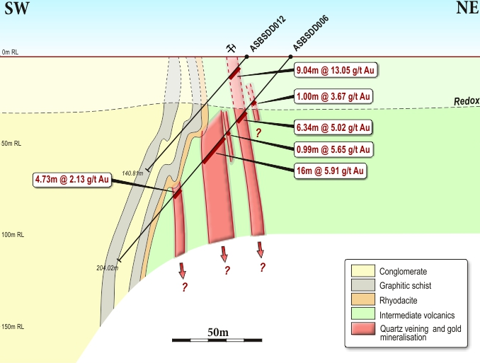 I: Lake Zone Camp
The Lake Zone Camp is located next to the Kakamega Dome Camp. It currently has three regions of interest--Wagusu, Masumbi, and Ramula, which are pictured in the map below.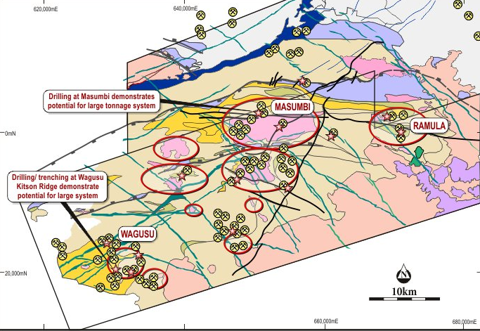 The company is especially enthusiastic about its Ramula region, which has had drilling results that have led management to believe that there is a potential gold mine. The potential high-grade gold areas are in purple, red, and yellow.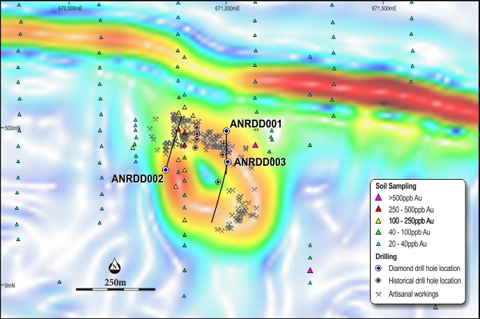 Despite these potentially high-grade gold areas the Lake Zone Camp is still too early in its exploration life for African Barrick Gold to claim that they have an economical gold mine here.
4: Risks
A: The Price of Gold
African Barrick's share price will be correlated and highly leveraged to the price of gold, which has plummeted as of late as is evidenced in the following chart.
(click to enlarge)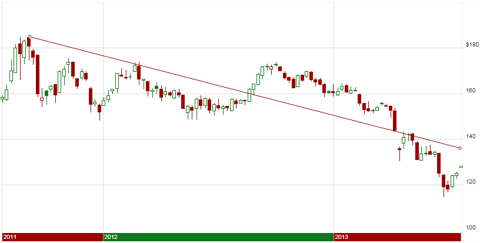 However, the recent price increase above $1,300 appears to be bullish, which suggests that the downtrend in gold may come to an end. Still, the downtrend is intact, and lower gold prices will be reflected in the company's share price. Investors should also keep in mind that the company is not profitable at the current gold price, and so gold prices must rise for African Barrick to be a viable investment.
B: Investing In Tanzania
Tanzania is a third world country that is politically unstable and prone to work stoppages. The company has already experienced this at its Bulyanhulu mine, which led to production declines and increased production costs. Thus there is no question that Tanzania is a risky place to invest. Fortunately I think this risk is largely priced into the stock. However, investors must keep in mind that there is always a tail-risk that the company's mines could be nationalized, subject to total work stoppages, or be subjected to windfall profit taxes. Investors who do not want to worry about these possibilities should avoid African Barrick shares.
Conclusion
Ultimately African Barrick has a lot of issues, and it does not offer a lot of exciting growth opportunities. Yet its shares are extremely inexpensive, and they offer incredible leverage to the price of gold. While the shares will always trade at a steep discount to comparable companies with properties in less risky jurisdictions, the company will be able to use its profits to pay dividends assuming that nothing goes seriously wrong.
Ultimately, before taking a position in African Barrick Gold I would want to see some of my primary concerns specifically addressed. Two in particular are production declines and capital management, particularly with respect to the expansion plans at Bulyanhulu. Given the company's extensive exploration portfolio I think it is quite possible to see new production come online in the future, although betting on exploration is always a gamble. Also, when dealing with a company with such a large resource base even a large discovery will barely move the needle.
As for capital management I have expressed my concerns regarding the expansion plans at Bulyanhulu and the fact that there are simply better opportunities for the company to deploy capital. Management is not yet committed to the Bulyanhulu expansion, and it could reject the plan. If it does so this would probably alter my slightly negative bias towards the company.
Ultimately, despite all of its problems, African Barrick Gold is a company that gold bulls should keep an eye on.
Disclosure: I have no positions in any stocks mentioned, and no plans to initiate any positions within the next 72 hours. I wrote this article myself, and it expresses my own opinions. I am not receiving compensation for it (other than from Seeking Alpha). I have no business relationship with any company whose stock is mentioned in this article.