A storm has been brewing for quite some time in the world of Potash (Potassium). The seventh most abundant mineral on the planet was providing those who mined it with supernormal profits when compared to any other commodity.
The cost of production depends on a variety of factors such as the type of mine, the availability of cheap energy and the distance from customer, but a general rule of thumb is that the Russian companies Uralkali (OTC:URALL) and Belaruskali produces at c.$80 per tonne, the Canadians Potash Corp (POT) and Mosaic (NYSE:MOS) produce at between $100 - $150, and the Germans, IE K+S produce at c. $280.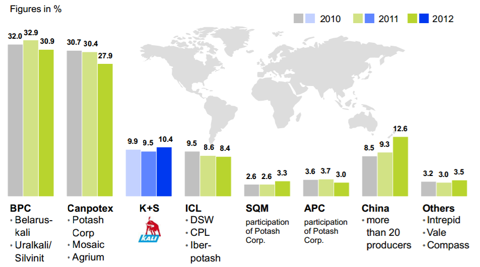 For the past few years, the market price of potash was set by two major cartels, BPC and Canpotex, who issued long-term contracts with net importers such as China and India for fat margins.
Annual demand of potash is roughly 35m tonnes while supply is relatively higher at 43m tonnes. Because of this potential oversupply, the cartels restrict supply in order to keep prices reasonable.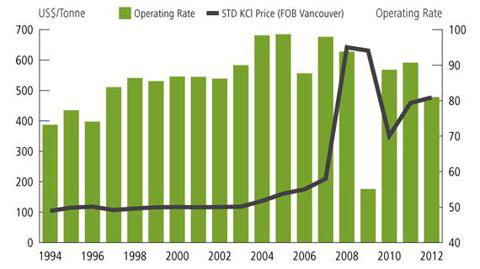 The above graph is a little out of date and the FOB Vancouver currently trades at $392 per tonne, giving miners huge EBIT margins (Uralkali 40%, K+S 22%, Intrepid (NYSE:IPI) 29%, Potash 36%, Mosaic 23%).
As of this morning, starting with the following press release from Uralkali, the party stopped...
"Unfortunately, we should state that our cooperation with our Belarussian partners within BPC framework has come to a deadlock. It has always been Uralkali's position that export activities of both producers should go through the unified sales network. This fundamental principle of partnership was violated by the Decree No.566 issued by the Belarussian President on 22 December 2012, which cancelled the exclusive right of BPC to export Belarussian potash. Following the issue of the Decree, Belaruskali has made a number of deliveries outside BPC.

- We have repeatedly informed our Belarusian partners that such actions were unacceptable and they have ultimately destroyed the fundamentals of our prolonged fruitful cooperation. In this situation we have to re-direct our export deliveries through our own trader.

- Still, we thank our Belarussian partners for cooperation within the BPC framework and do not exclude the possibility of cooperation on a mutually beneficial basis in future."
Bearing in mind that annual consumption is 35m (India and China stockpile as well), it is worth noting that Uralkali produced 10m tonnes last year with expectations to increase production to 13m tonnes going forward. The company's CEO even stated that he saw prices going below $300 in the medium term.
I wouldn't be surprised if Belaruskali similarly increased its production to 100% as potash becomes a race to the volume.
For K+S, this could signal the end of profitability as they are currently the world's least efficient producer of potash. Furthermore, their project in Canada requires long-term potash prices at around $380 and will therefore most likely be scrapped, adding additional burden to an 'okay' balance sheet. The stock is already down 22%
For the Canadian producers, the future is less bleak but valuations must decrease, and judging by the volatile marketplace and new paradigm, there may be a few heavy hitters exiting this industry, placing tremendous short-term strain on share prices.
US potash producers are indicated down 20% at the time of writing and I would argue that a short position is still warranted because of this fundamental shift of power.
Whether or not this is a bargaining chip by Uralkali, or simply a way to get rid of scaring off BHP who were considering adding 7m of capacity themselves, the truth is that not one commodity has returned to cartel pricing once the cartel breaks.
In conclusion, sell out and sell short Mosaic, K+S and Potash Corp with a potential long of Uralkali.
Disclosure: I have no positions in any stocks mentioned, but may initiate a short position in POT over the next 72 hours. I wrote this article myself, and it expresses my own opinions. I am not receiving compensation for it (other than from Seeking Alpha). I have no business relationship with any company whose stock is mentioned in this article.