Best Ideas and Dividend Growth Newsletter portfolio holding Intel (NASDAQ:INTC) reported lackluster second quarter results. Revenue declined 5% year-over-year to $12.8 billion, falling short of consensus estimates. Earnings-per-share also came in below consensus expectations, falling 28% year-over-year to $0.39. Even though earnings dropped, the firm still generated $2 billion in free cash flow, equal to about 16% of revenue.
Intel's personal computer (PC) revenue declined 7% year-over-year to $8.1 billion and remains the firm's largest segment by a wide margin. We think the issue in PCs is secular rather than company specific, but there are signs that suggest the PC market may finally be bottoming. Though international PC shipments fell 11% year-over-year during the most recent quarter, according to Gartner, PC shipments declined just 1.1% year-over-year in the US. Considering the US is among the better-performing developed economies, this could foreshadow moderating declines globally.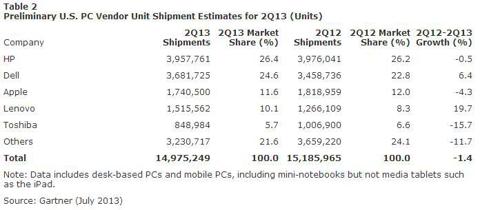 Image Source: Gartner
Global weakness in PCs may also be partially offset at Intel by the rollout of its innovative Haswell chips. As CEO Brian Krzanich said on the conference call:
"…we launched the Haswell family of processors, which delivered the biggest improvement in battery life in Intel's history, making no comprises, high performance, two-in-one devices that make…all day battery life a reality. Haswell along with Bay Trail will power more than 50 different two-in-one devices in the pipeline, including the very first fanless Core design."
Think this doesn't impact buying decisions? Prominent Apple (NASDAQ:AAPL) enthusiast website MacRumors.com has the MacBook Pro on its "don't buy" list because the Haswell edition will be hitting the market in the not-so-distant future. When buyers are about to fork over $1,500+ for a new machine, these sorts of delays can and do occur.
Because PC sales, particularly on the low end, have been so weak, Intel had to take margin hits to clear inventory, dragging its overall gross margin down 500 basis points year-over-year to 58.3%. With revenue and margins down substantially, the firm also took a hit on the R&D/SG&A side of the cost equation. These expenses ticked up 210 basis points year-over-year to 36.5% of sales.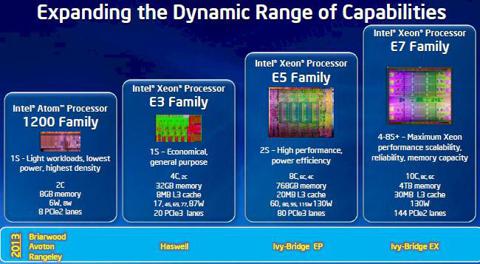 Image Source: Intel
We were a bit disappointed in Data Center performance, with revenue basically flat year-over-year at $2.7 billion and operating income down 10% year-over-year at $1.2 billion. Management contends that a weak IT spending environment and weak macroeconomic conditions contributed to the lackluster performance, but CFO Stacy Smith remains optimistic that data center spending will ramp in the back half of the year. We're skeptical that the "double-digit" revenue growth target given at the end of the first quarter will be attainable, but we certainly do anticipate stronger growth in the third and fourth quarters. Intel has a nice line-up of new processors (shown above) set to hit the market.
Ultimately, mobile continues to be a point of weakness for the company, and it is no secret that the firm needs to improve its performance in this area. All it takes is a few major OEM wins for Intel to be in the game, and Krzanich provided some additional positive commentary on the issue, saying:
"And my answer would be they are more than willing to accept it. The fact that x86 works on both Android and Windows is a real advantage to our OEM base. They look at that and say that they can have one architectural design, one set of products and use both operating systems...Bay Trail really being designed for the much lower price points that you see these tablets and even down to the entry level of tablets. And so the fact that it's x86 is an advantage actually because we've been able to produce both Android and Windows on our product now."
Even if its rollout has been slow, we have confidence in Intel's ability to disrupt the mobile chip market, even if it comes at the expense of the gross margin profile.
Looking ahead, the firm reduced its guidance for revenue and gross margins, anticipating flat revenue year-over-year compared to its prior guidance of low-single-digit growth. Gross margins are now forecast in the 59% range compared to the 60% level given at the end of the first quarter. Intel also slashed its capital spending by $1 billion to $11 billion, and lowered its expense forecast $200 million to $18.7 billion (plus or minus $200 million).
Valuentum's Take
Although we are not exactly pleased with Intel's performance, we continue to have confidence in the firm's manufacturing prowess and management team. Intel needs to gain a stronger presence at mobile, but we think management knows this, and it will address the issue as soon as it has the best products possible.
Although the near-term doesn't look great, we think Intel has attractive long-term fundamentals that will allow it to navigate the "post-PC" world. Convergence may take longer than we initially anticipated, but we believe shares of Intel are worth somewhere in the high-$20 to low-$30 range. It remains a holding in both of our actively-managed portfolios.
Disclosure: I have no positions in any stocks mentioned, and no plans to initiate any positions within the next 72 hours. I wrote this article myself, and it expresses my own opinions. I am not receiving compensation for it (other than from Seeking Alpha). I have no business relationship with any company whose stock is mentioned in this article.
Additional disclosure: INTC and AAPL are included in our actively-managed portfolios.