Making short term market predictions is a fool's game, but I have some observations that I think give reason for concern.

There is a chart that I started looking at recently. It's called the NYSE Bullish percentage index. It's the percentage of stocks giving buy signals on point and figure charts. It gets updated daily. You can find it on stockcharts.com with the symbol being $BPNYA.

Tuesday's reading brings it back over 80% of stocks being bullish.

Here is the current 3 year weekly chart. The Slow Stochastic on the bottom of this chart looks awfully toppy and ready to turn.
[click images to enlarge]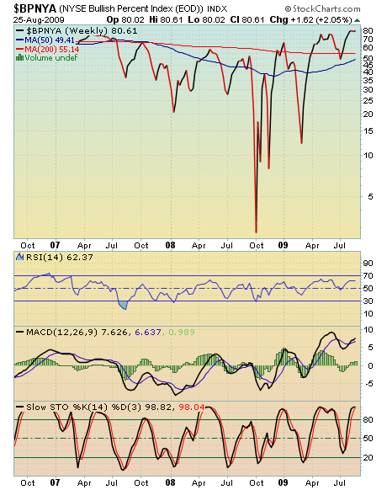 I say the second time over 80% because back on August 14th, it was over 80% and when the market dropped on Monday the 17th, it appeared that the uptrend in this index peaked as did the market and was headed down. Nope. The following 6 days were positive closing days on the Dow, putting this index at that extreme reading of over 80% yet again.

Here is a chart I found of this index that goes back as far as 1987 and ends in October of 2008. What you will notice here is that the reading has never been over 80% in that time. (Ignore the Now part as this chart must have been created in October of 2008) Granted, we have not had a 50% market move in less than 6 months in that time either.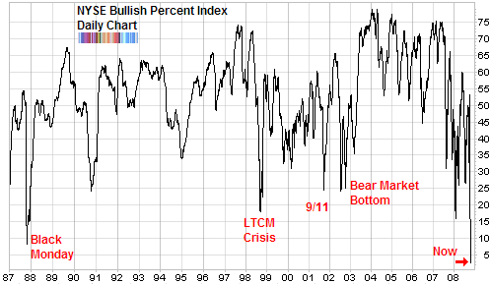 This is just another one of those extreme times in the market that one may want to take notice of.

Enough of this chart business, what about fundamentals? Are stocks cheap? Each stock is different. I'm sure there are still some good values out there. I still like American Oriental Bioengineering (AOB), but I want to take advantage of the dear premiums in the calls so I prefer to buy the shares and sell the covered calls. Other than that, I'm having a hard time finding a stock today that I feel makes for a good long term investment and that I don't think would be prone to another significant pullback in the next market correction.
Using my proprietary Stock Analysis Calculator as a first step in analyzing a stock, I notice that a stock like Starbucks (NASDAQ:SBUX), which has had a monster rally, is now not only overbought technically, but also overvalued in my opinion.

Looking at the weekly chart of Starbucks, you may notice the RSI over 70 and the Slow Stochastic at an extreme high.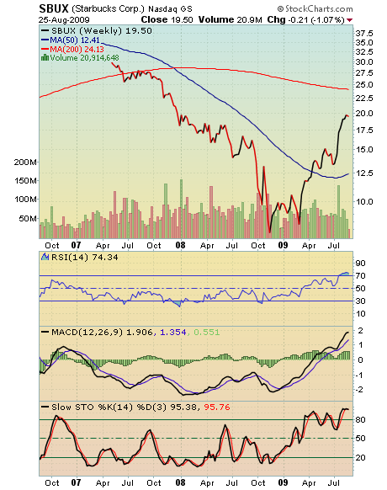 Fundamentally, I think Starbucks is worth no more than $10 share. I don't think the 15% per year average analyst earnings growth expectations will be met. Per my worksheet, even if the 15% earnings growth estimates are met and I put a P/E of 12 on Starbucks in 5 years time, at best, it's worth $14 today.

Here is the worksheet for your viewing.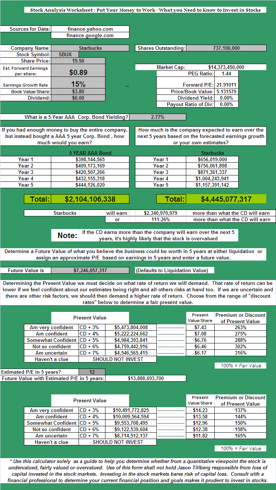 In summary, the short term looks mightily overbought. A pullback that could either be perhaps a few percentage, or a whole lot more, could be in order. Be fearful when others are greedy.

Disclosure: No position in SBUX. I'm long AOB for clients. Short other stocks not mentioned in this article.