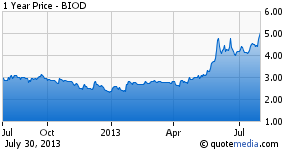 Just over a month ago I wrote an article on the biotech company Bidoel (BIOD), examining the company's summer prospects of a run-up into the release of Phase II data of their lead investigational candidate BIOD-123, an ultra-rapid acting insulin for the treatment of diabetes Type-1 & 2. The company announced on July 11th that it expects to release top-line results by the ''end of this quarter''.
The stock was at $4.01 at the time of my article's publication and after popping yesterday is over $5 now, giving people who invested on my advice a return so far of 25%. I am just as bullish as I was a month ago, and would go as far as to say that not only will BIOD run into its Phase II data but I believe it will announce positive results and will briefly outline why in this article.
BIOD-123 has a long history. Originally it was developed as VIAject before management saw fit to rename it Linjecta. In its Phase III trial, Linjecta (at the time VIAject was examined to see if it was non-inferior to RHI -- regular human insulin) in the management of blood glucose levels as measured by the mean change in patients HbA1c levels from baseline. How well diabetics can control their blood glucose level is reflected in their HbA1c.
(Almost) Positive Linjecta Phase III Results
Preliminary results of the Phase III trials (both Type 1 & 2 were tested) showed that the trials met their primary endpoint of non-inferior mean change in HbA1c when compared to RHI. The Type 1 & 2 trials were conducted in centers in the USA, Germany and India. Type 2 patients who received Linjecta experienced fewer non-severe hypoglycemic events than RHI receiving patients. Type 1 & 2 patients who received Linjecta also gained less weight than patients on RHI. Over the 26 week trial, Linjecta patients gained an average of 0.3kg while RHI patients gained 1.7kg. At the release of the final Phase III results in June 2010 Dr. Rodbard commented
"This study demonstrated the non-inferiority of the new more-rapid-acting injectable human insulin versus regular human insulin and the favorable impact of the faster-acting insulin on hypoglycemia and weight gain, two key side effects of currently marketed insulins which can be difficult to manage. These findings are encouraging and suggest that we can achieve proper glycemic control with reduced hypoglycemia and weight gain through the use of a more-rapid-acting form of human insulin''. Dr. Rodbard is a practicing endocrinologist based in Rockville, Maryland, a Master of the American College of Endocrinology (OTCQX:MACE), a Fellow of the American College of Physicians (FACP) and past president of the American College of Endocrinology and the American Association of Clinical Endocrinologists.
Linjecta Phase III Problems & CRL
At a Type 1 trial centre in India, statistically significant (p<0.01) interaction was observed and this was enough for BIOD to not include it in analysis. The data anomalies observed have yet to be explained. They included markedly higher HbA1c levels and markedly reduced reporting of any hypoglycemic events. Furthermore a total of 24 Linjecta patients dropped out over the course of the trials citing injection site pain. This has been attributed to the dose concentration which for Linjecta was 25 IU/ml and for RHI was 100 IU/ml.
So despite establishing non-inferiority and having less non-severe events as well as less weight gain than RHI, the two above mentioned problems led to the FDA issuing a CRL to BIOD in September 2010 citing the India data anomalies and lack of injection site tolerability as two of the main reasons.
Enter BIOD-123
So BIOD went back to the drawing board and came up with BIOD-123 which would be a revamped version of Linjecta. In April 2012 the company announced positive Phase I trial results of BIOD-123 (which was tested with another candidate BIOD-125). The Phase I trial evaluated the pharmacokinetic, pharmacodynamic and injection site toleration profile of BIOD-123 relative to Humalog (a readily available rapid acting insulin analog). The objective was to identify an RHI-based formulation with a similar pharmacokinetic and pharmacodynamic profile to Linjecta but with better injection site tolerability. The trial was conducted in the USA.
(Fully) Positive BIOD-123 Phase 1 Results
The absorption rate of BIOD-123 was found to be 64% quicker than that of Humalog. In a previous trial, Linjecta had been found to be only 61% quicker! BIOD-123 was well tolerated with injection site tolerability perceived by patients to be similar to that of their usual injections used at home. So BIOD-123's Phase I trial found it to be just as rapid (if not slightly more) than its predecessor Linjecta but also better tolerated.
BIOD-123 Phase II Trial
In September 2012, BIOD announced the initiation of BIOD-123's Phase II clinical trial. 132 patients with Type 1 diabetes have been randomized to receive either BIOD-123 or Humalog as their mealtime insulin for 18 weeks. The primary endpoint is HbA1c control with postprandial glucose excursions, glycemic variability, hypoglycemic event rates and weight changes. It has been conducted in 33 centers, all in the USA.
So with results due within the next 2 months, how are BIOD-123's chances looking?
Well we know that Linjecta met its primary endpoint of HbA1c control when compared to RHI in its Phase III trial. It also had fewer hypoglycemic events and saw its patients gain less weight when compared to RHI. BIOD-123 is now being compared to Humalog on these factors as well as two more mentioned already.
One of the reasons Linjecta failed was because of poor injection site tolerability which in BIOD-123's Phase I trial, wasn't an issue. Conflicting trial data from India also sealed Linjecta's fate but BIOD-123 has had both its Phase I and Phase II trials conducted totally in the USA.
BIOD-123 is a revamped and improved version of Linjecta which fell at the last FDA post almost 3 years ago. Its efficacy potential as an ultra-rapid acting insulin was shown when compared to the rapid-acting insulin Humalog in Phase I. With improved site tolerability and with all its trial centers in the USA, I think BIOD-123 has the potential to go further than Linjecta.
All micro-cap biotech companies are inherently more risky and volatile than mid and large cap stocks. Investors should keep this in mind when considering investing in them. This article is meant to offer a look purely at BIOD's chances of releasing positive Phase II results. For a larger overview please read my article from a month ago which is linked at the top of this article.
Disclosure: I am long BIOD. I wrote this article myself, and it expresses my own opinions. I am not receiving compensation for it. I have no business relationship with any company whose stock is mentioned in this article.