XBRL Cloud has just released its "XBRL Cloud EDGAR Dashboard," an objective third-party study of XBRL filers' compliance with the new SEC mandate (pdf file). Using data-mining tools, the Cloud captures all sorts of filing details and competitive information. This report is exactly what the SEC wants - transparency of financial reporting by SEC-filing companies and timely public access to comparative standards-based financial reports. The SEC has mandated that all SEC-reporting companies start filing in XBRL between now and 2011.

The XBRL Cloud report provides information regarding the competitive landscape. Here is a breakdown of the companies mentioned in the report:

Cos. Share Filing Company
136 36.6% EDGAR Online, Inc. (NASDAQ:EDGR), joint with RR Donnelley (NASDAQ:RRD)
79 21.2 Bowne Co. (BNE)
57 15.3 Fujitsu (OTCPK:FJTSY)
49 13.2 EDGARfilings (a unit of Thomson Reuters (NYSE:TRI)
45 12.1 Rivet Software (private)
4 1.1 Clarity Systems (private)
2 .5 Business Wire (a unit of Berkshire Hathaway (NYSE:BRK.A)
372 100%

The XBRL Cloud was the first organization to publish the names of companies that have filed their June 30th 10-Q in Extensible Business Reporting Language. The report is close to real-time and may in fact be real-time now. In the past I have referred to projected share data, so consider this an update to those forecasts.

The SEC mandate's phase-in schedule anticipates around 12,000 companies filing SEC reports in XBRL for the June 2011 quarter. In 2009, just 500 of the largest companies file, then 1,800 in 2010 of the remaining "accelerated filers", and the balance of around 10,000 companies in summer of 2011.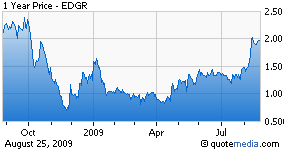 EDGAR Online's [EDGR 2.00, market cap. $53 million, 52-week range: .60 - 2.49] high market share will no doubt decline as new agents and systems are developed to file that data accurately and on time. However, since 2010 is the first time that footnotes must be filed (not block-style as now required), it is likely that EDGR's leadership position will remain healthy during this period when other companies are just now developing their filing procedures. And in the very long term, a larger percentage of companies will likely file themselves.

With revenue now about $20 million per year, the impact on EDGR's revenue may well be significant over the next few years. Looking at just the first 372 company filers, EDGAR Online's revenue on 136 clients should be around $2.0 million annually, or 10% of current total revenue. If they are able to win 20% of this market long-term, EDGAR Online could well increase its revenue by around $35-40 million over the next few years. Since they have converted all US companies already to XBRL for their own database operations, the margins become very good on filings after the initial filing for a client company. Gross margin overall is now around 75%, they are EBITDA-positive, and have over $35 million of NOLs. The cost of building the XBRL database over the last 6 years or so - as well as analytic programs that use that database - has severely impacted their shareholders' equity.

One of the competitive tests it seems, which EDGR has passed with flying colors, is having converted some of the largest and complex companies in the US to XBRL SEC filing. Here are a few of the clients that have selected the RR Donnelley and EDGAR Online partnership to file their XBRL financial reports to the SEC:

Alcoa, Amazon, Amgen, Apple, BankAmerica, Boeing, Comcast, Ebay, Exxon, General Dynamics, Google, Lockeed Martin, McDonald's, Moody's, NYSE, Morgan Stanley, Raytheon, State Street, Verizon, Visa, Disney, and Yahoo.

The XBRL conversion business is not one that is easily entered by companies not conversant with the XBRL standard. EDGR's process is highly automated and the validation checks and conversion methods have been extensively tested. After all, they have already converted 10-Qs and 10-Ks to the XBRL standard for about 10,000 US companies. And, their database is far deeper than the minimum SEC current requirements. Most investors know of EDGAR Online as the provider of fundamental financial data for Yahoo, Google, MSN, MarketWatch, etc. The XBRL filings market potential is not really on the radar screen yet. But, as 12,000 new filers are required to file, I suspect more attention will be paid to a company built around the validity of the XBRL standard for financial reporting.

EDGAR Online is running with the elephants - giant financial information providers like Thomson Reuters, McGraw Hill (MHP), Moody's (NYSE:MCO), FactSet (NYSE:FDS), MSCI (MXB) and Bloomberg. They compete with EDGAR Online on various financial analytic web-based programs and financial information services. But, unlike EDGAR Online, none of these providers controls their own XBRL interactive financial database for US companies and mutual funds. And EDGR streams Chinese, Japanese, and Korean XBRL too for specialized applications.

EDGAR Online has found a little running space of its own.

Disclosure: I am long EDGAR Online and my company uses their XBRL data-set.