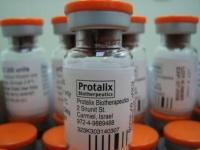 Yesterday, August 25th, Protalix Biotherapeutics (NYSEMKT:PLX) announced they have received FDA fast track status for their Gaucher treatment called prGCD.
You may not know much about Protalix but they are an Israeli biopharma company which produces therapeutics from plant origins. Teva Pharmaceutical Industries Ltd. (NYSE:TEVA) and Protalix Biotherapeutics Ltd. have a collaboration agreement for the development of two biopharmaceuticals, based on Protalix's recombinant plant cell expression technology.
After gaining nearly 30% on August 17th, Protalix is currently trading at 6.04 and was up only 1% yesterday on the news. This could be due to a few reasons.
Genzyme (GENZ) will eventually deal with the contamination and begin producing Cerezyme again within 6-8 weeks.
Shire Pharmaceuticals (SHPGY) has also been given FDA fast track status. (See Shire Gaucher Drug Passes Key Trial.)
Protalix had an astronomical stock meltdown in 2007 by having a public offering of only $5/share when shares were trading around $35-40. There was no valid reasoning behind the offering, according to Protalix's management in 2007
But the good news is that Cerezyme sales were 1.24 billion in 2008. Gaucher disease is more common in those with Jewish ancestry so being an Israeli company this could help future sales of Protalix's prGCD compound.
Currently, the disease is rare and affects around 1 in 50,000 to 100,000 people. The treatment must be taken on a life-long basis. See Marketwatch's August 18th article on this subject: Protalix's David vs. Genzyme's Goliath.
David Aviezer, the chief executive of Protalix, said in an interview on Tuesday that many doctors around the world have asked his company to supply them its medicine due to shortages of Cerezyme. "Plant cells cannot be affected by human or mammalian viruses, like incidents that happened with Genzyme," he said. "We have a built-in biological firewall protecting against such situations."
Aviezer said that recent actions by the FDA, in approving the compassionate-use protocol and granting prGCD fast-track status, suggest that the agency considers prGCD "a valid option."
We're confident in the way the drug is moving ahead, and are confident in our ability to compete with Cerezyme. We're building up our credibility.
Reuters announced on August 17th the Protalix update for the approved treatment protocol. Another update was announced on August 25th for the FDA's fast track status. Protalix Chief Executive David Aviezer says,
We expect to conclude our Phase III pivotal study next month and are looking forward to announcing top-line results from this study in October. We anticipate filing an NDA with the FDA by the end of this year.
Disclosure: Long Protalix