Chinese Premier Wen Jiaobao recently gave a speech mentioning that China will use its foreign exchange reserves, the largest in the world, to support and accelerate overseas expansion and acquisitions by Chinese companies.
At the end of 2008 China had US$1.9 trillion in foreign exchange reserves. Today, that number is over US$2.1 trillion.
China's Foreign Exchange Reserves 2009 (US$Bn)

Source: State Administration of Foreign Exchange
China has three main reasons for undertaking overseas M&A.
First, Beijing is looking for a way to diversify its massive holdings of US debt securities given the possibility of a U.S. dollar devaluation (yet, ironically, a dollar devaluation relative to the yuan means greater purchasing power abroad—another incentive for outbound investment).
Secondly, China is tapped out of most major commodities including iron ore, copper, oil and timber. The country simply cannot continue to grow at 9% per year (as it has for 30 years) without securing a stable supply of commodities.
Third, many Chinese firms want to move up the value chain and are looking to acquire retail and distribution assets, or firms that have proprietary technology, in order to complement their factories.
The bulk of China's outbound M&A activity is in natural resources, whether in Australia, Africa, or Latin America. Within the natural resources sector, Chinese acquirers have been especially active in offshore mining and oil/gas. Behind this activity lie a few simple facts: China has 20% of the world's population, a meteoric growth rate, and yet relatively few natural resources. Our focus is Latin America. Here's a table of Latin American mineral production in 2008.
Latin America's Mineral Production 2008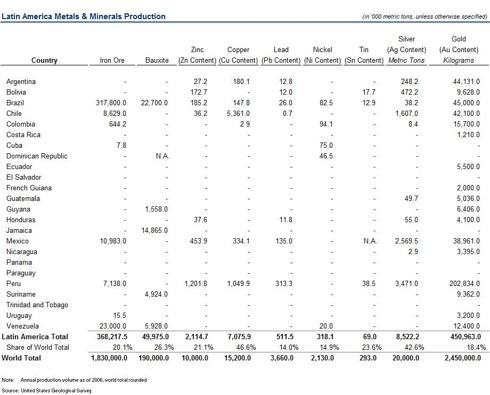 And here is a table of Chinese overseas M&A deals by industry and by region.

China M&A Deals by Industry and Region of Target (2000-2008) in US$Bn