Dean Foods (NYSE:DF) announced last week the closing of the public offering of 34.4 million shares of Class A common stock of WhiteWave Foods (NYSE:WWAV), an entity that has been spun-off from Dean Foods recently. Following the closing of the offering, Dean Foods completes the separation of WhiteWave and no longer holds any shares of WhiteWave common stock.
The offering was structured as a tax-free transaction and resulted in close to $589 million of net proceeds to Dean Foods. Recently the company sold its Morningstar business also. With the spin-off of WhiteWave and the sale of Morningstar, Dean Foods substantially de-leveraged its balance sheet. Right now the company is focusing on cost-reduction to boost bottom line.
The stock of the company is currently trading around $10.70, after falling nearly 50% from the top, as a result of a technical adjustment to account for the value of WhiteWave that Dean Foods no longer owns. In this investment thesis I will make a long case for the stock, while analyzing the long-term growth drivers for the company.
Company Overview
Based in Dallas, Texas, Dean Foods is a leading food and beverage company in the United States and is the nation's largest processor and direct-to-store distributor of fluid milk. Moreover, it's a leading manufacturer of various specialty food products.
Dean Foods' portfolio includes TruMoo, the leading national flavored milk brand, along with well-known regional dairy brands such as Alta Dena, Berkeley Farms, Lehigh Valley Dairy Farms, McArthur, Meadow Gold, Pet, T.G. Lee, Tuscan and many more.
The company has more than 50 local and regional dairy brands and private labels. The dairy firm's Fresh Dairy Direct segment consists of branded and private label fluid milk, ice-cream, creamers, juices, teas, bottled water, and other products.
Why You Need to Take a Closer Look at Dean Foods?
Dean Foods operates primarily on a local basis, competing mostly with local and regional operators. Earlier, the company used to report its financial results in three different segments, which were Fresh Dairy Direct, WhiteWave-Alpro, and Morningstar. However, after the sale of its Morningstar business and the separation of its WhiteWave-Alpro business, the company has now only one operating segment, i.e. Fresh Dairy Direct.
Dean Foods' management significantly de-leveraged the company through the $1.45 billion sale of Morningstar. In Jan 2013, Dean Foods successfully divested its Morningstar business to Saputo Inc. for a consideration of approximately $887 million, net of taxes and transaction expenses.
The WhiteWave Foods spin-off provided a tremendous financial impetus to Dean Foods in the form of reduction of net debt by over $2.6 billion. This will result in significant reduction of interest expense in the coming quarters. WhiteWave Foods consists of combined operations of WhiteWave and Alpro. Gregg Tanner, Dean Foods CEO, said:
The successful completion of this transaction marks the final step in the strategic realignment of Dean Foods and the complete separation of WhiteWave. We are gratified by the significant stockholder value that has been unlocked over the past year. The proceeds from this transaction significantly strengthen our financial position as we look to execute our strategy going forward, allowing us to invest in the acceleration of our productivity efforts while evaluating options for utilizing our future free cash flow to deliver value to stockholders.
Dean Foods' long-term debt improved substantially following the WhiteWave spin-off and Morningstar divestment, and is standing at $1.798 billion as of the end of Q1, 2013. During the same time, the company's economic moat in terms of ROIC (return on invested capital) scaled to 18.12%, highest in the last five years.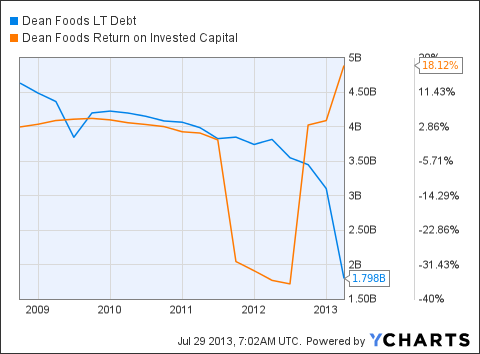 DF LT Debt & ROIC data by YCharts
Growth Drivers
The company is now focusing on core business activities to drive long-term growth. Its growth drivers are summarized below:
Increasing money-offs on private label milk distribution and weak sales volumes caused significant reduction of the fluid milk processing profits of Dean Foods. However, with a mildly positive dairy commodity outlook and favorable diesel, resin and sugar prices, the company is expected to deliver stable financial performance. On the company-level, Dean Foods has implemented strategies including price realization by passing input cost inflation to customers and boosting volume performance. This will boost the company's bottom line significantly going forward.
Dean Foods has taken strategic initiatives to optimize its capital allocation by de-leveraging its core business activities in the form of de-merging WhiteWave Foods and selling the Morningstar business. These transactions are expected to provide significant financial flexibility going forward. Leverage, at the end of Q1, stood at just 2.13x debt to EBITDA.
Dean Foods tries to achieve the lowest cost position in the industry. Its cost-reduction strategy includes headcount reductions across the businesses and closure of 10% to 15% of the plants in its network. In 2012, the company saved over $300 million under its ongoing cost-reduction program started in 2009. The company is continuing with its efforts to eliminate a significant amount of distribution routes and trimming off the SG&A expenses.
A notable bright spot in Dean Foods' future volume growth will be its flavored milk business, under the TruMoo brand, which continued to outperform the flavored milk category. TruMoo was recently ranked as the fourth most successful consumer packaged goods brand of 2012 by Information Resources Inc., or IRI, out of 1,900 new CPG brands that were introduced in the United States between 2011 and 2012.
Financials and Projected Stock Price
Dean Foods' first-quarter 2013 adjusted EPS of $0.29, inclusive of the 86.7% economic interest of WhiteWave, came ahead of the company's own guidance between $0.22 and $0.27. However, the company's quarterly earnings fell short of the year-ago EPS of $0.31 by 6.5%. The company's ongoing Dean Foods segment, which excludes all impacts from WhiteWave, earned adjusted EPS of $0.16 as compared to its guidance for adjusted earnings of $0.10 to $0.15 per share.
For FY13, Dean Foods' management expects its operating income to grow in the low-to-mid single digit range. The company also anticipates its adjusted EPS to come in the range between $0.45 and $0.55 for the period.
Since Dean Foods' management has been consistently beating its guidance on the upside for quite some time, I expect the company to deliver an EPS of at least $0.55 for FY13. The company's stock is currently trading at a forward P/E multiple of 19.45x based on that expected EPS. The stock looks reasonably attractive compared to the 20.1x industry average.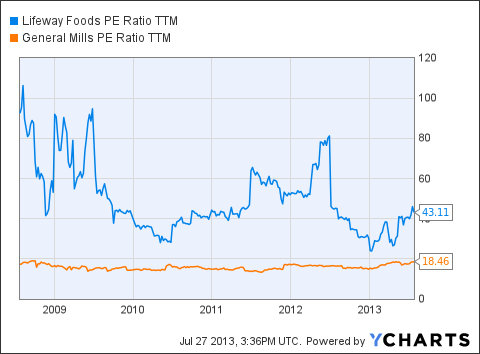 LWAY & GIS PE Ratio TTM data by YCharts
Among Dean Foods' peers, high-growth Lifeway Foods (NASDAQ:LWAY) trades at a P/E of just over 43x, while General Mills (NYSE:GIS), with modest growth prospects, trades at 18.46x.
Dean Foods' specialty brand TruMoo alone can drive the company's future top and bottom line quite significantly. With 35% fewer grams of sugar than its largest rival, lower fat and no high-fructose corn syrup, TruMoo represents a healthier and delicious flavored milk alternative. It's going to have a huge market for the diabetic and high-cholesterol patients.
The TruMoo brand was first introduced in August of 2011, when the company reformulated and converted all of its flavored milk business to the new brand. It has given the company the ability to innovate and market the product on a national scale. Since its introduction, Dean Foods invested over $30 million in support of the brand. This brand conversion and innovation has been very successful, claims the company, with TruMoo now 3x larger than the next largest flavored milk brand.
As an analyst, I expect that the brand will continue to grow and drive around 15% bottom line per se for the company for next three years, which, ceteris paribus, leads to my projected FY15 EPS of $0.70. Assigning a P/E of 25x on that EPS, I've arrived at the projected stock price of $17.50 for Dean Foods. I think 25x is quite reasonable due to the company's de-leveraged balance sheet and aggressive cost-cutting efforts.
Potential Downsides
Dean Foods said it witnessed loss of some business with a significant customer leaving the company. As a result, its private label white milk business may underperform the industry this year.
Dean Foods' business is heavily dependent on commodities such as raw milk, soybeans, diesel fuel and others. The prices of these commodities often fluctuate, which could hurt the company's margins.
Dean Foods faces fierce competition, particularly at the processor level, in all major product lines and geographic markets. The company's major rivals include Kraft Foods (KRFT), Nestlé (OTCPK:NSRGY) and ConAgra (NYSE:CAG).
Dean Foods is heavily dependent on a few customers, which includes large discounters, supermarkets and warehouse clubs. This significantly reduces the company's pricing power against these retailers.
Conclusion
With a de-leveraged balance sheet, coupled with an aggressive cost-cutting and pricing formula, it's only a matter of time before the company's stock will go higher. Long-term investors are advised to accumulate the stock on dips.
Disclosure: I have no positions in any stocks mentioned, and no plans to initiate any positions within the next 72 hours. I wrote this article myself, and it expresses my own opinions. I am not receiving compensation for it (other than from Seeking Alpha). I have no business relationship with any company whose stock is mentioned in this article.