Renasant Corporation (NASDAQ:RNST) is a $697 million bank holding company that operates over 85 branches in Mississippi, Tennessee, Alabama and Georgia. Renasant has been improving its nonperforming loan balance and growing loans while at the same time working on closing a merger with First M&F Corporation (NASDAQ:FMFC) in a deal valued at $151 million that will add just over $1.5 billion of assets to the bank's balance sheet.
Renasant has 77 branches in Mississippi and is the 4th largest by deposit share in the state. While I'm bullish on the internal improvements of the company, I'm a little skeptical on the benefit of the merger and even more so about the stock's current valuation. With the merger expected to close in the third quarter this year, below I have compiled a review of the bank's financial position to help get an idea of what Renasant has been doing as well as what it will be able to accomplish with the soon to be added assets.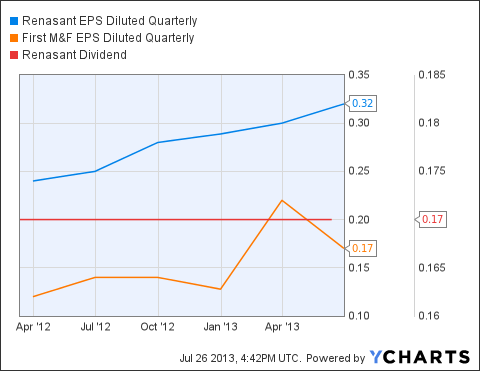 RNST EPS Diluted Quarterly data by YCharts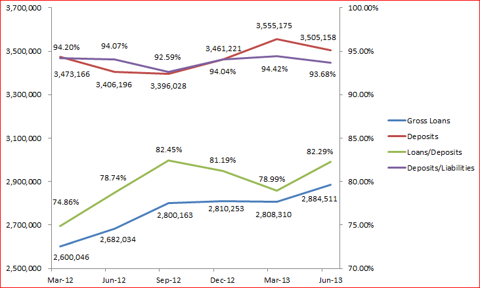 Renasant has been doing a great job at growing its loan portfolio over the past year. Since March 2012, loans are up 10.9% (virtually all growth tied to real estate) which, coupled with a very flat deposit base has increased the L/D ratio by 9.9%. This is a very material rise as it signals a fundamental shift in the bank's earnings power. Loans are the bank's most profitable assets so a larger percentage of them, being supported completely by deposits, means the bank's business can be expected to generate higher margins (or at least fight of environmental compression short-term).
Another very favorable item on the graph below is the larger than normal percentage of deposits that comprise the bank's full liability account. All said, there is still a rather large gap between loan/deposits and as far as capacity goes, the bank could theoretically (with the current deposit base) lend out ~$500 million more and still be liquid (to get to a L/D ratio of 95%). And, I expect there to be even more capacity after the merger with First M&F Corporation because First M&F last reported a lower L/D ratio of ~71.6%. YOY First M&F's loan portfolio has almost stood still and the L/D ratio is actually higher because of a declining deposit base.
Large capacity means the bank is liquid but this also implies that the bank is having a hard time finding loans. Mississippi experienced above average GDP growth last year but looking back at market share data, deposits YOY have been drying up in almost every bank listed in the counties that Renasant operates in. This means one of three things customers are spending more than they are saving, they are moving money to another bank not listed or the information is not accurate. Assuming it is accurate, and remembering that Mississippi does have one of the highest unemployment rates (9%) in the U.S., I wonder how much of the shrinking deposits have to do with people having to dip into savings to cover living expenses. Not a very good environment for a bank to be in. One of the best parts about investing in a regional bank is that an investor can use it to target a growing community or area, one that most would probably agree starts at the top of the unemployment list and not the bottom.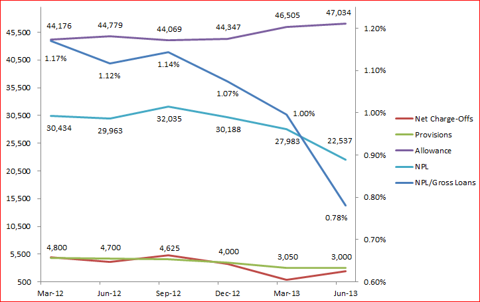 NPLs are down 24% YOY which, on top of the larger loan balance means NPL/gross loans have improved 33%. Having more assets and a larger percentage of them making money is going to add up. Some might think that the larger allowance balance is excessive but I like it and don't consider a lower provision expense a possibility near-term because with the merger, First M&F will be bringing over ~$7.2 million nonaccrual loans, ~$21 million restructured loans (accruing) and ~$24.8 million of OREO. The bank hasn't reported yet so I'm saying approximately, and no telling what's going to be written-off, but the larger loan portfolio will need a larger allowance account.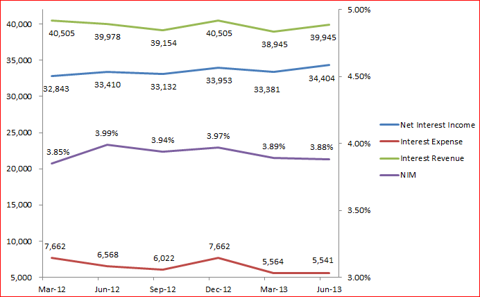 As you can see above, the bank has been keeping its NIM at around 3.8% which has helped stabilize the bank's net interest income. Going forward, this is a good base to build on and as interest rates rise I don't doubt the company's ability to cross over the 4% line. Net interest margins for First M&F are very similar and have come in between 3.53% and 3.72% since September 2012, both are well above the national average of 3.21%.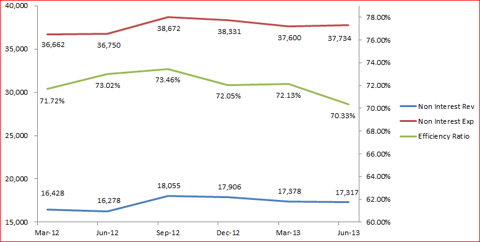 The efficiency ratio of both banks is approximately 70% which means there is an opportunity to improve (and work to do). Most regionals target 60% but so much goes into this ratio that I see some headwinds that the merged bank faces holding the ratio back some. Merger related expenses will be eliminated (which helps) and synergies may allow for some cost cuts but the two banks' non-interest related expenses have been really consistent and I think more help is going to need to come from the income side. Non-interest revenues are stable but face headwinds as rising interest rates are expected to slow down refinancing and the fees that the bank has been earning on them. Non-interest revenues aren't significantly high but they do cover 54% of the non-interest expenses which is higher than average for most regionals. Loan growth has come from real-estate transactions and fees have supported these non-interest revenues so hopefully the cost cuts can roughly equal the decline in fee income that is expected to come when refinancing activity slows down because the bank has a nice base and I think it will be more reliant on interest related items going forward.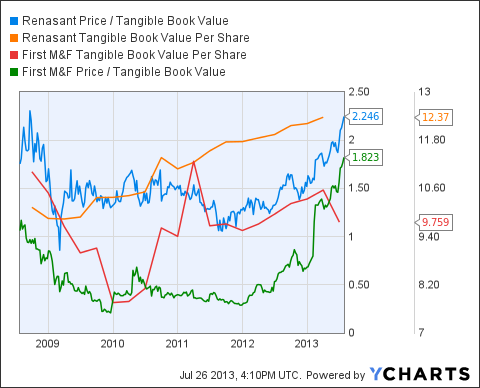 RNST Price / Tangible Book Value data by YCharts
Bottom Line
Renasant is growing organically and by merger at the same time that a larger percentage of its loan portfolio is generating income. Very positive but I'm not so sure that it right now deserves to be valued at 2.24Xs its tangible book value. The company is definitely taking advantage of the valuation to close its deal with First M&F, which has equal returns and more capacity but, either this valuation is fair and other stronger banks are being undervalued or the market is a little over-eager on the merger news. A lot of things are going right but I think investors can find better deals right now considering the time it will take to gel the two banks and that this situation isn't materially different than any other one being done right now.
Another concern I have is that dilution will lower the assets per share that investors currently have. Earning power of each share is determined by the number of tangible assets on each share and the rate of return on the assets. Thinking this through, the bank is going to be issuing more shares and adding ~$81 million in goodwill that is not adding anything to tangible book value. And the assets it is acquiring are earning less than Renasant's currently are due to First M&F's lower L/D ratio. Close attention should be paid to dilution and the post merger tangible assets per share value. The higher the better, any less and the bank's going to be challenged to earn a whole lot more just to match what it has returned in the past.
Disclosure: I have no positions in any stocks mentioned, and no plans to initiate any positions within the next 72 hours. I wrote this article myself, and it expresses my own opinions. I am not receiving compensation for it (other than from Seeking Alpha). I have no business relationship with any company whose stock is mentioned in this article.