This morning, AudioCodes (NASDAQ:AUDC) released its earnings report and I believe that it took a big step to becoming an institutionally owned company. I have been researching AudioCodes for over a year now, updating my research on Seeking Alpha; in that time, followers of AudioCodes has grown from 107 to 643 followers. Today, I feel like AudioCodes just broke outside the shadow of institutionally owned Sonus Networks and Polycom in the unified communication space as its very strong technology know how is now returning strong profits. As a result, I see AudioCodes coming under strong institutional accumulation over the next 30 -90 days as the company should be one quarter away from delivering 15-20% top line and bottom line growth in an industry that's just getting its feet underneath itself as enterprises and carriers build out their networks for the cloud.
The Quarter:
AudioCodes delivered revenues of $33.7 million vs. $32.9 million estimate; it also delivered profits of $0.03 vs $0.02 estimate. Last year, AudioCodes had revenues of $31 million and a loss of $0.04, so the year over year comparisons are strong. More importantly, the company generated $4.1 million in cash, above my $2.7 million estimate. Overall, the company showed its networking business is growing and its legacy business is under wraps.
Conference Call Highlights:
· Core networking sales equaled 86%.
· Legacy issues are behind the company.
· July has been a strong start for the company.
· Management announced that it just received a purchase order from a large bank for its SmarTAP call recording solution (approximately $1 million)
· One Voice for Microsoft (NASDAQ:MSFT) Lync now has 150 partners up from 70 when it kicked off in February.
· 2 multi-year Lync deals with multiple locations has finally deployed, one with a Tier 1 accounting firm and the other with a Tier 1 pharmaceutical company.
· The company sees the largest amount of large enterprises entering Lync projects.
· Announced its strongest backlog in the past year.
· Has delivered $15 million in cash flow in last three quarters.
Outlook:
Raised revenue guidance to $135 - $137 million and EPS from $0.10 - $0.12 to $0.12 - $0.15.
The confidence level is strong within the company.
Valuation:
Last quarter, AudioCodes demonstrated that it has a profitable business model, has controlled expenses and has the ability to generate cash at what will be its slowest revenue levels (historically Q1 is seasonally slow vs. Q4). The company will start favorable revenue and profit comparisons on a year over year comparison in Q1, which is attractive to analysts and investors that look to initiate coverage or a position. Here's a look at 2012 quarterly results for 2012 and my estimates for 2013/2014:
2012
2013 (est.)
2014 (est.)
Revenue
Net Income (per share)
Revenue
Net Income (per share)
Revenue
Net Income (per share)
Q1
32.3
(.02)
32.3 (A)
0.02
36.0
0.08
Q2
31.0
(.04)
33.7
0.03
37.0
0.10
Q3
31.4
(.05)
34.0
0.04
39.2
0.13
Q$
32.8
0.03
36.0
0,08
42.5
0.17
I also believe the net cash position will increase from $35 million (Q4 2012) to $42.5 million at the close of 2013.
Net Cash Position
Q1
37 mil
$0.97 per share
Q2
39.6 mil
$1.02 per share
Q3
42 mil (E)
$1.08 per share
Q4
45 mil
$1.16 per share
We could see gross margin expansion with an increase in service revenues, an increase in software related products and a lower percentage of legacy sales. I believe that in the 2nd half of the year we could see gross margin expansion bring 200 -300 basis points of operating leverage.
Shares Outstanding: 38 million shares
Debt: $17.6 million ($4mm due over 2013)
Cash: $57.5 million
Insider ownership: 25% - 27%
Ten Percent Holder: 10%
Float: 25 million shares
Short Position: 90k
Float (my estimate): 21 million shares
Market cap: $185 million
Revenue 2013 (est.) $136 million
Revenue 2014 (est.) $154.7
Price to Rev 2013 (est.): 1.36 (historically 2 - 3)
Price to Rev 2014 (est.): 1.19 (historically 1.75 - 2)
Price Target: $8 - $9 per share
I believe investors need to look out to 2014 when valuing AudioCodes as cash is equal to 1/4 of the value of the company and it trades at slightly above one times revenues, all while putting the growth story in place. Today, with strong earnings, AudioCodes has proved that 2013 and 2014 will be a strong time for unified communications as enterprises become more educated on SIP and VoIP mobility.
Catalysts:
· Oppenheimer's analyst should raise his price target from $5 to at least $6 per share based on his Sonus Networks (NASDAQ:SONS) $4 price target.
· Needham, Northland and/or Benchmark could initiate coverage in the next quarter bringing institutional money to the shares.
· Oppenheimer's Technology Conference in Boston August 15th - this could attract the Fidelity's of the investor world to get more knowledgeable on AudioCodes.
· SBC partnerships
· MailVision OTT contracts
· Stock buyback of 2-4 million shares
Chart: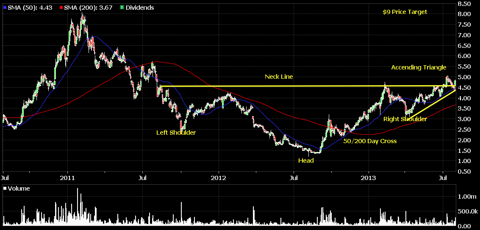 In looking at the daily chart we can see that AudioCodes is in the final phase of breaking out of its inverse head and shoulders pattern. The final stage is a test of the neckline after breaking above it. Last week's trading saw a pullback to the neckline and today's action has shown that the neckline is support as the stock broke out to $4.75. With the resolution of the inverse head and shoulders pattern we should see AudioCodes trade up to its price target of $9.00.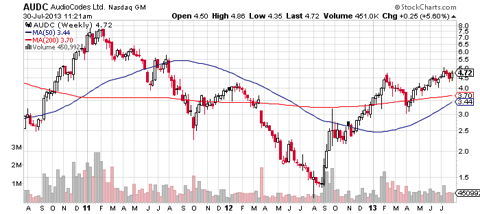 In the weekly chart we can see that there will be a Golden Cross in the next few weeks when the 50 day moving average crosses above the 200 day moving average. The Golden Cross is a bullish indicator and shows that there is strong support in the stock and that prices will be trending higher. It reinforces our $9.00 price target.
Conclusion:
Sonus and AudioCodes both reported earnings at basically the same time this AM and last night. In my opinion, AudioCodes at 1/3 the valuation deserves more institutional attention. AudioCodes has 23 years experience in voice and its now clear that voice is not going away its just being delivered differently and AudioCodes has the know how from end to end for both the enterprises and the carriers who need voice delivered on its networks. I think we just saw our first glimpse of institutional interest when the stock traded a 100k share block at 4.82 this morning. I expect we'll see 500- 1 million shares days of trading over the next 90 days and a share price that equals 6-8 per share. Sonus and Polycom (NASDAQ:PLCM) have a who's who of investors in its shares now we watch for these same investors to see the value in AudioCodes here. I think they're coming and I also think AudioCodes will deliver the catalysts to make them want more.
Disclosure: I am long AUDC. I wrote this article myself, and it expresses my own opinions. I am not receiving compensation for it. I have no business relationship with any company whose stock is mentioned in this article.