E-commerce giant and one of our Best Ideas Newsletter portfolio holdings eBay (NASDAQ:EBAY) announced solid second-quarter results. Revenue jumped 14% year-over-year to $3.9 billion, roughly in-line with consensus expectations. Earnings were also in-line with consensus estimates, growing 13% year-over-year to $0.63 per share on a non-GAAP basis. Free cash flow for the quarter was wonderful at $658 million, approximately 17% of revenue. Enabled commerce volume, a metric specific to eBay, registered $51 billion, a 21% increase over the same period a year ago.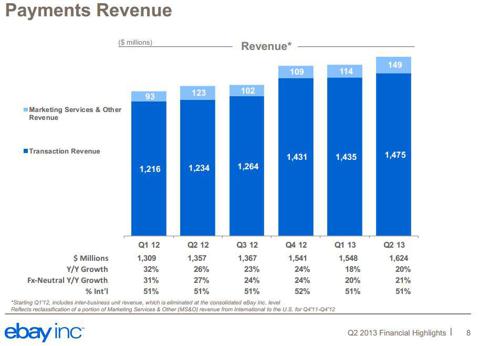 Image Source: EBAY Q2 FY2013 Earnings Presentation
PayPal continued to be a stellar performer for eBay, with payments revenue surging 21% year-over-year to $1.475 billion, driven largely by international growth, which totaled 51%. The firm is aggressively rolling out PayPal's point-of-sale (POS) capabilities in order to take market share, giving merchants huge transaction fees. This explains why total payment volume growth of 25% exceeded revenue growth. Take-rates, the percentage of value PayPal receives from a given transaction, remains relatively robust at 3.79%. This metric is sure to decline slightly as PayPal tries to become more competitive with the likes of Visa (NYSE:V) and MasterCard (NYSE:MA). Nevertheless, we're not too worried as long as volume growth remains robust.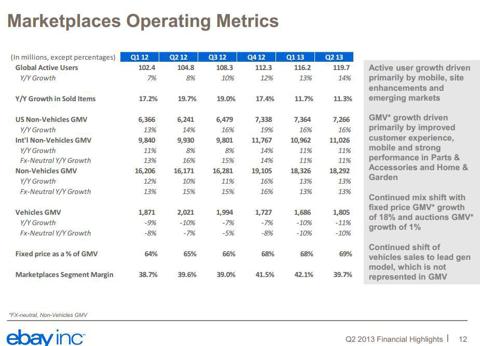 eBay's core marketplace business slowed slightly from the previous quarter with revenue expansion of 10% year-over-year to $2 billion - slightly below the 13% revenue growth achieved in the previous quarter and the 16% growth achieved in the fourth quarter of 2012. We think this is likely a secular issue, but eBay's move to change its fee structure also contributed to the slight underperformance relative to GMV growth (shown above). Management noted that some geographies were underperforming, particularly Europe. But, CEO John Donahoe had some positive commentary on the U.S., saying:
"We came into the year feeling like the U.S. economy and e-commerce market was going to be solid. And I'd say it's performing probably at or maybe even a little bit better than we would have guessed."
We're pleased to see a CEO acknowledge the improving U.S. economy rather than blame it for all hardships. Although we anticipate other marketplaces to attempt to develop into competitors, eBay and Amazon (NASDAQ:AMZN) are still the best places on the Internet to get your products in front of consumers and the best place for consumers to find products they want. Donahoe added some very positive commentary on power sellers, saying:
"Top rated sellers continue to deliver a great experience and outpace e-commerce growth, accounting for 45% of US GMV in Q2. Their same-store sales grew 22%."
Looking to the third quarter, eBay guided slightly below Street expectations of $3.97 billion of revenue and $0.65 per share of earnings, forecasting earnings of $0.61-$0.63 per share driven by revenue of $3.85-$3.95 billion. In our view, this small miss relative to consensus expectations by no means warrants the stark sell-off we saw in shares of the e-commerce giant. In fact, we'd hardly consider the guidance "light" at all.
Our Take
All things considered, we thought eBay's second-quarter performance was fantastic. We continue to believe shares of the e-commerce giant look undervalued, and we're holding onto our position in the portfolio of our Best Ideas Newsletter. Shares have increased 73% since we established our position.
Disclosure: I have no positions in any stocks mentioned, and no plans to initiate any positions within the next 72 hours. I wrote this article myself, and it expresses my own opinions. I am not receiving compensation for it (other than from Seeking Alpha). I have no business relationship with any company whose stock is mentioned in this article.
Additional disclosure: EBAY and V are included in the portfolio of our Best Ideas Newsletter.