"Williams-Sonoma posting a surprise profit in the second quarter, thanks to cost cutting, the company also raising sales outlook for the next year.– CNBC's Power Lunch 8/26/2009
William-Sonoma (NYSE:WSM) reported results for their second quarter which easily exceeded even the most bullish of analysts estimates. Net income came in at around $400,000 for the quarter which is just break even on a per share basis, but the consensus of Wall Street analysts called for a loss of $.09. Sales came in at the high end of the guided range, and were slightly better than expectations coming in at $672.1 million versus estimates for $658.3 million. Williams-Sonoma was aggressive in its cost cutting measures in the last quarter like many other companies, which helped it beat estimates. These efforts included an initiative to cut 18% of staff announced back in January, and cutting back on catalog expenses. There are of course concerns with the high-end home ware retailer as sales were still 18% less than a year ago, but things are better than thought and there is reason to believe the operating environment is improving.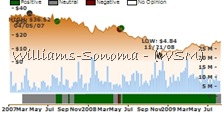 The stock has had a great day, trading higher by 12% on 3x normal volume through midday trading. The market was encouraged not only by the better than expected performance, but WSM also raised guidance through the rest of the year. For the third quarter, WSM now expects to make 1 to 5 cents per share versus expectations of a loss of 6 cents. They lifted guidance for the full year to an EPS range of $.19 to $.31, which is well ahead of analysts view of 4 of EPS. In the eyes of the market, the lift to guidance more than made up for the terrible declines of same store sales (15% last quarter).
In terms of marco-economics, Williams-Sonoma is benefiting from two key trends. First, the recently improved condition of the housing market is of obvious benefit to the company. The Case-Shiller home price index showed its first up-tick in three years, and existing and new home sales data are starting to perk up considerably. The historically low cost of borrowing as well as the government sponsored tax incentives appear to be paying off. Furthermore, the general improvement or at least stabilization in the economy is contributing to a wealth effect. This wealth effect contributes to consumer confidence as shoppers begin to sense it is alright to spend again. After the roller coaster ride of the past year, consumers have become more aware of economics than in any time in recent memory, and the recent rally in the stock market should continue to benefit Williams-Sonoma.
At Ockham, we are reiterating our Fairly Valued rating on Williams-Sonoma. This stock could be due for an upgrade as we review this rating after the trading week, but after today's run-up our rating will likely hold. We are not recommending buying into today's strong rally, but if the trends that are currently in place continue to improve, there is still a good bit of price appreciation potential for this stock. Based on our methodology, WSM could trade for as much as $24 for the current fundamentals. The company is about to embark on a growth strategy in the Mid East which seems to hold a lot of potential. The high end retail market in places like Dubai would be a great fit for Williams-Sonoma and more specifically Pottery Barn brands. However, with same store sales still expected to be in the double-digits for the rest of the year, it is just too much decay for us to get over. We are not advocating buying in at this time.