Investors in Syniverse Holdings Inc. (SVR) woke up to a pleasant surprise Tuesday as the company announced a strategic acquisition. The agreement with Verisign Inc. (NASDAQ:VRSN) has Syniverse purchasing the messaging business for a tidy sum of $175 million. The news sent SVR up 22% as the acquisition is seen as an opportunistic move which should immediately add to the company's profitability.
In a normally functioning market, you would expect to see the stock of a company making an acquisition trade a bit lower as skeptical investors fret about overpaying for the new assets. But the current economic environment has created opportunity for companies with access to liquidity, as they are often able to make purchases for significantly reduced prices – often from troubled sellers. Verisign is about 2.5 times the size of Syniverse as measured by market cap, but Syniverse likely had the advantage in this transaction because of the excessive debt levels carried by Verisign. Syniverse was able to take advantage of its financial strength, and purchase an attractive asset at what will likely be proved to be a discount as Verisign was a "motivated seller" trying to raise much needed cash.
The business outlook for Syniverse is actually quite good despite a difficult economy. Companies may be laying off a significant portion of the work force, but as they do so they are asking employees who stay to cover a larger workload. This need for productivity is leading to increasing demand for mobile data and Syniverse is riding the trend which is favoring smart phones and notebooks with an increasing appetite for services provided by this quality technology company.
Mobile messaging transactions, the fastest growing segment in wireless communications, continue to increase in volume and positively impact the bottom lines of organizations in the mobile telecom space.

~Tony Holcombe, CEO
Back in March, ZachStocks discussed how Syniverse's focus on interoperability and number portability could drive profit and lead to a higher stock price over the coming quarters. Since that article, the volatility has been relatively high with 20% and 30% swings not an uncommon trait. However, the long-term trend appears to be solidly in place with investors looking forward to increasing revenue and earnings as a result of the acquisition.
Syniverse has an attractive list of strong customers including AT&T (NYSE:T), Telefonica (a dominant player in Spain, Europe and Latin America), as well as China Telecom. The acquisition strengthens Syniverse both in terms of adding new key customers, and broadening its product lines. With a new list of clients to sell its existing services to, along with new services to sell to its existing clients, it's no wonder analysts are increasing their guidance and tacking on buy ratings to this dynamic stock.
One of the most difficult decisions to make when trading dynamic names like Syniverse, is to buy after a sharp move has already taken place. There is the very real fear of the stock giving back its gains, and its simply uncomfortable to pay $18.80 for a stock that could have been purchased for $15.30 just one day ago. However, I believe this particular move is one worth chasing because the rally could turn out to be a long-term trend driving the stock much higher over the course of several months.
One appropriate strategy for buying stocks with a significant run like this is "dollar cost averaging." Essentially you might want to commit $10,000 to this stock, but you are worried bout buying too high today when the market could pull back before establishing a larger trend. You don't necessarily want to wait for the pullback because it could be that the stock does not pause, but you also don't want to throw all of your capital at the stock today if you can buy at a cheaper price next week.
In this case it may make sense to commit to buying $2,500 worth of the stock each week for the next four weeks. Discount brokerages make it easy and cost efficient to break up this type of trade where in the past it would have been prohibitively expensive. If the stock drops over the next two weeks you will be able to pick up more shares at a better price. But if SVR continues to rocket higher you will at least have some shares bought this week before the rally began in earnest.
As always, keep your risk under control and don't commit too much to any one trade – especially in these turbulent and unpredictable times. Syniverse likely has a bright future ahead of it, and it is encouraging to see management taking advantage of their strong fiscal position.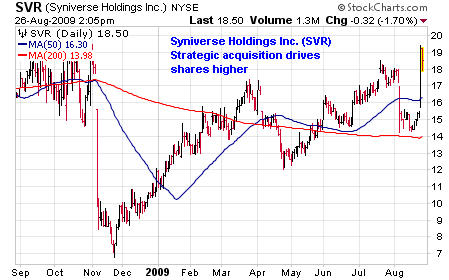 Disclosure: Author does not have a position in SVR