I published last week following the Potash Corporation (NYSE:POT) earnings. My thoughts then have proved to be a bad call, following the share fall today, and I apologize about that. What I have learned in investing over the years is that it is how you respond that matters. So how should you respond? Here are some thoughts.
First, the issue. This announcement has caused the havoc in the fertilizer markets:
Following the meeting on 29 July 2013, the Board of Directors of Uralkali (OTC:URALL), one of the world's largest potash producers, has made the following decisions.

The Board has decided to stop Uralkali's export sales through Belarusian Potash Company (BPC) and direct all export volumes through Uralkali Trading.
Why does this matter? Well, potash is marketed by industry groups as shown below. This helps to co-ordinate suppliers and purchasers better. Uralkali have decided to strike out on their own in the belief they can sell more volumes that way.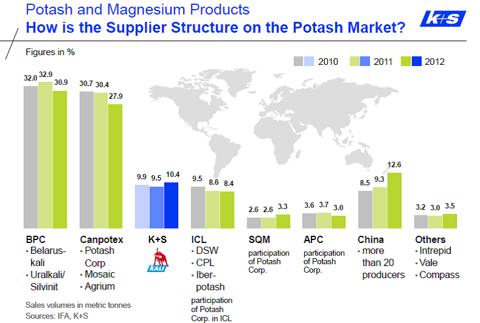 The impact of this is undoubtedly negative pricing pressure due to the likely actions by Uralkali. I found this quote from the CEO of the company.
"We see the potash price may fall below $300 a ton after the change in our trading policy," Uralkali Chief Executive Officer Vladislav Baumgertner said. That's at least 25 percent below the current contract price for China and the lowest since January 2010. The price will remain higher than $200 a metric ton, the production cost level for some international producers, he said.
In terms of the impact of this, a drop below $300 would imply a US$1.14 hit to earnings for Potash Corp.'s peer Mosaic (NYSE:MOS) using the sensitivity analysis they provided. ($68/$50 * 0.21 and all x4 to annualize it).

Mosaic was at consensus earnings of US$3.94 so call that a 29% hit. Of course this impact may be able to be partially offset as prices may not fall that low. I do not have similar analysis for Potash Corp. but I would imagine a 20%+ earnings fall is rational on similar assumptions.
Uralkali will be helped on a sales volume basis but everybody in the industry loses from lower prices.
Other thoughts

As noted in my earlier article, Potash Corp. retains a flexible balance sheet and has limited need for new expansionary capex.
Conclusion

Uralkali's actions have caused great uncertainty, which hurts all industry players. Due to long-life assets and a good balance sheet Potash Corp. is a survivor. Rationally extending Uralkali's actions, using the Mosaic sensitivities does imply a 20%+ earnings fall, which is why names throughout the sector have fallen 20%+ early today.
Fertilizer can get cheaper and profits can get squeezed further and this will certainly not be good for the producers. However, at prevailing share prices, the announcement from Uralkali is now baked in. The potash industry is necessary globally and good assets in the ground do not go away. This is why I more than doubled my position in Potash as it fell below US$30 on Tuesday.
Disclosure: I am long POT. I wrote this article myself, and it expresses my own opinions. I am not receiving compensation for it. I have no business relationship with any company whose stock is mentioned in this article.