Real-time Monetary Inflation (per annum): 4.6%*
Over Tuesday night, October crude oil was higher on short covering following a 3% tumble in Tuesday's late NYMEX floor session. Prices hit $75 per barrel, a 10-month high, buoyed by expectations of rising U.S. consumer confidence, but quickly fell back to settle at $72.05 after projections of a record U.S. deficit started circulating.
The market's bearish tone was amplified by estimates of a 4.4-million-barrel build in crude stockpiles issued by the American Petroleum Institute [API] Tuesday afternoon. Oil Patch analysts, in contrast, forecast a 1.2 million to 1.6 million barrel drawdown in oil supplies.
Traders, for their part, seemed to anticipate a supply buildup as deliveries of previously delayed oil imports were reported. That, on top of a slackening seasonal demand for motor fuel, weighed heavily on bids in late afternoon trading. The futures curve, however, isn't pricing in any incentive to store oil yet.
NYMEX Nearby Crude Oil (NYSE:WTI)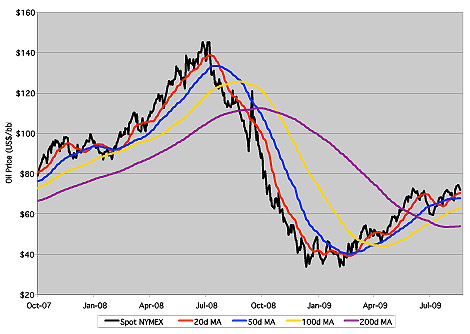 Ahead of the Energy Department report, analysts saw U.S. gasoline inventories falling anywhere from 800,000 to 1.1 million barrels, while the API was looking for a 1.8-million-barrel draw. Supplies of distillate fuels, including heating and diesel, according to analysts' guesstimates, would likely build up by 200,000 barrels. Refinery usage was seen ticking up 0.2% to 84.2% of operable capacity.
In the end, the Energy Department's report proved anticlimactic. U.S. commercial crude oil inventories ticked up by only 200,000 barrels from the previous week, skunking both the API and analysts. API was nearly dead-on, however, in its forecast for gasoline stocks: Inventories decreased by 1.7 million barrels last week. Distillate fuel inventories, meanwhile, increased by 800,000 barrels, well above the build predicted by analysts.
With refineries operating at 84.1% of capacity, both gasoline and distillate fuel production stepped up marginally last week. Motor gasoline demand is still down 0.3% from year-ago levels, while the demand for distillate fuels is off 7.9%.
This week, traders bid up nearby crude prices better than 4%, but kept the lid on product costs. Overall, the 3-2-1 crack spread was squeezed by $2.90 a barrel to yield a gross refining margin of 9.4% on Tuesday. Over the past 12 months, the futures-implied refining margin has averaged 17.2%.
The premium Brent grade crude commanded over West Texas Intermediate (WTI) was whittled away this week. After averaging an 11-cent-per-barrel price lead over the U.S. benchmark, North Sea oil fell into discount over the past two trading days. Last week, Brent's premium averaged $3.22 per barrel.
WTI's pricing momentum halved its three-month forward roll to $2.28. Last week's spread averaged $4.25 a barrel. The shrinking contango wiped out the prospects for carry trades. The annualized yield for three-month storage is only 0.5% now.
With the momentum of the oil rally stalled and inventories still at very high levels, analysts are questioning if the markets' fundamentals justify crude prices above $70.
Technical signals are turning bearish for October NYMEX crude now. Tuesday's selling pressure puts the recent low at 67.42 in view as a bearish target. A close above June's high at 75.27 would be needed to quiet bearish sentiments.
*Note: To provide a longer-term perspective, we've pushed back the base for our real-time monetary inflation indicator to May 2006. The base previously was January 2008. The indicator represents the average annual rate of monetary inflation over the period. The current 12-month inflation rate is 0.1%.