Japan's long-term unfavorable demographic outlook is well known and widely cited in many financial articles written about Japan. It may surprise readers to know that back in the late 1980s, when Japanese stocks were selling on multiples of over 100 and it was facing a peak in its Consumer Spending Cycle (1948 Peak births plus 40 years), its dire demographic landscape was never mentioned, although it was there for all to see.
The country does have a demographic "window of opportunity" from 2002 to 2014, (please refer to the Japanese birth chart on page 17 of our introductory Age Curve Report) when its Consumer Spending Cycle picks up for the short term and should bring about some economic surprises during that period. However, further Yen strength will continue to put a dampener on export growth. Therefore, we believe on balance that because valuations are at secular lows, a small portfolio weighting in Japan is recommended until 2014, at which point its real demographic collapse begins.
The Japan Index ETF iShares MSCI Japan Index (NYSEARCA:EWJ) is currently trading at $10.19 up 48.3 percent from the March 2009 lows versus the S&P Global 100 Index (NYSEARCA:IOO) return of 55.7 percent. One of the reasons for this mild underperformance is the Japanese Index's underweight position in the materials sector (please see weightings below).
Economic Background:
Placed 18th in Forbes 2009 Best Countries for Business:
In the years following World War II, government-industry cooperation, a strong work ethic, mastery of high technology, and a comparatively small defense allocation (1% of GDP) helped Japan advance with extraordinary speed to the rank of second most technologically powerful economy in the world after the US. Today, measured on a purchasing power parity (PPP) basis, Japan is the third-largest economy in the world after the US and China. Two notable characteristic of the post-war economy were the close interlocking structures of manufacturers, suppliers, and distributors, known as keiretsu, and the guarantee of lifetime employment for a substantial portion of the urban labor force. Both features are now eroding under the dual pressures of global competition and domestic demographic change.

Japan's industrial sector is heavily dependent on imported raw materials and fuels. A tiny agricultural sector is highly subsidized and protected, with crop yields among the highest in the world. Usually self sufficient in rice, Japan imports about 60% of its food on a caloric basis. Japan maintains one of the world's largest fishing fleets and accounts for nearly 15% of the global catch. For three decades, overall real economic growth had been spectacular - a 10% average in the 1960s, a 5% average in the 1970s, and a 4% average in the 1980s. Growth slowed markedly in the 1990s, averaging just 1.7%, largely because of the after effects of inefficient investment and an asset price bubble in the late 1980s that required a protracted period of time for firms to reduce excess debt, capital, and labor. In October 2007 Japan's longest post-war period of economic expansion ended after 69 months and Japan entered into recession in 2008, with 2009 marking a return to near 0% interest rates. The 10-year privatization of Japan Post, which has functioned not only as the national postal delivery system but also, through its banking and insurance facilities as Japan's largest financial institution, was completed in October 2007, marking a major milestone in the process of structural reform.

The Japanese financial sector was not heavily exposed to sub-prime mortgages or their derivative instruments and weathered the initial effect of the global credit crunch, but a sharp downturn in business investment and global demand for Japan's exports in late 2008 pushed Japan further into a recession. Japan's huge government debt, which totals 170% of GDP, and the aging of the population are two major long-run problems. Debate continues on the role of and effects of reform in restructuring the economy.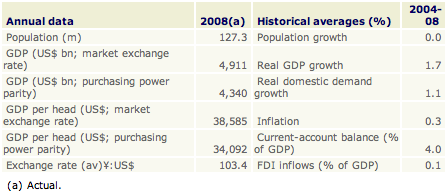 Source: Economist.com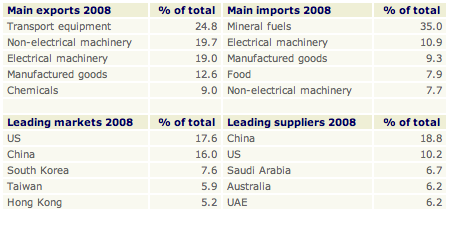 Demographic Landscape
Japan's birth numbers peaked in 1948 at 2,702,000 versus a 2010 estimate of 1,011,140 (a fall of 63 percent). The number of children per women has fallen from 3.2 in 1950 to 1.26 and is forecast to rise to 1.56 by 2044.
Japan Population
2009 Population: 127,758,000
2025 Estimated Population: 121,614,000 (Decline 4.8%)
Japan Generations
Generation X–1965 to 1984: 36,266,000
Generation Y–1985 to 2004: 24,440,000 (Decline 32.6%)
Generation Z–2005 to 2024 (Est.): 18,883,000 (Decline 22.7%)
Generation Blend–2025 to 2044 (Est.): 16,176,000 (Decline 14.3%)
Population over 65
Next year 22.5 percent of the Japanese population will be over 65 years of age, and this is projected to rise to 36.4 percent by 2044. This the highest ratio in the developed world.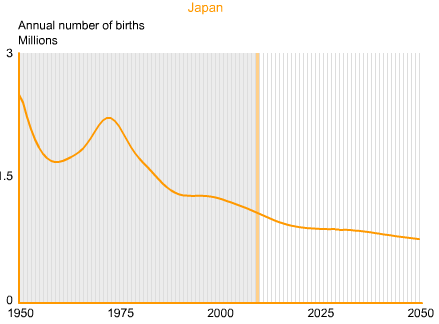 2025 Japan Population Pyramid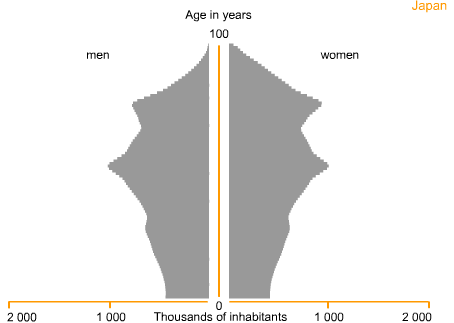 Source: UN 2007 and Insitut National d'Etudes Demographiques

Japan Index Fund relative to the S&P Global ETF: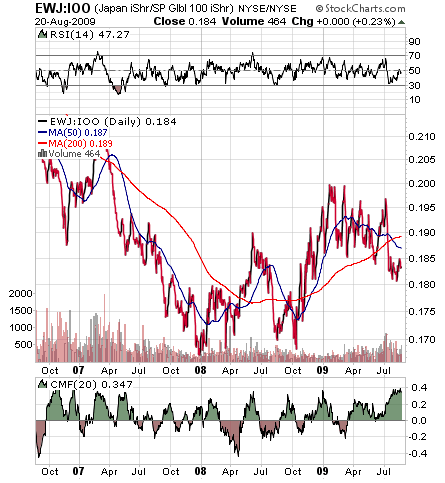 iShares MSCI Japan Index Fund ETF Sector Breakdown:
| | | | |
| --- | --- | --- | --- |
| Index/Sector | Japan | S&P Global | Difference |
| | | | |
| Financials | 17.6 | 16.8 | 0.8 |
| Energy | 1.3 | 15.0 | -13.7 |
| Consumer Staples | 5.3 | 14.4 | -9.1 |
| Technology | 13.2 | 13.6 | -0.4 |
| Healthcare | 5.8 | 12.3 | -6.5 |
| Consumer Discretionary | 20.6 | 8.0 | 12.6 |
| Industrials | 18.4 | 7.0 | 11.4 |
| Materials | 8.4 | 5.2 | -3.2 |
| Telecoms | 3.6 | 4.8 | -1.2 |
| Utilities | 5.8 | 2.9 | 2.9 |
Figures as of 30th June 2009
Disclosure: No Positions