The US dollar moved higher against the majors in midweek trade as investors put their risk on a dollar play ahead of the New Home Sales report, that came out better than expected. The equity market saw little upside reaction from the positive economic release, which seems to be in-line with the fundamental trend over the last week.
The newly formed fundamental reactions may help the US dollarget stronger over the next few sessions if S&P futures (1028) trade continues to struggle with 1030 resistance, and oil (71.50) speculators continue to find 72.50 a road-block area.
A leading indicator of a stronger dollar is lower commodity markets, especially oil which is currently trading with a lack of momentum, and mixed near-term trend. TheLFB Elliott Wave team announced that traders should be watching for a stronger Usd against the commodity based Canadian dollar (1.0980), which lost the most of any major pair in trade on Wednesday, and has done nothing other than consolidate those moves so far on Thursday.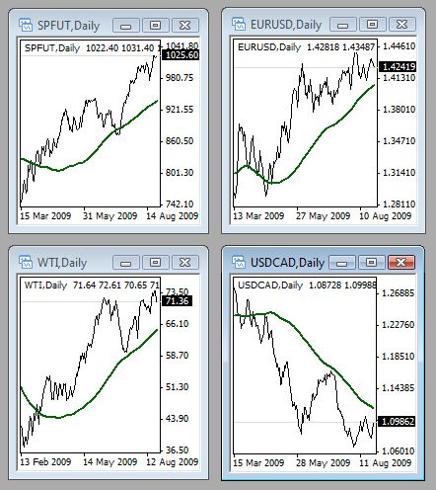 Forex traders know that there is a correlation between the global commodity markets and the forex market, especially now that the global business cycle is going through a period of change, from trough to possible expansion. In these times of change the Canadian dollar and oil become highly correlated, therefore solidifying the negative correlation between oil and Usd. Oil is priced internationally in U.S. dollars, and therefore a long oil position automatically creates a short Usd position, and vice versa.
Countries that have natural reserves in oil are initiating moves away from also holding excess Usd paper (Treasury bills or dollar notes) as their currency reserve, in a long term plan that reduces exposure to Usd devaluations. Why have dollar reserves in the ground and in the bank vault too, especially when your major trading partner is also the U.S.
If the US$ depreciates, so will the reserves of the oil producing countries. Saudi Arabia has started a move towards Euro Paper, and most other oil exporters are re-aligning as well, including Russia, and Venezuela, who are following Iran in asking for Euro dollars.
Usd/Cad is directly affected by the amount of oil that the U.S. has in its inventory, and a higher than expected inventory number will invariably see oil come down in price along with a weaker Canadian dollar. That was seen again on Wednesday with a better than expected, (and higher than last week's read), on oil stored in the U.S. that sent Usd/Cad values higher, from 1.0925 to 1.0980.
America imports the majority of its oil from Canada so a lower than expected number next week will mean oil will rise, as will the Canadian dollar, and the Usd/Cad pair that will then reverse lower. In the current trading environment, oil is lower for the second day in a row which allowed the Usd/Cad to consolidate the higher valuations from the turbo-charge effect of oil inventory numbers.
Traders with a long bias on that Usd/Cad, however, should be very carefully in the near-term, because so long as oil trades above the $62 support zone there will be a tough time getting too far past 1.1200, going long. Traders can find more details on the oil chart in TheLFB public Chart of the Day area.
Disclosure: No Positions