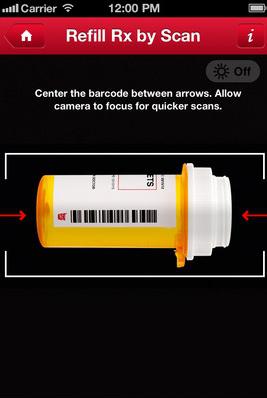 Walgreen Company (WAG), a drug store chain in the U.S., is developing a mobile device strategy that seeks to engage customers at a deeper level than their competitors, offering services that bind Walgreens stores more tightly with the customer's health and wellness. While early results indicate the strategy is paying off among its retail customers, other trends suggest maintaining the customer's engagement and integrating Walgreen's mobile data with electronic health records are complex, moving targets that will require a continuing investment of resources or shift in strategy.
Please note: In this article the company name Walgreen is used when referring to corporate activities and the store/brand name Walgreens refers to branded or retail services.
At last week's mHealth + Telehealth World Conference in Boston, Abhi Dhar, Walgreen's chief technology officer for electronic commerce, described the company's experience with mobile devices, such as smartphones and tablets, as part of the company's digital and overall marketing strategies. As Seeking Alpha contributor Larry Smith commented earlier this month, Walgreen is "changing the stores from the traditional drug store layout to a wellness center destination." The company's mobile strategy extends that idea to smartphones and related devices used for personal wellness.
Investor snapshot
Walgreen Company operates some 8,100 drug stores in the U.S., with 700 walk-in health clinics at selected stores and contracted work sites. In addition to pharmacies filling prescriptions, Walgreen stores sell over-the-counter drugs, cosmetics, general merchandise, household items, and food, and provide photo-processing services. In 2012, the company had net sales of $71.6 billion, with net earnings of $2.1 billion, and a workforce of 240,000 employees.
The past year has been an event-filled period for the company, which is reflected in Walgreen's share price that fluctuated in that time from $31.88 to $51.62, and opened at $50.79 on 29 July. In June 2012, Walgreens bought a 45 percent stake in Alliance Boots, an European retail pharmacy chain, for $6.7 billion in cash and stock, providing the company with a significant presence in Europe. Walgreen has the option of acquiring the remainder of the Alliance Boots by 2015.
In July 2012, Walgreen settled a year-long dispute over payments with Express Scripts, a pharmacy benefit manager. At the time of the dispute resolution, questions were raised about the ability of Walgreen to win back Express Scripts customers. Walgreen reported that its June 2013 pharmacy sales rose 2.9 percent compared to June 2013, with Express Scripts prescriptions returning to Walgreens stores, although the volume of Express Scripts sales was not disclosed.
Taking mobile engagement to a new level
Walgreen's presence on the web covers five online brands: walgreens.com, drugstore.com, beauty.com for cosmetics and beauty items, skinstore.com for skin-care cosmetics, and visiondirect.com for optical needs. The walgreens.com site also has a mobile version, for viewing on smaller screens. Dhar reported the five online properties attract some 12 million visits per week. Of that number, 3.2 million visits per week to walgreens.com are from a mobile device.
Walgreen's mobile apps -- designed for Apple iOS, Android, and Windows operating systems, and offered in smartphone and tablet versions -- are based on Walgreens store services, such as prescription refills, photo-processing, store specials, and coupons. However, competitors such as CVS also have mobile apps providing many of the same store-based services. Dhar said Walgreen wanted its mobile presence to take advantage of the ubiquitous nature of mobile devices and engage customers at more times and at more levels.
Prescription refills, Dhar said, is the most popular mobile service, with more than half of Walgreen's online refills now ordered from a mobile device, at a rate of more than one refill a second. Walgreens mobile customers can scan the bar code on Walgreens pill bottles -- see image at top -- with their smartphone cameras to enter prescription numbers (CVS also offers this service). According to company data reported by Dhar, customers ordered refills through the mobile app more frequently early in the morning and later at night than even refills from Web browsers, with mobile usage peaking at 6:00 to 8:00 am and at 9:00 pm.
While Walgreen designs the mobile app to extend its reach outside the store, the app also is tightly bound to the store shopping experience with layouts of individual stores, shopping lists, advertised specials, and coupons. As a result, said Dhar, more than 40 percent of Walgreens customers use the app while inside the store.
Walgreen also tries to extend its reach by integrating its mobile services with other mobile apps and devices. The company, for example, partnered with Facebook (NASDAQ:FB) and Foursquare, a location-based social network, to donate a free flu shot to needy residents every time a customer checked-in with those networks for a flu shot at a Walgreens store-front clinic. Dhar said some 200,000 check-ins at 10 million stores were registered with this program.
More steps mean more points
In addition, the mobile app can import data from activity tracking devices, such as FitBit and Withings, with customers awarded additional Walgreens loyalty points for being more active. The imported activity records are translated into loyalty points and displayed as a bar code on the customer's mobile device, which can be scanned and redeemed at the store.
In a related extension of its app, Walgreen developed an application program interface or API, a standard interconnection routine, for its mobile app. Walgreen has some experience with this technique, having already designed an API for its photo processing services. The newer API allows for prescription refills and transfers with Walgreens stores, and is integrated into Healthspek, a personal health record developed for the iPad.
These features seem to be working for Walgreen, and there's some evidence that the health of customers may be benefiting as well. Dhar reported from Walgreen internal studies that customers using Web-based services and visit Walgreens stores spend 3.5 times as much as customers who only visit the store. And customers using Web and mobile services, plus visit Walgreens stores, spend 6 times as much as store-only customers.
In addition, said Dhar, the company's internal data show customers who use mobile devices for refill reminders, including text messages, are more likely to get those prescriptions refilled than those who receive online reminders or visit the store on their own. The studies also show that 70 percent of customers agree with a survey statement that pill reminders -- messages to take medications at specific times or on certain days -- help keep them on track with their medications. Adherence to medication regimens is a nagging public health problem, with data from 2011 in the Mayo Clinic's medical journal showing about half (50%) of patients do not take their medications as prescribed.
Keeping up with the Dacadoos
While Walgreen's mobile strategy of making their online properties the go-to place for health and wellness appears to show early signs of success, maintaining that momentum will be a challenge. Mobile wellness apps are becoming more feature-rich and offered by major players in the health care arena.
A number of health care and wellness apps were demonstrated at the mHealth + Telehealth meeting, including a service from Switzerland called Dacadoo that covers nutrition, sleep, exercise, and overall wellness. Dacadoo provides an overall wellness index score, which integrates with a social network to enable users to compete in wellness challenges or leagues.
In addition, the health insurance provider Aetna (NYSE:AET) is offering its CarePass service that takes data from a host of popular health, fitness, and wellness apps and devices and posts the results in one online location, which can also be integrated into the individual's Aetna health record. To remain as the place to go online for health and wellness, Walgreen will need to keep its mobile services competitive with these apps and portals.
The mHealth + Telehealth meeting also described the emerging central role of the electronic medical record as the central reference for an individual's health. Pramod Gaur, vice-president of telehealth at the insurance provider UnitedHealth Group (NYSE:UNH), raised a number of cautions about transferring data from personal wellness apps into electronic medical records.
These records, unlike data generated by mobile apps or online services, have patients' full, documented medical histories, are often maintained by primary care physicians, and consulted for clinical decisions. They are also protected by medical privacy and security laws. In the conference, Gaur made a distinction between data collected by health professionals - clinicians, pharmacists, or from labs - and data collected by individuals. Data generated by professionals are more likely to be interoperable with electronic medical records than those collected by individuals.
Gaur likewise pointed out that personal health data need to be verified before becoming part of the electronic medical record, even readings by a professional-style device, such as a blood-pressure monitor. Data may need to be repeated or reviewed by a professional, said Gaur, before entered into an individual's electronic record.
At some point, Walgreen will need a way to connect its mobile apps with electronic medical records; its prescription and walk-in clinic records are already connected. As healthcare in the U.S. shifts from a "getting well" to "staying well" model, healthcare providers will want to keep track of this part of their patients' lives as much as the patients themselves.
For investors, the company's current mobile strategy should contribute to stronger retail sales in the short and intermediate-term as the company continues to climb out of the hole caused by the year-long Express Scripts (NASDAQ:ESRX) impasse. For the longer-term, Walgreen will need to invest in more feature-rich health apps to maintain its mobile presence against newer game-like and networked wellness programs aimed at smartphone and tablet owners. Or the company can join in more partnerships using its API with services like Healthspek that extend Walgreen's reach without diluting its brand.
Dhar's presentation last week did indicate, however, that Walgreen constructed a set of metrics -- such as store sales volumes by digital and mobile vs. store-only customers -- that should help company management judge the effectiveness of the strategy. Making those measures public suggests Walgreen management is confident its mobile strategy is on track.
Disclosure: I have no positions in any stocks mentioned, and no plans to initiate any positions within the next 72 hours. I wrote this article myself, and it expresses my own opinions. I am not receiving compensation for it (other than from Seeking Alpha). I have no business relationship with any company whose stock is mentioned in this article.