I have been an investor and a follower of China North East Petroleum (NYSEMKT:NEP) since mid-2008, and during this time, I have seen the business grow and evolve. The management team has been systematic in its efforts to transform the company from a small oil extractor in the Jilin oil field to a sizable oil player in the nascent Chinese private oil industry. (You may refer to: Tremendous Value Found in China North East Petroleum – January 19th).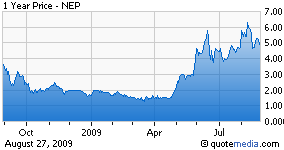 The company has crossed a number of milestones in its efforts to achieve its goals. Most notable was its ability to raise $15m dollars in debt (in addition to $13m in warrants) in March 2008 to quicken the pace of its drilling on its existing leases. This acceleration has lead to the expansion of its production capacity from 370,000 barrels yearly run rate at the time of the financing to 900,000 barrels yearly run rate today, and well on its way of hitting the million barrel a year run rate by the forth quarter of this year.

In June of this year, the company crossed a new milestone by listing its shares on the NYSE Amex (You may refer to: China North East Petroleum Catapults to the Next Level – June 18th). The listing has tremendously enhanced the visibility of the company and significantly increased the liquidity of its shares.

The increase in production, revenues, cash flow and reserves during the last few years is only one component of NEP's growth plans. NEP management has big ambitions for the company, and the true extent of their ambitions will only be revealed when one of the following takes place:

- The signature of a new lease with PetroChina (NYSE: PTR), thus greatly expanding the company reserve base and future production potential.
- The acquisition of a competitor in the Jilin oilfield, among the 36 private operators that operate in that field.
- The acquisition of a driller or an oil field services company in order to vertically expand the business.

Recent action by the management indicates that such an event is imminent. The company is perhaps weeks away from undertaking the biggest transformative step in its history. The reasons for my expecting this are as follows:

On November 14th 2008, the CEO Mr.Wang declared the following:

"We are encouraged with our opportunity in the market and continue to focus on expanding our position in China's oil market by adding more wells to our production capacity and seeking additional oil fields to lease and operate."
On March 30th 2009, Mr. Wang had this to say:

"We have a solidly profitable business and a growing cash position which provides us with a unique opportunity to expand our presence in the northern China region. With oil prices at much lower levels compared to the prior year period, we will continue to evaluate obtaining additional oilfield leases and consider potential acquisition opportunities. We believe our ongoing growth initiatives will expand our market presence and further establish CNEH as an important player in the North China region. We are very excited by our future opportunities and look forward to sharing more of our plans with our shareholders as we progress through the year,' concluded Wang."
On May 15th 2009, the CEO had this to say:
"We remain highly focused on exploring all possibilities to further expand our business presence and market position in the domestic private oil industry in China. We will do so by continuing to increase our production levels, seeking to acquire new oilfield leases and expanding our business into directly related areas of petroleum operations."
On August 14th 2009, Mr.Wang reiterated the company commitment to expand:
"Furthermore, the Company's strong cash position provides us with a heavily favored position when applying for new oilfield leases in order to further expand our business presence and market position in the domestic private oil industry in China. The application has been submitted to PetroChina headquarters, and we will update the shareholders on our progress"
NEP was maintaining a strong cash position of $22 million dollars on its balance sheet as of June 30th. This cash position is more than what the company needs to fund its operations, and historically the company has deployed excess cash toward the drilling of additional wells. Furthermore, within two weeks of listing on the NYSE Amex, the company filed a shelf offering for $40m. It is clear that the company is readying its financial capability for a corporate event.

The multiple reiterations by the CEO in addition to the growing cash position along with the filed shelf offering suggest that a transaction is in the works. It is probable that the sharp decline in oil prices in late 2008 and early 2009 delayed the execution of such a transaction; however the conditions today seems to be ripe for the company to go ahead with its expansion plans, the company's cash position is strong, oil prices are elevated and the company enjoys easy access to the capital markets due to its listing on the NYSE Amex.

Supportive Policy Change

Management indicated in its latest investor presentation during the NYSE Foreign company investment forum on August 5th that PetroChina (PTR) is planning to focus more on overseas expansion while leaving the domestic oil fields to be developed by the domestic private oil players:

"A right fit to the shift of investment objectives of PTR, which plans acquiring oil reserves from overseas, and let private firms to assist domestic oil production"

This assertion by the company has been confirmed by the Sinopec (NYSE:SNP) announcement on August 24th that it would expand its overseas presence, driven by a government directive to do so, from Bloomberg:

"Sinopec will invest in oil and gas fields overseas and expand refining ventures with foreign partners, while focusing on cost reduction as it expects oil prices to rise in the second half", Chairman Su Shulin said in the statement.

"Sinopec's main business is refining and it needs to increase its oil reserves and reduce its reliance on other oil producers," said Larry Grace, an independent oil analyst based in Hong Kong. "There's a government directive to increase overseas oil and gas assets."
Conclusion

The combination of the strong cash position, shelf offering, reiterations by the CEO and the policy directive confirm that a key corporate event is indeed likely imminent.

The official declaration of such an event being a signature of new leases with PetroChina or the undertaking of an accretive acquisition of a competitor or a driller will have a strong positive impact on NEP's shares. Investors would be wise to take a position in the stock ahead of such an announcement.

Disclosure: The author is long NEP shares.

References

- China North East Petroleum official website