By David Russell
The U.S. economy has provided investors with no shortage of positive headlines in recent days on indicators looking both forward and backward. Today I'd like to look at three important trends that relate to how assets and business get funded, which haven't received as much attention.

Yen Correlation Breakdown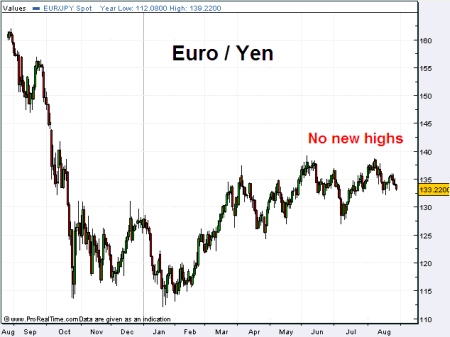 During the financial crisis, the yen and dollar both became reliable contrary indicators for the market because investors used them as "funding currencies," which means investors sold them to buy "risk assets." That's why strength in the yen or dollar over the past 18 months often corresponded to selloffs in the market.
Sometimes movements in the yen and S&P 500 would mimic each other even minute by minute. But I have noticed this correlation becoming less consistent during the market's recovery in July and August, and I wasn't sure what to make of it.
Dennis Gartman, author of the Gartman Letter and a frequent guest on CNBC's "Fast Money," ratified my suspicions in a report today, saying the correlation may be breaking down completely. "One always fears losing one of one's favourite and most beneficial indicators to the dustbins of economic history," he lamented, while still expressing concern it might reassert itself.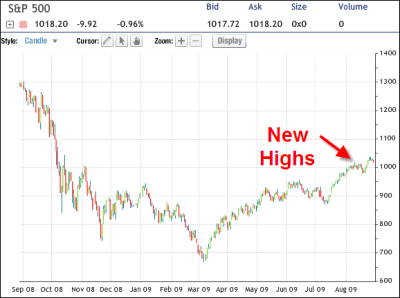 The yen correlation was a powerful trend during the period of crisis. Now that the crisis is over, the correlation is coming undone. In trading, trends should be trusted until they stop working. And, it looks like this trend has stopped working. And while that might make it harder to predict the market's direction, it's a sign of underlying health in the system.
Imagine, for instance, a restaurant that loses half its customers because the credit card companies tightened people's credit lines. That was 2008. Now compare that to a situation where customers have enough cash in their pockets to afford a meal regardless of credit.
The stock market increasingly seems to resemble the latter scenario over the former, and that's a positive.

China's Credit Growth
Much of the economic activity in China results from aggressive lending. Yuan-denominated syndicated loans on the mainland total $16.3 billion in 2009, 38 percent above the previous full-year record in 2007, according to Dealogic. This reflects increased construction and investment in China--the kind of behavior that should foster a consuming middle class.
Separately, Dealogic reported that Chinese banks and financials have sold $43.9 billion of corporate bonds this year, more than double their issuance for all 2008. This is reminiscent of the leveraging on Wall Street over the last 10 years, when financial-sector debt climbed from 71 percent of GDP to 120 percent. While it seems worrisome at first, these numbers still sound extremely small considering the size of the Chinese economy.
And given the country's natural bias toward growth and its high savings rate, this trend is probably only getting started. China could still be in the early part of a virtuous cycle of rising asset prices, construction, and income.

U.S. Mortgage Lending
Despite improvements in existing home sales and the Case-Shiller index, Barclays Capital says the mortgage-finance market remains sick. Banks now demand an average FICO credit score of about 790 for fixed-rate prime mortgages, compared with about 710 in mid-2007. They have also lowered debt-to-income ratios to 32 percent in the second quarter from 39 percent in the first three months of 2008.
I'd add that, once a debt-financed asset class breaks, it takes years to recover. Emerging-market debt, for instance, languished for more than a decade after it broke in the early 1980s.
Funding for U.S. commercial real estate was constrained long after the savings & loan crisis, and only picked up after the residential bubble was in place. Home mortgage lending weathered these previous storms because the securitization market was still growing and real-estate values were rising.
Now that residential real estate has the illness, history suggests it will take several more years to truly stabilize.