There is non-stop chatter about China's challenge in transitioning from being an investment-led economy to a consumer-driven one, and commensurate consequences for the global economy. It isn't easy, however, to see the relative scope of the difference.
The following figure helps immensely, with the yawning gap between China and most other developed economies around the world in terms of private spending as a percentage of GDP. Remarkable stuff.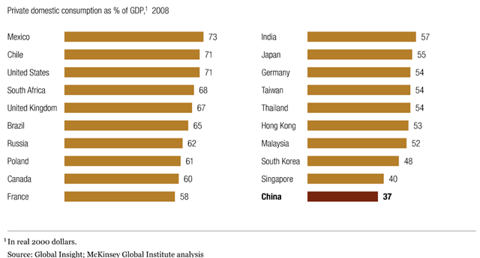 In terms of getting from here to there, it won't be easy, as the following figure shows. China must essentially retool its growth strategy from an investment-led one, with commensurate changes in policies and incentives – from education, to health care, to pensions, etc. -- across the board.