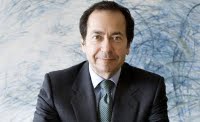 Please note that we don't typically like to post 'rumors' here at Market Folly as we usually focus on concrete information such as SEC filings and investor letters. So, obviously, take everything in this post with a grain of salt. However, we believe the sources to be reliable/credible and as such have decided to post them.

Firstly, the NY Post has a piece up stating that John Paulson's hedge fund Paulson & Co has slowly acquired a 2% ownership stake in Citigroup (NYSE:C) over the past few weeks. Sources in the story say that Paulson has bought because he believes that Citi's assets are undervalued. He apparently sees shares worth book value and thinks they should trade between $5-7 per share. With his new stake, Paulson would also join the US Government, who owns roughly 34% of Citigroup.

Secondly, we have also been hearing rumors of Paulson & Co buying into the BB&T (NYSE:BBT) follow-on offering that occurred recently. (We tweeted about this rumor when we first started hearing it). However, we must insert an asterisk of caution next to this one as there has not been any confirmation of this out of Paulson & Co, SEC filings, or the mainstream media. We have heard this chatter from separate, unrelated sources and are just offering it up for what it's worth.

This all comes after last week when we revealed that Paulson's hedge fund had amassed large stakes in numerous financials including Bank of America (NYSE:BAC), Capital One (NYSE:COF), Goldman Sachs (NYSE:GS), JPMorgan (NYSE:JPM), and Regions Financial (NYSE:RF) amongst many others. You can view a summary of Paulson's new financial additions here. We'll of course continue to monitor the situation and will post up any other concrete information we receive. (Know something we don't? Get in contact with us).