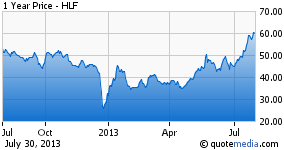 HLF (NYSE:HLF) shares have been in a tug of war since last December. Pershing Square took a huge short position. Carl Icahn is now long. The press is eating the story up. The jury remains out on whether or not Herbalife is a legitimate business or a pyramid scheme.
When I first assessed Pershing Square's Short thesis, it struck me that if they were patient enough that they had two ways to be successful with the trade:
a) Regulators could shut the company down or
b) Market saturation would inevitably lead to stagnation in the top-line and bottom line of the company.
Herbalife continues to recruit new distributors, or as they now call them at least in the USA new "members." In the 3rd quarter, they recruited 553k new distributors.
Mixed in with the hype on the conference call was the revelation that HLF's distributor base actually shrunk sequentially from 3.6 million to 3.4 million distributors. This implies a loss of over 700,000 distributors in Q2 alone.
The argument that Herbalife is an endless chain hinges on the simple idea that Herbalife not only relies upon the successful recruitment of new distributors for the success of its business model over time, it depends upon it. In rough numbers, the company has to replace 90% plus of its distributor base each and every year in order to sustain its revenues and cashflow.
Those who have handed victory to Mr. Icahn and who remain long might try to remember this. To be sure, HLF's share price has rallied materially YTD. On a straight P/E basis, the stock trades around 12x forward EPS. This is not even a market multiple. This would tend to imply that the jury remains out on the company's future prospects. Mr. Market is, to some degree, hedging his bets in spite of the company's optimistic revelations and Mr. Icahn's gloating.
Pundits question how Mr. Ackman is going to get out of his short position considering the large percentage of the float that he is short. It strikes me that it is equally questionable as to who will put a bid under Mr. Icahn's shares should he, too, wish to liquidate his position on the long side. Perhaps the impending share buybacks and ongoing media scrutiny will continue to strain Mr. Ackman's position.
Or perhaps not?
Has the global recruiting juggernaut hit a wall? Will we see negative net new adds in Q3 & Q4 as well? How many more newbies are out there to be had?
Mr. Market can be a fickle fiend. If investors latch on to the idea that HLF is running out of runway due to market saturation, this story could change very quickly.
Plus, shorts continue to have an embedded call option if and when regulatory bodies might swoop in to respond to recent lobbying efforts, etc. To be certain, Herbalife is being scrutinized closely by regulatory bodies. I am not aware of any regulator who has cleared Herbalife as a legitimate business.
Herbalife's market cap will ultimately converge with the PV of the cashflows that can be taken out of the business over time. I would assume that Pershing Square is taking some comfort out of today's earnings release as recruitment trends have rolled over. At a run rate of - 700k per quarter the company may lose 2.8 million plus distributors in the year ahead - not exactly a tremendous data point if you want to stay long.
HLF spiked to $66 plus today before settling back to $60. Perhaps the smart money is selling the news?
As for those who have declared Pershing Square's trade dead. I believe it was Mark Twain who said "The rumors of my death have been greatly exaggerated."
Herbalife can buy back shares, gear its balance sheet, retain new auditors and hire PR firms but if it cannot continue to recruit new "members" ad nauseum, then the business model has to fail.
Is this happening sooner than not? Time will tell.
Disclosure: I am short HLF. I wrote this article myself, and it expresses my own opinions. I am not receiving compensation for it (other than from Seeking Alpha). I have no business relationship with any company whose stock is mentioned in this article.