The stock market has had a great run in 2013, but there appears to be a growing number of reasons as to why it is due for a significant pullback. By taking a look at the chart of the S&P 500 Index (NYSEARCA:SPY), it is easy to see that it is overbought and it is trading well above key support levels such as the 50- and 200-day moving average: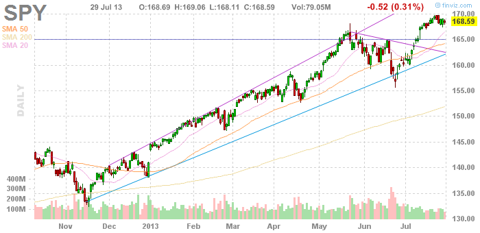 The market rally has been almost unrelenting this year, although it did appear to get spooked in June when investors became concerned about the possibility of "tapering" by the Federal Reserve. The market dropped a few percentage points after Ben Bernanke stated that he would consider policy changes if the economy continued to grow. The market has since rebounded from this decline, but that sell-off demonstrated how dependent this market appears to be for continued support by the Federal Reserve. Investors must now realize that this market is like playing "musical chairs" and when the Federal Reserve decides to stop the music, it could get ugly fast. Let's take a closer look at some of the potential dark clouds looming, any one of which could trigger a significant market correction:
1) The highly supportive policies by the Federal Reserve have to come to an end someday. It's clear that the Federal Reserve's balance sheet has grown significantly and it needs to unwind by making gradual changes. If policy mis-steps are made, or if the markets try to get ahead of the Fed, we could see another market correction.
2) Ben Bernanke is due to leave as chairman of the Federal Reserve in the coming months. There are a few potential replacements being considered, however, change brings uncertainty and the markets might get roiled if the "wrong" replacement is selected, or if the next Chairman changes policy too quickly.
3) This economic "recovery" appears to be primarily based on financial engineering by the government and the Federal Reserve. If interest rates are set at ridiculously low levels, of course real estate and auto sales are going to benefit tremendously. If you have to name the two strongest sectors in the economy, it has to be housing and autos. The boom in these areas has been fueled by the artificially low interest rates. However, interest rates have spiked in the past few weeks and many investors and analysts are now expecting these sectors to slow significantly in the coming quarters. Goldman Sachs recently downgraded the entire auto sector to neutral, based on the recent rise in interest rates. An article published on July 19, 2013, states:
The U.S. economy facing rising interest rates for the first time in the better part of a decade should put the brakes on the roaring U.S. auto industry, and (this) led to a downgrade of the sector by Patrick Archambault, Goldman, Sachs & Co. analyst, Tuesday.
Without ultra-cheap rates, it's also going to be tough for home buyers to keep up with the currently elevated level of home prices. For most consumers, a home purchase is really about the monthly payment and higher rates directly impact what a home buyer can qualify to purchase. Investors seem to be anticipating a pullback in housing as the S&P Homebuilders Index (NYSEARCA:XHB) has declined significantly since June (without the same level of growth in housing and autos, the overall economy could be poised to slow):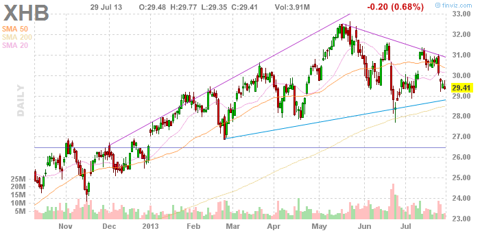 4) Companies that have not had a significant and direct benefit from artificially low rates are not doing that well when compared to the market in general. In a true economic recovery that is led by organic jobs growth (instead of one that is based on financial engineering) we would typically see broad economic growth and significant demand for steel and heavy machinery, but one look at the charts for U.S. Steel (NYSE:X) and Caterpillar (NYSE:CAT) shows what appears to be underlying weakness in the economy.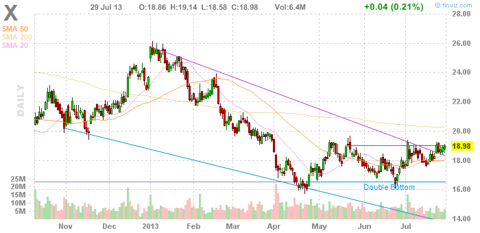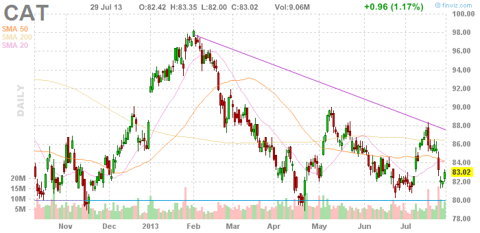 4) The most recent leg of the rally has been widely led by financials. However, that sector looks toppy and overbought now. This sector could lead the market lower in the coming weeks. For example, Bank of America (NYSE:BAC) shares recently hit new 52-week highs and are trading well beyond key support levels such as the 50- and 200-day moving averages. BofA shares have just recently started to pullback from recent highs in what might be the start of a more significant decline: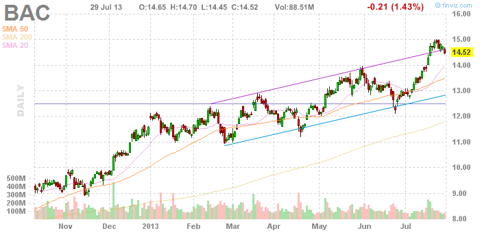 5) Market psychology matters and many investors are aware that September has often been one of the worst months to own stocks. September is now just a few weeks away and this, along with all the other reasons mentioned above, might make investors think about taking at least some profits, while markets are still trading near record highs.
Data sourced from Yahoo Finance. No guarantees or representations are made.
Disclosure: I have no positions in any stocks mentioned, and no plans to initiate any positions within the next 72 hours. I wrote this article myself, and it expresses my own opinions. I am not receiving compensation for it (other than from Seeking Alpha). I have no business relationship with any company whose stock is mentioned in this article.
Disclaimer: Hawkinvest is not a registered investment advisor and does not provide specific investment advice. The information is for informational purposes only. You should always consult a financial advisor.