While we are only roughly half way through the back-to-school shopping season, investment bank Global Hunter Securities put out their early estimate of holiday retail sales yesterday. The company forecasts a range of a 1% increase to a 1% decrease from the year ago period, which showed a 7.6% decrease from 2007.
While it may seem that a flat year-over-year result would represent stabilization, keep in mind that the 2008 holiday season was truly dismal, as noted by the report:
Average general merchandise sales for the June-to-September period 2008 was $374 billion, +1.05% year-over-year. By comparison, Dec. 2008 sales were $136.3 billion, -6.01% year over year
Whether we look at retail sales results reported by the Census Bureau or results from the 33 retailers we track on a monthly basis, the trend is pretty clear. Spending fell off a cliff after Lehman Brothers failed, the worst months were the October-December period, and sales have since stabilized at a very low level since then: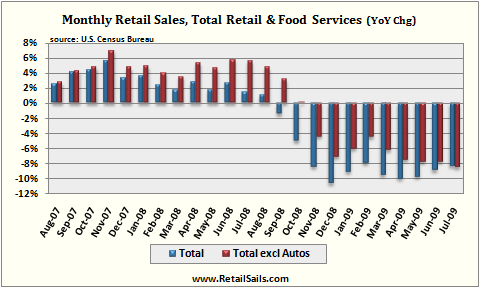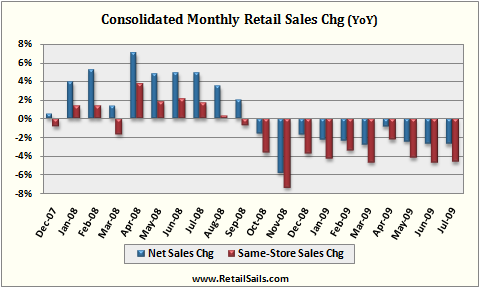 Second quarter results recently reported by retailers showed continued sales declines, but most retailers were able to beat bottom-line results through cost-cutting and inventory management initiatives. Based on comments from retail executives on 2nd quarter conference calls, there is more hope than optimism that demand will pick up in the 2nd half of the year.
The report highlights that even though major big-box retailers posted steep sales declines, inventories fell at a much faster pace in the quarter, and the trend is expected to continue:
Q2 retailer results indicate widespread growth issues
Retailers are generally attempting to reduce inventory at a faster pace than the rate of the sales contraction.
Based on recent sales trends, we have little reason to believe that retailers would begin to order goods more enthusiastically
We expect Q3-to-Q4 industry inventory demand down approximately 7.5%
The inventory crisis will end after the credit crisis is over –and it is not yet over, in our view.
Based on continued weakness expected in unemployment, personal income, and foreclosure activity, it's hard to find a catalyst that will drive consumers to significantly increase their spending in the current months. While some analysts forecast a better-than-expected back to school season, the report notes that may not be such a good thing:
Back-to-school (BTS) is a drag on holiday spending during periods of diminished consumer spending, in our view. A modest BTS is still a negative for the holiday season. A strong BTS could be a bigger problem (but unlikely)
While the government's cash-for-clunkers program was a runaway success, many analyst have noted that it most likely hijacked sales for big-ticket items from retailers. When we looked at the outlook for back-to-school spending, we noted that technology and computer purchases was the only category expected to show an increase from last year. An interesting note in this holiday report is that those technology purchases will most likely pull sales from the holiday season:
Tech spending on BTS laptops PCs and related gear–all of it bigger ticket items–is very likely pulling spending away from the holiday season
The bottom line for consumers is they continue to significantly change their buying behavior, and until things start to improve on the employment and income front, we won't see much improvement in retail sales. With that being said, retailers will be contending with much easier same-store sales comps starting in the fall, so year-over-year sales results should finally start to climb from extremely distressed levels.
Here are some other themes from the report for the rest of 2009:
This year's primary theme is retailer free cash flow, driven mostly by massive cuts in inventory spending. Price deflation is probably less of an issue this year, while inventory reductions should remain a drag on suppliers
Consumers are dragging prices lower, leading to additional changes in merchandising throughout the industry, in our opinion. Dollar stores especially are finding many new opportunities at lower price points, thus threatening other channels going into the holiday season
Employment was a major driver of sales weakness last year and it remains an issue this year, with little evidence of sufficient improvement at this time
Suppliers this year seem to be facing a double whammy: lower overall volume and a higher rate of requests for markdown and margin support from multi-line retailers
Holiday orders that have already been approved are generating pre-holiday off-invoice deductions seeking markdown reserves and other cushions,in anticipation that prices will decline during the holiday, based on our interpretations of industry trends
Easier conditions seem to prevail in dollar stores and off-price channels where purchase orders are simpler and requests for price adjustments are minimal. Fortunately, volume is still growing in these channels for those suppliers that may choose to sell these channels
The slightly longer season could result in some replenishment orders late in the season, a positive for those capable of responding on the merchant's terms