By Bryan McCormick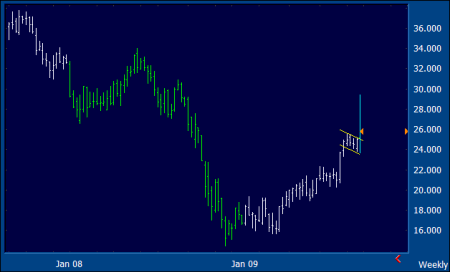 Intel's stock jumped 4 percent after the chipmaker raised its third-quarter guidance, but that may be only a first stop on the way up. This may have bullish implications in turn for the Semiconductor HOLDRS (NYSEARCA:SMH) exchange traded fund, which is heavily influenced by INTC's weighting, and potentially for the Nasdaq 100.
As of now, my earlier expectation that the semis would see some downside pressure, which I outlined last week, has to come off the table. The technical pattern for the SMH has turned positive.
While patterns can fail for a number of reasons, even from "exhaustion" following previously sharp moves, they have to be respected. Levels at which the patterns would fail are noted in the charts here.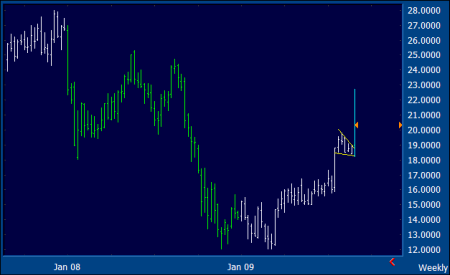 In the case of Intel, its weekly chart has a very interesting pattern, a bullish "falling wedge" shown in yellow. This is one of those counter-intuitive patterns that is shaped by a sharp rise and a small series of lower highs and lower lows, in this case in an ever-narrowing range. It is a cousin of the bullish "flag," which is the pattern we can see on the semiconductor chart.

Intel's bullish wedge has an upside potential to the $23 area. As with all patterns, anything could happen to interrupt it; this one would no longer be active on a move now below $19.

For the SMH's chart, a bullish flag shown in yellow has a potential to the $29.50 to $30 area. It would no longer be active on a move below the $25 area. The other components within the ETF will have to trade similarly to Intel's price to maintain upside momentum.
(Chart data provided by Thomson Reuters)