EXL Services (NASDAQ:EXLS) is an Indian BPO which provides services from low cost locations such as India mainly to Us and UK clients. The company is listed only on the US stock exchange even though its operations are primarily based in India. The company is similar in this respect to Cognizant Technology (NASDAQ:CTSH). The company has shown strong growth in revenues while maintaining stable margins. The company's valuation also does not seem to be stretched with a forward P/E of ~14x and is currently trading in the middle of its 52-week range. The company is strong in providing business process solutions to clients in verticals such as insurance, accounting as well as healthcare. The company is also seeing good traction in providing analytical services which has become a hot growth area in the field of BPO outsourcing. The company revised its full year guidance downwards during its recent quarterly result which led to a small correction in the stock price. I think this provides a good entry point for buying EXL. The company has shown great growth and good management capabilities. The stock is not expensive when you consider the profit and revenue CAGR of 30% plus over the past 3 years. I would look to build a small position in EXL and expand on further pullbacks.
EXL Positives
1. Rupee Tailwind - EXL Services and other Indian exporters should benefit strongly from the big rupee depreciation that has taken place in the last couple of months. The rupee is currently trading at its all time low of Rs ~60 to the dollar. Though EXL is going to face hedging losses in the current quarter, the situation should turn beneficial to EXL from 2014 onwards. The company's cost base is heavily tilted toward rupee expenses, while its revenue is mostly in dollars and euros. I think that the rupee weakness may accelerate as India's current account deficit remains stubbornly high and the economic growth is slowing down to 5% per annum.
2. BPO industry is relatively insulated from the global economic slowdown - EXL operates in a growth industry of providing services from low-cost locations to developed markets. With increasing competition, companies are trying to find new ways to drive down costs and off shoring of common services such as insurance processing, healthcare management, decision analytics etc. Though EXL's growth has slowed down in recent times, I expect that the company will return to a high double digit growth rate as the company's value proposition is quite compelling for western companies.
3. Revenue growth has been excellent - EXL has shown an excellent growth in revenue over the past decade. The company has grown its topline from $28 million in 2003 to $443 million in 2012. This sort of growth rate has been seen in top performing Indian IT outsourcers such as TCS and Cognizant Technology. Even in the last 3 years, the growth rate has been pretty good with revenues more than doubling from the $191 million generated in 2009.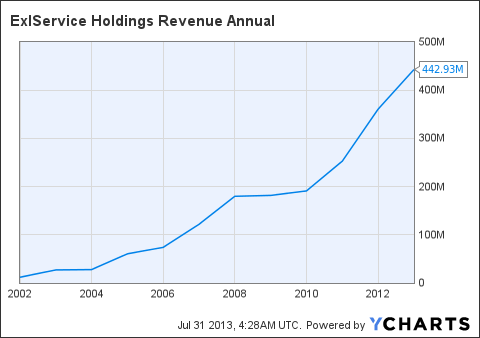 EXLS Revenue Annual data by YCharts
4. Margins remain stable and moderately high - EXL has managed to keep its margins stable despite the rapid growth. The company's operating margins have been extremely stable in the 9-13% range. Even during the 2008 downturn, the company managed to grow at a rapid clip with stable margins. This shows that the company remains relatively insulated from the current global economic volatility as it operates in a secular growth market. The company has also managed to show good ROE and ROA with the 2012 ROE at 13% and 2012 ROA at 10%. The company is cutting operating expenses to improve margins and has managed to decrease the G&A expenses to 11.9% of revenues from 12.9% in the year ago quarter.
5. Leader in major verticals - EXL has focused on being a leader in the healthcare, insurance and F&A verticals. The company has been recognized as the biggest insurance BPO provider to the US market and the company has also opened a training academy in Philippines to provide specialized healthcare management training to its employees.
6. Strong Balance Sheet - EXL has got a strong balance sheet with more than $100 million in net cash, which gives it room to make opportunistic acquisitions and invest in building "seats" to expand its manpower capacity at its offshore delivery locations.
EXL Negatives
a) Downward revision in 2013 guidance - The company revised its 2013 revenue and profit guidance downwards because of a slow ramp up by clients who were focusing more on pilot implementations as well as slowdown in discretionary project based businesses. The company's constant currency revenues grew by 11% in the current quarter which is much below the company's average annual growth rate in the past few years.
We have revised our revenue guidance down to $475 million to $483 million. At the midpoint of that guidance range, which is $479 million, we would be approximately $16 million lower than the low point of our guidance range previously. $6 million of that is due to foreign exchange entirely, and $10 million is on account of slower ramp-ups, as well as a decrease in project-based revenue. We would attribute the majority of that to project-based revenue declining and the slower ramp-ups -- we did not expect that number to be very significant. And the impact in terms of our guidance is only $1 million to $2 million on account of slower ramp-ups. The balance $8 million to $9 million is entirely due to project-based revenue.

Source - Seeking Alpha
b) Competition from IT outsourcers - IT outsourcers such as Accenture (NYSE:ACN), Infosys (NASDAQ:INFY), Wipro (NYSE:WIT) etc. are aggressively expanding into the BPO space given that their core sectors are slowing down. These companies are able to offer a broader service offering as compared to the pure play BPO providers. They also have a competitive advantage as they can leverage their relationships with hundreds of existing clients to cross sell their BPO services.
Stock Performance
EXL has given a 48% return since its IPO in 2006. The company's recent stock price performance has not been too great giving only a 13% return over the last year and increasing by 5% YTD. The company is currently trading at ~$28 which is near the middle of its 52-week price range of ~$24-$33.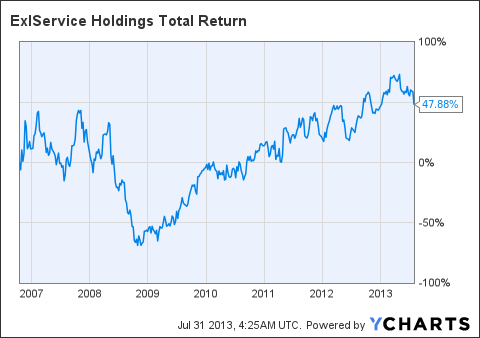 EXLS Total Return Price data by YCharts
Stock Valuation
EXL is currently trading at moderate valuation with a forward P/E of ~14x and P/B of 2.5x. The company's past revenue and profit performance have been quite impressive and I think that it deserves a higher valuation. EXL's enterprise value is around $800 million with the market capitalization at $900 million.
Summary
EXL Services has grown to be one of the biggest Indian BPOs in the last decade growing its revenue by more than 15 times. The company has managed to keep its margins stable and is set to benefit from the continued secular growth in the outsourced services industry. The company is currently facing a minor hiccup in growth due to deferment in project based revenue and hedging losses. However, I think that the company will be able to keep growing in the high double digits as rupee depreciation acts as a strong tailwind for Indian exporters. The current stock price correction may be used by investors to start building a position in the stock and increase their exposure on further pullbacks.
Disclosure: I have no positions in any stocks mentioned, and no plans to initiate any positions within the next 72 hours. I wrote this article myself, and it expresses my own opinions. I'm not receiving compensation for it (other than from Seeking Alpha). I have no business relationship with any company whose stock is mentioned in this article.