Introduction
Last week, Apple (NASDAQ:AAPL) reported earnings for fiscal Q3. EPS came in at $7.47, which was a bit above what analysts had expected ($7.32).
But I believe that investors make a mistake if they only look at the bottom line, as some types of earnings are "better" than other types of earnings. In this article I will therefore take a closer look at the numbers behind the EPS figure and asses their impact on the long-term value of Apple.
How Apple ended up with revenue of $35.3 billion
In the below table, I have shown the sales mix and ARPU (average revenue per unit) for each business segment. Mainstream media have mostly focused on the higher than expected iPhone sales figures and the disappointing iPad sales. But what worries me the most about the reported numbers isn't the sales figures, but instead the lower than expected iPhone ARPU.

As can be seen in the below graph, the decline in ARPU has gradually steepened over the last couple of quarters. Besides just resulting in lower revenue figures, it also reduces the gross margin as Apple earns less per sold iPhone than previously.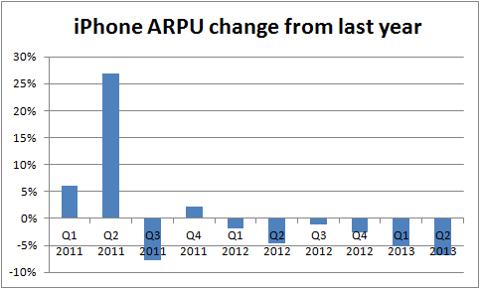 Note: Fiscal Q3 is equal to Q2 in the above graph.
At the earnings call, CFO Peter Oppenheim was asked to comment about the decline, and below I have quoted his response:
We were down 4% year-over-year on the iPhone ASP about $27, and that was primarily due to the mix of the products that we are selling and FX headwinds. As we anticipated iPhone 4 sales accelerated as we offered more affordable pricing in emerging and other markets, so that's on a year-over-year basis. And then sequentially, it was down about $32, and again, that was driven by mix as well in part iPhone 4.
Basically he is saying that the selling price of the iPhone has declined due to a stronger dollar and increased sales of older models which are being offered at a lower price. While I for quite some time have predicted that the iPhone ARPU would eventually decline, the decrease comes at a faster rate than expected.
But it wasn't just the selling price of the iPhone which came in below expectations, the iPad was sold cheaper than expected as well. Last week, I forecasted iPad Mini sales of 5.5M and iPad 10-inch sales of 11.5M, which would result in an ARPU of $462 for the iPad segment. Since the reported ARPU is quite a bit lower ($436), it is likely that a higher ratio of iPad Minis to 10-inch iPads were sold.
Apple doesn't report the specific mix between the two iPads, but I estimate that roughly 9M 10-inch iPads and 5.6M iPad Minis were sold in the last quarter.
Obviously, these numbers are very disappointing, and while part of the explanation is that no new iPad has been released in the past 9 months, I would still have expected that the benefit of having both an 8-inch and a 10-inch iPad would outweigh the disadvantage of a more mature product portfolio. At this point, I start to question whether the growth expectations provided by research firms (such as IDC and Gartner) are too optimistic.
How Apple ended up with an EPS of $7.47
Besides reporting revenue of $35.2B, Apple also reported gross profit of $13.03B, operating expenses of $3.8B and other income of $234M.
As can be seen in the below graph, Apple finally seemed to have stabilized margins somewhat, which is quite a relief as it over the last couple of quarters has suffered from increasing production costs as well as lower selling prices. In fiscal Q3, production costs were relatively constant and instead, the only negative driver was the decline in iPhone ARPU.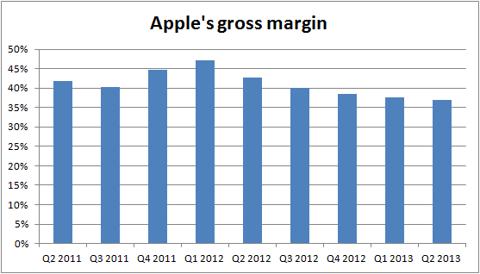 Note: Fiscal Q3 is equal to Q2 in the above graph.
Last week, I predicted EPS of $7.78, and while it may seem like I was quite far off, it would have been a very accurate prediction if Apple had not spent $800M more on operating expenses than management guided for. But while the higher than expected operating expenses reduced Apple's earnings, it's one of the "better" type of expenses. For instance, if these expenses are mostly a result of higher R&D investments, then it will likely have a positive effect on Apple over the long haul.
Guidance for next quarter
In my article last week, I wrote the following regarding Apple's guidance for fiscal Q4.
I expect that the release of a budget iPhone, iPhone 6 (or 5s) and a new iPad in September will lead to higher revenue and income figures. Thus, I predict that Apple will provide a revenue guidance of $37.5-39.5B with a gross margin between 34 and 36% for fiscal Q4.
It turned out I was pretty wrong as Apple provided revenue guidance of $34B to 37B and gross margin of 36% to 37%. After having studied the reported numbers, I have identified 3 reasons that resulted in the wrong prediction.
First of all, I had taken into account that a new iPad Mini with retina display would be released late September. But instead, it seems that it won't arrive before Q1 2014. Thus, my model predicted higher revenue figures, but slightly lower gross margins (as iPad Mini has a lower gross margin than Apple's average).
Secondly, I think my model implied too high production costs for iPad tablets which resulted a in a lower gross margin guidance for fiscal Q4.
At last, I was too optimistic regarding the ARPU of the iPhone by only expecting it to decline by 2% in fiscal Q4 2013 from Q4 2012. As the older models are getting rapidly more popular in emerging markets, it seems that we need to expect even lower selling prices, thus I expect an ARPU of $605 which implies a 5% decline from last year.
By making these three adjustments, I believe that I have to a large extent replicated the model used by Apple's management. So let's take a look at what their assumptions imply:
Sales of 6M budget iPhones (it will be released late September)
Budget iPhone has an ARPU of $450 with costs per unit of $250 (roughly 45% gross margin)
Sales of 28M high-end iPhones (new model released late September as well)
Sales of 7.5M 10-inch iPads and 4M iPad Minis
Sales of 4M Macs.
5% sequential revenue growth in the iTunes segment.
iPod revenue of $800M.
iTunes revenue of $4.1B
By putting these assumptions into my model, I end up with revenues of roughly $36.5B and a gross margin of 36%. It is interesting to note that revenues will be roughly equal to $34B if we remove the 6M budget iPhones from the equation. Thus, one could interpret Apple's guidance in this way: Apple will hit the lower end of the guidance if A) the budget iPhone isn't released in the quarter or B) if it cannibalizes sales of high-end iPhones to a higher degree than expected.
Final remarks to investors
While many followers of Apple focus on the disappointing sales figures of the iPad, I think it is important to look at this is in a broader perspective. A large part of Apple's decline in gross margin over the last couple of quarters came through a combination of lower selling prices and higher production costs. While we did see lower iPhone prices in this quarter, the gross margin still held up pretty decently, which implies that production costs haven't increased.
Further, it is important to not put too much emphasis on the decline in iPad sales. The margins of the segment are already relatively low (roughly 20% gross margin according to my estimations), and Apple doesn't need the iPad to grow by double-digits to justify the current share price. Instead, any kind of earnings growth here should be mostly seen as a free lunch for long investors.
I recommend that potential long investors keep a close look at the ARPU of the iPhone, since this is where the majority of the earnings come from. If Apple can maintain the current level of production costs and selling prices over the next quarters, then we won't see any further deterioration in margins. Right now, I believe the current share price of Apple is based on the fear that margins will continue to decline by 0.5-1% percentage point per quarter. But with production costs having stabilized, I think that will only occur if all of these conditions are fulfilled:
The consumer preference for mid-end phones increases
The budget iPhone has a lower gross margin than the 45% I expect.
The budget iPhone cannibalizes sales of the high-end iPhone.
If the first condition isn't fulfilled, then Apple will be able to maintain its current ratio of high-end iPhone/old iPhone model, which will result in unchanged selling prices.
But even if the mix is changed and consumers become increasingly interested in the budget iPhone, then it may not have a negative impact on Apple's margins if the budget iPhone is very profitable as well.
At last, even if I am wrong, and the budget iPhone has a lower gross margin (let's say 35-40%), then it may still have a positive effect on Apple's overall gross margin if sales of the high-end iPhone doesn't decline as a response to the launch of the budget iPhone. If instead, the budget iPhone targets consumers that otherwise would have bought an Android phone, then the launch of the budget iPhone is likely to lead to both higher revenue and gross margin for Apple.
I see it as very likely that all of these conditions won't be fulfilled at the same time, which will make it possible for Apple to stabilize gross margins around 35% for the next 1-2 years. If my prediction comes true, then I believe that a lot of bears will have been proved wrong, and Apple's share price will rise as a response.
Disclosure: I have no positions in any stocks mentioned, but may initiate a long position in AAPL over the next 72 hours. I wrote this article myself, and it expresses my own opinions. I am not receiving compensation for it (other than from Seeking Alpha). I have no business relationship with any company whose stock is mentioned in this article.