Since the 2008 crash and in 2009, mid-cap US stocks (proxy MDY) continue to outperform large-cap US stocks (proxy SPY) and small-cap US stocks (proxy IWM), as they have done fairly consistently for many years.
click image to enlarge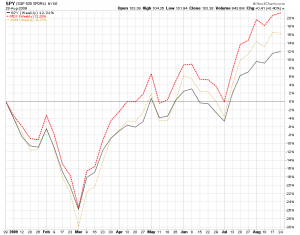 In May of 2008, we published an article detailing the relative outperformance by mid-caps (value, growth and blend styles) over a 1, 3 and 10 years. These current charts show the continuing outperformance of mid-cap stocks for 3 years and 10 years through this week (ending Aug 28, 2009).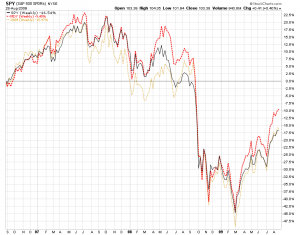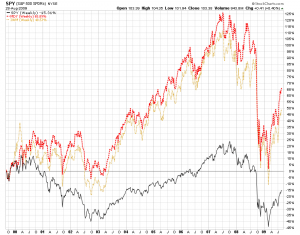 It makes conceptual sense to us that mid-cap stocks would outperform.
While some mid-caps are there because they are on the way down from a former large-cap status, the bulk of them are on the way up from a former small-cap status. They are becoming large enough to attract more and larger investors.
On average they probably have the capacity to grow their revenue faster than large-cap stocks — it's easier to grow from a moderate size than from a giant size.
On average, they probably have more dominant market shares in their industries than small-caps, or have more proven business models.
They are in a sweet spot between young and old, or too small and too big, or minimum institutional ownership and maximum institutional ownership.
Whatever the reason, their historical results show they are outperformers as a group.
We like US mid-cap stocks and believe it is prudent to overweight them relative to US small-cap and large-cap stocks.
This is not to say that US stocks will go up or down, but that in recent history, mid-caps have most often tended to go down less and up more than large-cap or small-cap stocks.
Securities mentioned: SPY, MDY, IWM
Disclosure: All accounts taken together, we own all securities mentioned.